How to Apply For a Vietnam E-Visa For a Business Trip
Vietnam is a rapidly developing country with a growing economy. As a result, it has become a popular destination for business travelers. If you are planning a business trip to Vietnam, you will need to obtain a visa. One of the easiest ways to do this is to apply for an electronic visa (E-Visa).
E-Visa application is a quick and efficient way without visiting a consulate or embassy. To apply for an E-Visa, you will need to meet certain requirements and follow a specific process.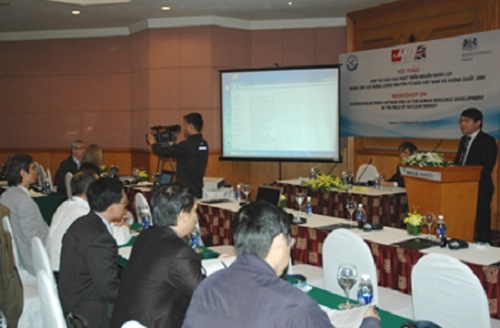 E-Visa requirement
A valid passport with at least 6 months of validity remaining after your intended date of departure from Vietnam
A recent passport photo that meets the requirements specified on the E-Visa website
A valid credit or debit card to pay the visa fee
How to apply for E-Visa
Once you have met all of the requirements, you can follow these steps to apply for your E-Visa:
Visit the official Vietnam E-Visa website https://evisa.immigration.gov.vn/web/guest/trang-chu-ttdt
Fill out the application form carefully and accurately. Be sure to include all of the required information, including your passport information, your travel information, and information about your Vietnamese business partner or organization.
Upload your passport photo and Portrait photo
Pay the visa fee using a credit or debit card.
Review your application and submit it.
Your application will be managed by the Vietnamese government after it has been submitted. The processing time typically takes 3-5 business days, but it can be longer during peak travel times.
Procedure when entering Vietnam with E-Visa
When your E-Visa has been approved, you will be able to download and print it. You will need to present your printed E-Visa to immigration officials upon arrival in Vietnam. It is also a good idea to keep a copy of your E-Visa on your phone or other electronic device in case you lose your printed copy.
Our Vietnam E-Visa service
Ready to embark on your business trip? We invite you to take advantage of our reliable and hassle-free E-Visa service, making your trip easier. With our user-friendly platform, you can easily apply for your visa from anywhere in the world.
No more long and complicated procedures, our streamlined process ensures a stress-free experience, allowing you to focus on planning your journey.
Save time and energy by using our E-Visa service to secure your personal information swiftly and efficiently.
Our dedicated team is here to assist you every step of the way, ensuring a seamless application process and prompt delivery of your E-Visa.
How to apply?
Step 1: Fill out the required information
Step 2: Settle payment
Step 3: Receive your Vietnam E-Visa
Let your business trip to Vietnam go smoothly without encountering any unwanted problems due to E-Visa. Visit our website https://www.vietnam-evisa.org/apply-visa.html now to begin your business with ease.
Vietnam-Evisa.Org
Hotline: +84.909.597.525
Website: www.Vietnam-Evisa.Org
Email: visa@Vietnam-Evisa.Org