Vietnam hopes to welcome 12 million foreign tourists this year thanks to new visa policy
Vietnam's new visa policy may help the country welcome 12 million foreign tourists this year, far surpassing the target of 8 million set previously, said a top tourism official. Vietnam's new visa policy is more favorable, which will give a very strong push to the tourism industry when the peak season of international tourism at the end of the year is coming, said Hoang Nhan Chinh, Secretariat Director of the Vietnam Tourism Advisory Board (TAB).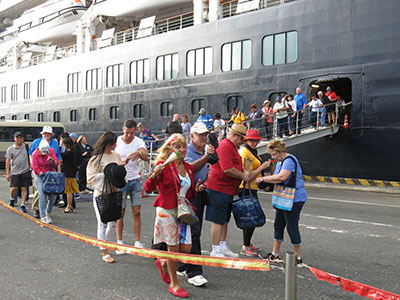 The more favorable policy will help the tourism sector diversify markets, increase the number of visitors to Vietnam, prolong their stays, and increase their spending. In addition, this policy will help raise the number of air passengers, facilitate international trade exchanges, and attract more foreign investors to the country, Chinh stressed.
On June 24, the Vietnamese National Assembly approved the Law on amendments and supplements to a number of articles of the Law on the Exit and Entry of Vietnamese Citizens, as well as the Law on Foreigners' Entry into, Exit from, Transit through, and Residence in Vietnam. Accordingly, upon being granted an e-visa, a foreigner can enter and exit an unlimited number of times within 90 days, without having to go through procedures for obtaining a new visa. Citizens of countries that are unilaterally exempted from visas by Vietnam will be granted temporary residence for 45 days (up from 15 days) and can be considered for visa issuance and temporary residence extension according to regulations.
Currently, the e-visa issued by the Immigration Department to foreigners through the electronic transaction system is only valid once. Vietnam is issuing e-visas to citizens of 80 countries.
However, Chinh noted that Vietnam currently allows citizens of only 80 countries to apply for an e-visa to the country, and apply visa exemption for international visitors from 24 countries, much less than other countries in the region such as Thailand (76), Malaysia (156) and Singapore (162).
Therefore, the list of visa-free countries, if quickly expanded, will create a great opportunity to attract more visitors to Vietnam from the third quarter of this year, he said, adding that the more foreign visitors come, the sooner the country's tourism will recover fully.
At present, Vietnam is applying the unilateral visa exemption policy to 13 countries, namely Russia, Japan, South Korea, Norway, Finland, Denmark, Sweden, Belarus, the U.K., France, Germany, Spain and Italy.
The TAB is proposing the government expand the application of this policy from August to 33 other countries that include the remaining 20 countries of the European Union, and some other countries with large numbers of visitors to Vietnam, such as the US, Australia, New Zealand, Canada and Switzerland, Chinh added.
Assoc. Prof., Dr. Pham Hong Long, Head of the Faculty of Tourism at the University of Social Sciences and Humanities, said that the openness in visa policy will bring about "dual benefits", as whether or not foreign visitors evaluate Vietnam as an attractive destination depends on this policy.
According to the World Tourism Organisation (UNWTO) and the World Travel and Tourism Council (WTTC), a favorable visa policy can increase the number of foreign visitors by 5-25% each year.
However, to make the most of this policy, the non-smoke industry is advised to take concerted measures, including speeding up promotion activities, developing more typical and attractive products, well managing destinations and developing high-quality human resources.
Vietnam welcomed over 5.57 million foreign tourists in the first six months of 2023, according to the Vietnam National Administration of Tourism.
SOURCE: vnexpress.net