Where can I download a Visa Application Form?
A. Download Immigration Form entry and exit at the airport.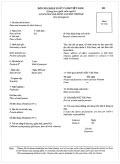 - Filling the form & sign. Attachments:  
- Glue photo 4x6cm at right top corner as the form request + 1 additional photo same size.
- Prepare 25 USD in cash for 1-3 months single entry.
- Or prepare 50 USD for 1-3 months multiple entries.
- Or prepare 95 USD for 6 months multiple entries or 135 USD for 1 year multiple entries.

B. Download Vietnam visa application for Vietnam visa upon arrival.
If you don't want to apply online, you can provide us your passport details as the form below to Visa@Vietnam-Evisa.Org.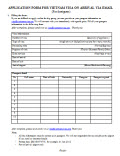 - Full name :  
- Date of birth
- Nationality
- Passport number
- Date of arrival and date of exit.

We will contact with you immediately to handle the visa application for you.
Notes
- All details must correct as in passport. We will not be responsible for any trouble at the airport if you send us incorrect details.
- Date format : DD/MM/ YYYY, for example : 01 Jan 2009
- Port of arrival : airport only 
- Passport expiration date must be 6 months or more than, if not, you can not boarding the airplane.
C. How the pre-approved letters look like ?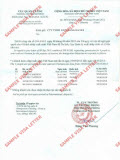 After you fill the form online & settle the payment successfully, we will send you pre-approved letter for picking up your visa upon arrival at the airport. Please make sure that you must have the pre-approved letter & print it out for boarding the airplane & get visa at the airport.
You can not boarding the airplane & Cannot get visa at the airport without the pre-approved letter. Attachments: "Visa approval letter"

Vietnam-Evisa Support Center
Invitation letter or host name.

Mar 07, 2018

The entry / exit form asks for name ofthe host or invitation letter , is this a ncessary requirement for tourists as well ? I am coming on my own s i do not hav an invitation .

Vietnam Evisa Support

Mar 08, 2018

DEAR SIR/MADAM,

YOU CAN PUT YOUR HOTEL IN VIETNAM. BESIDES THAT, IF YOU DON'T HAVE THE EXACT HOTEL WHERE YOU WILL STAY, YOU CAN LEAVE THAT QUESTION.

REGARDS,

ANNA LILY (MS.)

need information about Vietnam visit visa

Feb 13, 2018

i am Pakistani national living & working in Saudi Arabia, can i get e visa for Vietnam, also i want to know the date of arrival & departure which i mention in application form, i must come on that date or i am able to change my planed date,

Vietnam Evisa Support

Feb 20, 2018

Dear Choudhary,

In order to process your visa, please contact us via email address visa@vietnam-evisa.org and supply us your:

Passport scan (personal informative page)
Date of arrival and exit
Purpose to enter Vietnam: business invitation letter or booking tour voucher of travel agency in Vietnam
Flight ticket
Hotel booking or staying address

The Vietnam Immigration Department will check your status within 2 days. Then we will inform the result for you. If your visa application is approved, we will send you the notification including the visa letter.

You could come on the date you put on your application or that day after that. It's okay

Hope that helps.

Thanks,

Hanamie Vo (Ms.)

Choudhary

Feb 20, 2018

I come for visit how I can get the invitation letter from any travel agency in vietnam (Hanoi), can you give me suggestions?? Thanks for help

Entry date and border

Feb 03, 2018

Hi! I'm going to enter Vietnam from Cambodia by bus/train/car (don't know yet) and don't have an exact date to enter either. How can I fill a form without this information? I've tried but with no success.
Thanks in advance!

Vietnam Evisa Support

Feb 04, 2018

Dear Andreia,

Thanks for your question!

If you do not enter Vietnam by plane, please go to the Vietnam Embassy in the country you are staying now to apply visa

Best regards,

Nina Huynh

Egyptian - Tourist Visa

Jan 14, 2018

Please I am a Egyptian, i want to know if i can apply for online VISA (Tourist Visa) with Egyptian passport from this country United
Arab Emirates were I stay.

Vietnam Evisa Support

Jan 15, 2018

Dear Shareef,

Thank for your question.

We would like to inform that you can get tourist visa online, first you just fill in application form in the link: http://www.vietnam-evisa.org/apply-visa.html. After receiving your payment, we will process and send to you the approval letter via your email, then just need print the letter out and use it to get visa stamp directly at Vietnam airport.

Any help, please feel free to contact us.

Regards,

Hari Nguyen (Ms.)

Nigeria passport holder leaving in Ivery Coast

Dec 30, 2017

Please i am a Nigerian, i want to know if i can apply for online VISA with Nigeria passport from this country Ivery Coast were i stay.

Vietnam Evisa Support

Dec 30, 2017

Dear David,

Thanks for your question

We are sorry to inform that we cannot process a visa for Nigerian passport. Please contact to Vietnam Embassy/Consulate office in your current country to get Visa directly.

Kind regares,

Amanda - Evisa team.
Visa duration

Dec 25, 2017

I have got Tourest visa for intrance Danang on 8 th March 2018 and deparcher on 17 th March, the question is , if there is miner change for only like two 2 days of my flight , is it acceptable, thank you for your reply.

Vietnam Evisa Support

Dec 25, 2017

Dear Hasan,

Thanks for your question!

It is informed that you can enter Vietnam aftet the arrival date which is granted on your visa normally but must leave before or on the expired date (Mar/17/2018)

Best regards,

Nina

How get visa

Nov 25, 2017

Seventh my friends expect to visit Viyatnam from 10 to16 December 2017.Please sent me information how to get visa

Vietnam Evisa Support

Nov 25, 2017

Dear Sir/Madam,

You can apply for Vietnam visa on our website at this link https://www.vietnam-evisa.org/apply-visa.html, after we receive your payment, your visa will be processed and sent to your email within 2 working days. Service fee is $19 for 1 month single entry tourist visa.

Regards,

Eve Du (Ms.)

Billye Hatch

United States of America

?Stamping Fee Pre-Paid?

Nov 21, 2017

Yesterday (19 November) I applied for two single entry visas for myself and my husband. I noticed when I paid that I was charged for a Stamping Fee and at the bottom of the invoice it said that I would have no additional charges would at the Hanoi airport. From I am reading on your website I will also have to pay the $25.00 per person Stamping Fee. Is this correct? What was I charged for exactly then?

Vietnam Evisa Support

Nov 21, 2017

Dear Mrs. Billye Hatch,

If you have booked our fast track service, there would be no extra fee upon arrival and our staff will pay this fee on your behalf to the Immigration Officer. Please send us your application ID. We will check and inform you in detail.

Thanks,

Hannah Yan (Ms.)

5 Year exemption certificate

Nov 03, 2017

Dear staff of services,

I would like to know whether you do Overseas Vietnamese holding British passport, can get 5 Years exemption visa?
If you have please advise procedures and cost, and if possible can you provide application form.

Look forward to your reply.

Vietnam Evisa Support

Nov 03, 2017

Dear Ms Ngoc,

Are you staying in UK now? If yes, you should apply this visa at Vetnam Embassy in your living country, as we just process visa for 5 years if the customers are staying in Vietnam.

Thanks,

Anna Lily (Ms.)

Yankho Joy Fungatira

Malawi

Visiting for tourist

Oct 26, 2017

I am planning to visit Hanoi fro Dec 29 to Jan 3, I will be coming from Japan where I live and work, should I apply online or apply at the embassy

Vietnam Evisa Support

Oct 27, 2017

Dear Yankho Joy Fungatira,

We would like to inform that you can obtain a Vietnam visa at the embassy of Vietnam in your current living country which is Japan, or you can apply online with us for a visa on arrival.

Once presenting yourself to the Embassy for a regular visa, you need to assemble all of the documents required in support of your application. The failure to do so may result in your application being denied. Moreover, it would be inconvenient if your living place is far away from the Embassy.

Conversely, if you apply for a Visa on arrival, there is no document required. You only need to fill in the form then make online payment. After 2 working days, we will send you the approval letter via email. You should print it out to board the plane and to get the visa stamp at the Vietnam int'l airport.

Alternatively, please note that you cannot get the visa yourself upon arrival without our approval letter.

Should you have any further enquiries, please do not hesitate to contact us at visa@vietnam-evisa.org or call us at (+84) 909 343 525

Best regards,

Hannah Yan (Ms.)
VISA to attend a conference to be held at Ho Chi Minh City, Vietnam

Oct 24, 2017

I have valid Indian passport and invited for a talk in a conference at HCM City. Which category of VISA I have to apply (Tourist? or other category). I wish to get single entry VISA (I will stay their only for 5 days).
Thank you in advance

Vietnam Evisa Support

Oct 25, 2017

Dear Mr/Ms. Paras Sharma,
In this case, you should apply for Business 1 month single entry visa.

Regards,
Pinky Tran (Ms.)

Visa for entry by air and exit by river boat

Oct 24, 2017

Can I apply for a visa on your site if I am arriving by air and leaving by river boat?

Vietnam Evisa Support

Oct 24, 2017

Dear Fiona,

Please inform us your nationality and the length of stay. We will check and respond in detail.

Regards,

Hannah Yan (Ms.)

Fiona

Oct 24, 2017

I am from the U.K and I will be staying in Vietnam for about 19 days

Vietnam Evisa Support

Oct 27, 2017

Basing on your itinerary, you will need a Vietnam visa. You can obtain a visa at the Embassy of Vietnam in your living country or you can apply with us for a visa on arrival (VOA). VOA is for visitors arriving in Vietnam by air only; however, they can leave by land or sea or any port in Vietnam with VOA.

Mushfiqua Zaman Satiar

Bangladesh

E-visa for BAngladeshis

Oct 19, 2017

There is no Bangladesh in the drop down suggestion of the Nationality point ....can we submit a e-visa application.
pls suggest.

thanks a lot.

Vietnam Evisa Support

Oct 20, 2017

Dear sir or madam,

Thank you for your question.

We would like to inform that Bangladeshi passport holders are able to apply for Vietnam visa on our website.

Please inform us your current job and send us the following documents to our email visa@vietnam-evisa.org:

Hotel Booking for the whole trip in Vietnam
Passport scan (it should have at least six months of validity)
The flight tickets including the return ticket.

Note: The visa expiration date will be based on the return ticket (maximum 25 days)

The service fee is 150 USD/person (NOT including stamping fee 25USD/person at the airport) to process 1 month single tourist visa.

However, the Vietnam Immigration Dept do not issue Vietnam visa to citizens from some special countries including Bangladesh from now until the end of November, so your itinerary should be after Nov 25th. We are sorry for this inconvenience.

Should you have any further enquiries, please do not hesitate to contact us at visa@vietnam-evisa.org or call us at (+84) 909 343 525

Best regards,

Hannah Yan (Ms.)

Regarding Visa on Arrival

Oct 09, 2017

HI.

I would be visiting Vietnam and working with a non profit organisation and would be teaching children. My food and stay at Vietnam will be sponsored by the organisation.
If I am paying the fee online right now, do I have to pay the amount again for VISA on Arrival?

Thank You

I

Vietnam Evisa Support

Oct 10, 2017

Dear sir or madam,

Thank you for your question.

We would like to inform that India passport holders need to obtain a Vietnam visa for entry. You can apply online on our website to get visa on arrival. You only need to fill in the form then make online payment for the service fee. After 2 workdays (for tourist visa), we will send you the approval letter via email. You should print it out to board the plane and to get the visa stamp at a Vietnam int'l airport. You also need to prepare cash (25USD for single entry or 50USD for multiple entry tourist visa) for stamping fee payment at the arrival airport.

For any further details, please contact us at visa@vietnam-evisa.org or call us at (+84) 909 343 525

Best regards,

Hannah Yan (Ms.)

Attending a WCO Wire Customs meeting Hanoi. 15-19 Oct 2017

Oct 09, 2017

To whom it may concern
This is a message from Ugandan delegates
We (Abel Kagumire and Joel Kuka Mudumi) have received our ticket but we are required to have a VISA to Vietnam.
We don't have a Vietnamese embassy in Uganda.
Is it possible to apply and get VISA on arrival?
Regards
Abel
Uganda Customs.

Vietnam Evisa Support

Oct 09, 2017

Dear Mr/Ms Kagumire Abel,

Thank you for your question.

We would like to inform that Uganda passport holders can apply online on our website to get visa on arrival. You only need to fill in the form then make online payment. After 2 workdays (for tourist visa), we will send you the approval letter via email. You should print it out to board the plane and to get the visa stamp at a Vietnam int'l airport.

Please go to the follow link to apply: https://www.vietnam-evisa.org/apply-visa.html

Base on your trip, you can apply for the tourist visa with 1 month single entry. The service fee is 80USD/pax (paid online) and the stamping fee is 25USD/pax (paid in cash at a Vietnam int'l airport).

For any further details, please contact us at visa@vietnam-evisa.org or call us at (+84) 909 343 525

Best regards,

Hannah Yan (Ms.)
Miss Grand Sierra Leone

Sierra Leone

Miss Grand Pageant- Vietnam

Oct 06, 2017

Hello we are traveling from Sierra Leone for the Miss Grand International pageant hosted october 7th to october 25th. how can we secure a visa asap for our contestant.

Vietnam Evisa Support

Oct 06, 2017

Dear sir or madam,

We would like to inform that the Vietnam Immigration Dept do not issue Vietnam visa to citizens from some special countries including Sierra Leone from now until the end of November, so please delay your itinerary after Nov 25th. We are sorry for this inconvenience.

Regards,

Hannah Yan (Ms.)

Visa entry

Sep 27, 2017

Hi. I'm a German and on 8th December I'll be travelling to Ho Chi Minh with a Finnish friend as well. On the 19th Dec we will be going to Thailand and coming back to Ho Chi Minh on 24th Dec. What kind of visa entry that we need? And if we apply the stamping & Airport fast-track services, we can get everything needed after giving you our passports in a few minutes only, is it correct?
Thank you in advance
Cindy

Vietnam Evisa Support

Sep 28, 2017

Dear sir or madam,

According to your itinerary, you should apply for multiple entry visa. If you book full package including stamping and fast track services, there will be our staff waiting for you at Vietnam airport and assist you to get visa stamp and visa sticker without having to stand in long line. No more fee is required.

Regards,

Hannah Yan (Ms.)

3 months multiple entry visa

Sep 27, 2017

Can I get a 3 month multiple entry visa for a srilankan passport

Vietnam Evisa Support

Sep 28, 2017

DEAR SIR/MADAM,

WE ONLY CAN PROCESS THE TOURIST VISA FOR YOU TO STAY IN VIETNAM MAXIMUM 25 DAYS. HOWEVER, DURING APEC CONFERENCE, WE CANNOT PROCESS VISA FOR YOU AT THE MOMENT. PLEASE CONTACT US AFTER NOV 2017.

THANKS,

ANNA LILY (MS.)

VISA Entry

Sep 14, 2017

We will be arriving HCMC on March 15, 2018 from Canada and leaving Hanoi on March 24, 2018 where we will be travelling to Thailand and Kuala Lumpur. On April 07, 2018, we will be flying back to HCMC to catch our flight back to Canada and will just be staying at the airport until boarding time. What type of Visa should I apply for in this instance? Please advise. Thanks.

Vietnam Evisa Support

Sep 14, 2017

Dear sir/madam,

Thank you for your attention to our website!

In your case, if you fly with different airline and have to pass through the Immigration area to get your luggage, you will need to apply for 1 month multiple visa. For sure, please kindly check with your airline that you need visa for your second entry or not.

Any helps, please feel free to contact us

Faith Truong (Ms.)

Juliet K.

United States of America

VOA? for 3 days

Sep 06, 2017

Hi,

My parents and I are traveling to Vietnam for only 3 days and was wondering if we could do the Visa on Arrival when we get there? Or do we need to apply beforehand for a different type of Tourist visa?

Please let us know. Thank you!

Vietnam Evisa Support

Sep 07, 2017

Dear Juliet K.,

Thanks for your question!

It is informed that you can get visa on arrival but have to apply beforehand to get the approval letter to board the plane, then you can use it to get visa stamp at Vietnama airport

Please go to this link to apply visa then we will process it for you: https://www.vietnam-evisa.org/apply-visa.html

Best regards,

Nina
marie Livingstone

United Kingdom

Visa into Vietnam

Sep 05, 2017

Hello we are traveling on UK passport to Vietnam in October 17 for 14 days .
I was applying for a visa and a pop up message says "UK Visa EXEMPT" I just wanted to confirm if we don't need a visa upon arrival in Vietnam Oct 17
thanks

Vietnam Evisa Support

Sep 06, 2017

Dear Sir/Madam,

We would like to confirm you that according to the Vietnam Immigration's new policy, from July 1, 2015 to June 30th 2018, Great Britain, France, Spain, German, Italy and Belarus no need Visa if they stay in Vietnam less than 15 days. However, the previous visit must be far from the next visit at least 30 days.

Thanks,

Anna Lily (Ms.)

MOHAMED ASHSHAN

Sri Lanka

will i get Vietnam visa

Sep 02, 2017

I'M a Sri Lankan citizen can i get the Vietnam on arrival visa or e visa

Vietnam Evisa Support

Sep 02, 2017

Dear Sir/Madam,

It is informed that you can apply online on our website for visa on arrival but we JUST can help you to process 1 month single tourist visa and the service fee is $150US/person (not including $25US stamping fee at Vietnam airport). However, the Vietnam Immigration does not process 1 month visa for full 30 days, they just base on your ticket to process visa (maximum 25 days). The processing will take 7 – 10 working days

And you can apply online at this link: https://www.vietnam-evisa.org/apply-visa.html

In addition, after finishing payment online, please send us your passport scan + hotel booking + return ticket via email. Without those documents, we can not process visa for you

If you want to stay longer, please go to the Vietnam Embassy to apply visa

Thanks,

Faith Truong (Ms.)

E Visa

Aug 29, 2017

Can I apply for E-VISA as I hold a Pakistani Passport.

Vietnam Evisa Support

Aug 30, 2017

Dear sir/madam,

Thank you for your question.

We would like to inform that Pakistan passport holders can not get E-Visa.

However we can support you get visa by applying on our website.

First, please send us the following documents to our email visa@vietnam-evisa.org:

Hotel Booking for your whole trip in Vietnam
Passport scan ( your passport must be valid 6 months at least)
The flight tickets including the return ticket.

Note: The expired day of the visa will be based on the return ticket. And the fee is 150 USD/person (NOT include stamping fee 25USD/person at the the airport) to process 1 month single visa

After receiving your all information above, please fill your information in the application form here https://www.vietnam-evisa.org/apply-visa.html. Your Visa will be processed within 7 working days.

For any further details, please contact us at visa@vietnam-evisa.org or call us at (+84) 909 343 525

Best regards,

Brenda Bui (Ms.)

question

Aug 29, 2017

can I get visa on arrival from Nigeria

Vietnam Evisa Support

Aug 29, 2017

Dear Mmadu John Ejike,

Thanks for your question

We would like to confirm that we cannot process Visa on arrival online for Nigeria passport holders, please contact to Vietnam Embassy/Consulate office in your current country to get visa directly.

Regards,

Amanda - Evisa team.

Question on visa application

Aug 24, 2017

I am an Indian passport holder living in Singapore (I am a permanent resident in Singapore). My company Maybank has offices in Vietnam and I will be going there for meetings with my colleagues at our Ho Chi Minh City office. Can I apply for a business visa online or is that option only for tourist visa applications?

Vietnam Evisa Support

Aug 25, 2017

Dear Sir/Madam,

Yes, we can help you to process the business visa to enter Vietnam. It takes 3 - 4 working days.

Thanks,

Anna Lily (Ms.)
need visa

Aug 17, 2017

am from Nigeria working in south africa i will like to spend my holiday in vietnam can u get me the visa?

Vietnam Evisa Support

Aug 18, 2017

Dear smith,

Thank you for your question.

We are sorry to inform that we could not process visa for you. Please go directly to Vietnam Embassy in your living country to get visa.

Best Regards,

Elly Pham

1 yr multi entry visa

Aug 05, 2017

My company is looking to start a new business adventure with a Vietnam based company, therefore I will need to travel back and forth to Vietnam over the coarse of the year with not no exact dates as to when I will fly in or out of Vietnam, can I apply for 1year multi entry, and what paper work do I need to show ?.



Vietnam Evisa Support

Aug 05, 2017

Dear Tang Tan,

Thank you for your questions.

We can help you get 1 year multiple entry visa for business purpose. To apply this visa, you do not need to provide us any documents , just need to fill in the application online at our website https://www.vietnam-evisa.org/apply-visa.html . After receiving your payment, we will process and send to your email a visa approval letter within 3 or 4 working days. Then you can print this letter out and get visa stamped at Vietnam airport.

Best Regards,

Elly

business visit

Jul 30, 2017

hi,
i have my own manufacturing unit for surgical instruments in sialkot-pakistan and i would like to visit PHARMEDI VIETNAM 2017 from 20 to 23 sept. 2017.
i have already try to fill online application form but did not find my country name in nationality box. now i request you kindly help me to get my business visit visa for PHARMEDI VIETNAM 2017.
thank you in addition.

Vietnam Evisa Support

Jul 31, 2017

Dear Nedeem,

It is informed that we do not process business visa for Pakistani passport holders, just tourist visa

If you want to get business one, please go to the Vietnam Embassy to apply

Best regards,

Nina

Vietnam Business Visa

Jul 29, 2017

I am living & working in Malaysia for manufacturing company called "First Solar" . We are starting up manufacturing site at Vietnam in Ho Chi Minh City this year. I am expected to travel from Malaysia to Ho Chi Minh city Sep 1st arrival and Sep 8th Departure to attend few business meetings at Ho Chi Minh city. I do see one more business trip will be needed sometimes in Nov 2017 for 1 week period.
Could you please advise on how do I proceed to get business visa? Thank you for your help.

Vietnam Evisa Support

Jul 30, 2017

Dear Sir,

You just need to apply online on our website and then we will process visa for you. It takes 3 working days to process it.

Thanks,

Anna Lily (Ms.)

Girlie epitacio

Philippines

Requirements

Jul 28, 2017

I want to go to Vietnam for business for 19 day what requirements I need to prepare to avoid any problem here in Philippines immigration

Vietnam Evisa Support

Jul 29, 2017

Dear Girlie epitacio

Thanks for your question,

We would like to inform that the Philippine passport holders do not need a Vietnamese visa for 21 days.

Base on your information, you can stay in Vietnam for 19 days without visa.

Regards

Ken-Evisa Support Team
Tim Nelson

United Kingdom

Length of visa available

Jul 27, 2017

I have had 6 month visa's previously, is it possible to have a 12 month visa? I need multi entry.

Vietnam Evisa Support

Jul 28, 2017

Dear Tim Nelson,

Thank you for your question.

We would like to inform that we can help you get 1 year multiple entry visa for business purpose. To apply this type of visa, you do not need to provide us any documents, just need to fill in the application form online at our website https://www.vietnam-evisa.org/apply-visa.html . After receiving your payment, we will process and send to your email a visa approval letter within 3 or 4 working days. Then you can use this letter to get visa stamped at Vietnam airport.

Please feel free to contact us if you have any questions.

Best Regards,

Elly

Visa Requirements

Jul 05, 2017

Hello,

Im from bangladesh. I want to go to Ho Chi Minh on 8th August 2017 for seven days. I want to know about the process and the fee. What will i need to bring for the visa on arrival and how can you help me? thanks

Vietnam Evisa Support

Jul 05, 2017

Dear Nazmus,

Thankd for your question!

It is informed that you can apply online on our website for visa on arrival but we JUST can help you to process 1 month single tourist visa and the service fee is $150US/person (not including $25US stamping fee at Vietnam airport). However, the Vietnam Immigration does not process 1 month visa for full 30 days, they just base on your ticket to process visa (maximum 25 days). The processing will take 7 – 10 working days

And you can apply online at this link: https://www.vietnam-evisa.org/apply-visa.html

In addition, after finishing payment online, please send us your passport scan + hotel booking + return ticket via email. Without those documents, we can not process visa for you

Best regards,

Nina

VIETNAM VISA APPLY FROM PAKISTAN FOR PAKISTANI CITIZEN

Jun 12, 2017

DEAR SIR/ MADAM,

PLEASE GUIDE ME TO APPLY VIETNAM VISA FROM PAKISTAN FOR PAKISTANI CITIZEN.
PLEASE INFORM ME VISA REQUIREMENTS TO APPLY VISA FOR VIETNAM
PLEASE SEND FULL INFORMATION TO AVOID PRE-DEPARTURE OFF LOAD FROM PAKISTAN.

REGARDS
SARFARAZ QURESHI



Vietnam Evisa Support

Jun 13, 2017

Dear Sam,

Thanks for your question!

It is informed that you can apply online on our website for visa on arrival but we JUST can help you to process 1 month single tourist visa and the service fee is $150US/person (not including $25US stamping fee at Vietnam airport). However, the Vietnam Immigration does not process 1 month visa for full 30 days, they just base on your ticket to process visa (maximum 25 days). The processing will take 7 – 10 working days

And you can apply online at this link: https://www.vietnam-evisa.org/apply-visa.html
In addition, after finishing payment online, please send us your passport scan + hotel booking + return ticket via email. Without those documents, we can not process visa for you

If you want to stay longer, please go to the Vietnam Embassy to apply visa

Best regards,

Nina

Evisa

Jun 01, 2017

hey, I want to apply for tourist visa, Can i apply for evisa ?

Vietnam Evisa Support

Jun 02, 2017

Dear Moon Shah,

Thank you for your question.

We would like to confirm that Pakistan passport holders are unable to get Vietnam visa on arrival. To apply visa, you need to provide us these documents below to our email (visa@vietnam-evisa.org):

- Your passport scan

- Returned flight ticket

- Hotel booking

The expired day of the visa will be based on the return ticket and we need 7-10 working days to process visa for you. Please send all documents to us and then apply online at our website: https://www.vietnam-evisa.org/apply-visa.html.

For further information, please do not hesitate to contact us.

Best Regards,

Elly (Ms.)

OKORO NKECHI BENEDICTA

Nigeria

I WANT TO APPLY FOR TOURISM VISA

May 24, 2017

Good Morning Sir/Ma,

please l want to acquired about this Vietnam Visa am Nigeria citizen pls l need your assistant l want should l do and what steps it takes.

thanks so usual cooperation

miss Nkechi Benedicta

Vietnam Evisa Support

May 25, 2017

Dear Mr/Ms Okoro Nkechi Benedicta,

Thank you for your question.

We are sorry to inform with you that currently we are unable to help Nigerian passport holders to get Visa upon arrival. In this case. you can go to Vietnam Embassy to apply for your Visa.

Best regards

Hanah
atiporn

United States of America

Travel To Vietnam for Business Trip

May 23, 2017

I ask for online visa to Vietnam for US,UK,Austria,Slovakia and India Passport.Can I do it online? Or have to apply at the Embassy only.

Vietnam Evisa Support

May 24, 2017

Dear atiporn,

Thank you for your question.

We would like to confirm that all nationalities you listed above are able to apply visa on arrival on our website. First, please fill in the application form online at our website https://www.vietnam-evisa.org/apply-visa.html . After you pay for us, we will process and send to your email a visa approval letter within 2 working days (for tourist visa) or 3 working days (for business visa). Then you just need to print this letter out and use it to get visa stamped at Vietnam airport.

Any more question, please feel free to contact us.

Best Regards,

Elly

Henricus Jongen

Netherlands

VOA for 7 persons arriving in 2 different flights

Apr 17, 2017

Hallo,

we are a family of 7 persons and come for a holiday to Vietnam. We like to apply VOA, but to of ours arrive withe an earlier flight than the rest. How do we aply then?

Kind regards,
Henricus

Vietnam Evisa Support

Apr 18, 2017

Dear Sir/Madam,

You do not have to worry about that. Your group still can apply in one application. And if you apply the fast track with us, you just need to provide us your flgiht information of your members, and then we will arrange this service for each.

Regards,

Anna Lily (Ms.)

BUSINESS VISA

Apr 12, 2017

Hi. Do you process a business visa for Jordanian passport?

Vietnam Evisa Support

Apr 13, 2017

Dear Brenda,

Thanks for your question!

We are sorry to inform that we do not process business visa for Jordanian passport holders, just tourist one. If you want to get business visa, please go to the Vietnam Embassy to apply

Best regards,

Nina

RADI A AL SAFFAR

Saudi Arabia

VOA

Feb 02, 2017

To whom it may concern..
Please, would mind informing me how I can apply for VOA. Should I follow the steps of online visa application all through or there is another portal specifically made for VOA.

I am looking forward to hearing from you.

REGARDS
Dr.Radi

Vietnam Evisa Support

Feb 02, 2017

Dear Sir/Madam, 

Please follow the steps to apply visa on our website.

Thanks, 

Evisa Team 

e visa single entry

Jan 11, 2017

Hello,

i need e visa for Hanoi Viet Nam since 15 febrery 2017 to 15 march 2017. This visa is a touristic visa. What solution do you propose on your site please ?

Tank s for your replyn

Vietnam Evisa Support

Jan 11, 2017

Dear Sir/ Madam

Thank you for your email.

We would like to inform that France do not need visa for 15 days, but the previous visit must be far 30 days the next visit. However, if you will stay in Vietnam from Feb/15 to Mar/15 (more than 15 days), you need to get visa. To apply visa, you just need to fill in the application form at our website https://www.vietnam-evisa.org/apply-visa.html . After receiving your payment, we will process visa letter and send it to you within 2 working days via your email. Then you just need to print this letter out and use it to board the plane and get visa stamp directly at Vietnam.

Please do not hesitate to contact us if you have any questions.

Regards,

Evisa Team
i need a medical form for my visa application

Jan 06, 2017

I am going to work in Vietnam and need to do my medical for visa application. thank you.

Vietnam Evisa Support

Jan 06, 2017

Dear Sir/ Madam

Thank you for your question.

We are sorry that we don't have medical form. Please contact to Vietnam Embassy to ask for it.

If you have any questions, please feel free to contact us.

Regards,

Evisa Team

E-Visa for Paistani Nationals

Dec 10, 2016

Dear Sir/Madam,
Will you please guide me regarding your e-visa facility for Pakistani Nationals. Does it works for Pakistani Nationals. If yes then send me details for Single Entry Tourist visa for individual person and maximum 6 persons.Your early response shall be appreciated in this regards as we has to be there by this new year-2017.

Thanks very much.

Zahid Mukhtar.


Vietnam Evisa Support

Dec 10, 2016

Dear Sir/Madam, 

At the moment, we cannot process the visa for Pakistant. Could you please apply visa at Vietnam Embassy in your living country. 

Thanks,

Evisa Team 

Wrong visa type

Dec 05, 2016

Hi,

I paid 20$ for the multiple visa entry instead of 16$ but I am going for a single entry. I realized later that I will have to pay 50$ for the multiple entry visa instead of 25$ for a single entry visa. How can I correct this?

I would need only a single entry visa.

Vietnam Evisa Support

Dec 05, 2016

Dear Sir/Madam,

We would like to inform that:

+ single entry visa =  25 USD/person

+ multiples entries visa =  50 USD/person.

If you are arriving Vietnam with  multiple entries visa type, you should prepare 50USD/person for stamping fee.

Thanks

Evisa team.

Wrong birthdate

Nov 16, 2016

I ordered my visa but my birthdate is wrong
How can i change it?thank you

Vietnam Evisa Support

Nov 16, 2016

Dear Sir/Madam,

Thanks for your question!

Could you please to give us your application ID? Then we can check again for you

Best regards,

Evisa Team

visa application for China passport holder

Nov 07, 2016

Hi

For China passport holder, can the person apply online visa ? And can the visa stamping be done at Dalat airport? please advise.

Vietnam Evisa Support

Nov 07, 2016

Dear Sir/Madam,

Thanks for your question!

It is informed that Chinese passport holders can apply online for visa on arrival but you can not get visa stamp at Dalat airport since it is the domestic airport. You just can get visa stamp at Vietnam International airports (Hanoi, Ho Chi Minh, Da Nang, Cam Ranh)

Best regards,

Evisa Team
how to get visa approval

Oct 28, 2016

Dear m/s

we have 10 pax to traveling Vietnam on January. we are the tour organizer in here. how can we get visas for 10pax once. should we submit docs to the consulate or on line service ?

Vietnam Evisa Support

Oct 28, 2016

Dear Sir/Madam,

Plesae apply on our websire and pay online, then we will process your visa. 

https://www.vietnam-evisa.org/apply-visa.html

Thanks, 

Evisa Team 

Stamping fee pre-payment online

Oct 24, 2016

Hi from South Africa.

Your site gives the option of paying the stamping fee in advance, but I don't see this option available on any other visa application website .

I want to use your company to apply for 3 visa on arrival letters ( for December ) , but I am concerned about paying $ 150 stamping fee in advance to you, and then having to pay it again on arrival ( at HCMC airport ).

Please advise how this arrangement works ?

Surely the stamping fee is paid directly in cash to the Vietnamese authorities on arrival ?

Kind regards,

Andrew

Vietnam Evisa Support

Oct 24, 2016

Dear Sir/ Madam

Thank you for your question.

We would like to confirm that stamping fee is the compulsory fee which every applicants have to pay directly for the Customs at Vietnam airport to get visa. But some applicants do not want to bring cash and do not want to stand in a long line for getting visa. So we create an extra serivce for this need which is called full package service (including stamping fee and airport fast track service). With this full package service, our staff will wait for you at the airport , pay the stamping fee and get visa ticker on your passport within 15 minutes. You do not need to pay any fee and do not need to queue at the airport if you apply this service.

By the way, the stamping fee for 3 months multiple visa is 50USD/person, not 150USD as you said.

If you have any questions, please feel free to contact with us.

Best Regards,

Evisa Team

Visa

Oct 19, 2016

I'm crossing into Vietnam from Cambodia by boat and require a visa in advance please help or instruct how I do this, I'm British working and traveling from Riyadh in Saudi Arabia

Vietnam Evisa Support

Oct 19, 2016

Dear Sir/Madam, 

We would like to confirm you that according to the Vietnam Immigration's new policy, from July 1, 2015 to June 30th 2017, Great Britain, France, Spain, German, Italy and Belarus no need Visa if they stay in Vietnam less than 15 days. However, the previous visit must be far from the next visit at least 30 days. 

But if you still want to get the visa, you can apply at Vietnam Embassy in your living country as you will enter Vietnam by boat. 

Regards, 

Evisa Team 

VISA

Oct 18, 2016

Hi. My name is Kan Zhang. I am a Candian Citizen.I will take Cruise from Guang Zhou in China and take tours arranged by Travelling agence. shouid I apply VISA here in Canada or I can get visa upon arrival ?

thanks for your response.

Best regards
Kan Zhang.

Vietnam Evisa Support

Oct 18, 2016

Dear Sir/Madam,

Thank you for your question.

We would like to inform with you that Candadian citizens still are able to apply Visa online to get Visa on arrival in case you take your trip by plane.

If you take cruise from Guang Zhou to Vietnam, you need to apply for your Visa at Embassy in Canada or in China before coming here.

Best regards

E-visa team.

Visa

Sep 27, 2016

Hi. My name is Jay. I am a US Citizen. I just realized today that I need a Visa to enter Vietnam. Anyway, I will be leaving for Asia on October 26. What do you think is the fastest reliable way for me to obtain a Vietnam Visa? I need to make sure that I have my passport before I leave for my trip on Oct 26. I won't be going to Vietnam until November 16-18. Please let me know so that I can apply for a Visa either today or tomorrow. Thank you in advance for your time and assistance. I greatly appreciate it.

Jay

Vietnam Evisa Support

Sep 27, 2016

Dear Sir/Madam,

You can apply now with us.

There is a Small Change for US Nationality (Effective Aug 25 2016)

Base on bilateral relationship between US and Vietnam, New policy for US nationality to apply visa to Vietnam from Aug 2016, Vietnam will issue visa valid for up to One Year Multiple Entry.

Tourist Purpose can multiple entry, but for each entry can stay in Vietnam up to 90 days only. The service visa fee is $35/pax and the stamping fee is $135/pax.

For Business Purpose, you also can multiple entry. However, you can stay up to 12 months. The service visa fee is $350/pax and the stamping fee is $135/pax.

Regards, 

Evisa Team 

 
Ronald Phinney

United States

visa

Jun 24, 2016

arriving by ship in two different ports. How do I apply for visa through embassy in Washington DC. Thank you.

Vietnam Evisa Support

Jun 24, 2016

Dear Sir/Madam, 

We are just the Evisa Agency in Ho Chi Minh, so we do not work for the Vietnam Embassy. You may their contact in the internet. 

Thanks,

Evisa Team 

Robert Bilodeau

United States

12 day river cruise on Mekong river jan 2017 (dates 15 to 26)

Jun 06, 2016

We will be entering Vietnam via the Mekong river coming from Cambodia
what type of visa should I apply for and what web sight should use to find out the proper way to fill out my forms? how far in advance of out trip can I apply for our visa's we are 6 days in Vietnam flying out on jan 26 2017 Singapore Air ( SGN airport)

Vietnam Evisa Support

Jun 06, 2016

Dear Sir/Madam,

Thanks for your question!

We would like to inform that if you enter Vietnam by cruise, please go to Vietnam Embassy in your living country to aply visa and we do not the processing time there. Please contact with them for more detail

Best regards,

Evisa Team

LOO-KI Michael

Madagascar

visa

Jun 03, 2016

Dear Sir,
I am a malagasy citizen from Madagascar and I would like to come to Vietnam for business from 14 june to 23 june 2016.
Please find below my business contact in Vietnam :
Mai Xuan Thin - Export Director
Red Dragon Co., Ltd
54/26/18 Road #21, Ward 8, Go Vap District, Ho Chi Minh City, Vietnam
Tel: +84 8 39210467 Fax: +84 8 35899918
Website: www.reddragon.vn
Email: thin@reddragon.vn
Email2: maixuanthin@gmail.com
Mobile: +84 97 2421616 +84 97 3221717
Skype: maixuanthin
Packinghouse address: Lot III-22, Road 19/5A, Tan Binh Industrial Zone, Tan Phu District, Ho Chi Minh city, Vietnam.

Please to let me know how to get visa as fast as possible.

Thank you in advance.

LOO-KI Michael
Manager
General Trading Company
Tel : +261 32 07 575 02
E-mail : lookimichael@icloud.com
getco@movv.mg

Vietnam Evisa Support

Jun 03, 2016

Dear Sir/Madam,

Thanks for your question!

We would like to inform that we can not process BUSINESS visa for Madagascar passport holders, just TOURIST visa. Please go to Vietnam Embassy in your living country to apply visa

Best regards,

Evisa Team

Error in indicating the airport in arrival

May 30, 2016

I have filled and paid my visa request yesterday and i did an error in the airport of arrival. How can change it?
Do i have to do another visa request paying another time?
Thank you very much.
daniele pattono


My application form numer is
ID: EVS413329.

and this is the textof your aE-Mail
Thanks for booking with us, your visa application ID: EVS413329. Your visa is processing and we will send you the visa on May 30 2016 at 18h00PM GMT +7 ( Vietnam local time).

Applicant Fullname Gender Date of Birth Nationality Passport Number Date of Arrival Port of Arrival Type of Visa
1 daniele pattono Male May/02/1968 Italy AA3745624 Aug/02/2016 Cam Ranh 3 months multiple




Visas

May 27, 2016

We are traveling to Melbourne on the 17 th December 16 and have a layover in Ho chin Ming of 15 hrs which we would like to look round the city before we go on to Melborne on the 9 th January 17 we come back to Ho chin Ming and stay in Vietnam till the 14 th January when we return to uk ,there are 4 people,
What type of visa do we require. Looking forward to your reply .Mr P Turner

Vietnam Evisa Support

May 27, 2016

Dear Sir/Madam, 

In this case, you can apply 2 Visas One Month Single Entry OR 1 Visa Three Multiple Entries. 

Regards, 

Evisa Team 
Do i need Visa for holiday?

Apr 28, 2016

Hi
Do i need a Visa for 11 dayholiday in Vietnam? i am an Irish citizen
Regards,
Kathy

Vietnam Evisa Support

Apr 28, 2016

Dear Sir/Madam, 

Yes, you still apply the visa to enter to Vietnam. 

Regards, 

Evisa Team 

Lisa Bartels

United States

Vietname Visa for a U.S. Citizen

Apr 28, 2016

Is there a U.S. Embassy in Chicago? If not, can I mail the passport and documentation to the U.S. Embassy in another state for completion? Or do I need to do this in person?

Vietnam Evisa Support

Apr 28, 2016

Dear Sir/Madam, 

You also can apply visa on arrival with us. You can apply directly on our website. 

Regards, 

Evisa Team 

Stan Yamamoto

United States

Immigration Form entry and exit at the airport

Apr 27, 2016

Do I have to complete this form? I already have the pre-approved letter.
If i need to complete the form, does my wife fill out a separate form?

Vietnam Evisa Support

Apr 27, 2016

Hello,

We would like to confirm that you and your wife need to complete the form (even you have pre-approved letter) and send it to sfaff at the airport.

Regards,

Thanks.

Evisa team.

Holiday visa

Apr 21, 2016

I will be in vietnam on holiday in May 2016 for 10 days. Do I need a visa

Vietnam Evisa Support

Apr 21, 2016

Dear Sir/Madam, 

Could you please confirm us about your nationality? 

Regards, 

Evisa Team 

Leo Hageman

United States

Travel Visa and things I might take with me

Apr 18, 2016

I am booked to fly to Vietnam arriving 6/5/16 ... am I in time to apply for an on line visa and are there restrictions on gifts I may take to my host family?

Vietnam Evisa Support

Apr 18, 2016

Dear Sir/Madam, 

Could you please confirm us clearly about your meaning? 

Regards,

Evisa Team 
David Hetherington

United Kingdom

United Kingdom

Apr 04, 2016

I have a 3 month tourist visa with one month extension. Can I apply for a further 2-3 month extension

Vietnam Evisa Support

Apr 04, 2016

Dear Sir/Madam,

Thanks for your question.

We would like to confirm that currently we are able to extend for you 1 month single entry Visa only. Please send us your passport scan via email Visa@vietnam-evisa.org, then we will check for the Visa extension fee.

Feel free to contact us if you have any question.

Thanks,

Evisa Team

Visa

Mar 08, 2016

Its is compulsory to pay following fees for visa or can we take the visa without such fees:
Including the Airport Fast-Track service.
Including Visa stamping fee for Vietnam Government.

Vietnam Evisa Support

Mar 08, 2016

Dear Sir/Madam,

Thanks for your question!

We would like to inform that if you want our staff to help you to get visa, you can choose airport fast track service and it is optional. About stamping fee, you must pay the stamping fee for Vietnam Immigration at the airport to get visa stamp. If you do not pay this fee, you will not be allowed to entry Vietnam

Best regards,

Evisa Team

Visa

Mar 04, 2016

My wife and myself intend to visit Vietnam by Sea, Cruise Ship. Could you please advise how we can apply for a Visa. We will be cruising to some places in Vietnam, entering by ship and leaving by ship. These will be day visits only. Cruise company informs that it is our responsibility to obtain a visa. It seems that we cannot apply for an e-visa as this seems to be for air arrivals only. We were advised to apply for the visa from the Vietnam Embassy in Rome, but cannot download application forms.There is no Vietnam or Consulate in Malta.Could you please inform us the best way to obtain a Visa.

Vietnam Evisa Support

Mar 04, 2016

Dear Sir/Madam,

Thanks for your question!

We would like to inform that if you enter Vietnam by cruise, we can not help you to process visa, please go to Vietnam Embassy in person in Rome to apply visa

Best regards,

Evisa Team

Visa application

Mar 02, 2016

Dear Sir/Madam,

I would like to apply a vietnam visa for my coming holiday before departure, please advise how to apply and the total fees.

Thanks,
Angie

Vietnam Evisa Support

Mar 02, 2016

Dear Sir/Madam,

Thanks for your question!

Coud you please to give us your nationality and how long you will stay in Vietnam?

Best regards,

Evisa Team

visit visa for vietnam

Jan 28, 2016

on arrival visa facelity available for indian passport holders

Vietnam Evisa Support

Jan 28, 2016

Dear Sir/ Madam

Thank you for your question.

We would like to confirm that Indian passport holders can apply for Visa on arrival here https://www.vietnam-evisa.org/apply-visa.html. After receiving your application, we will send you the Visa approval letter within 2 working days. You just need to print it out for boarding the plane. Then, you use this letter to get Visa stamp in the airport when you enter Vietnam.

Any more questions, please feel free to contact us.

Best Regards,

E-visa team
VISA APPLY FOAM FROM SRILANKA

Jan 27, 2016

I AM SRILANKAN I NEED A VISA FOAM, IT IS POSSIABAL TO DOWNLOAD I NEED WEB SITE

Vietnam Evisa Support

Jan 27, 2016

Dear Sir/MAdam,

Thank for your question.

We would like to inform that we just help you get visa for 1 month single only. You can apply by online via the link https://www.vietnam-evisa.org/apply-visa.html 

After receiving your payment, we will process and send to you the approval letter via your email within 2 working days, then just need print the letter out and use it to get visa stamp directly at Vietnam airport.




If there is any further requests, please do not hesitate to contact us.

Best Regards,

Evisa Team 

Visa

Jan 11, 2016

I am a Pakistan National staying in Saudi Arabia would like to visit vietnam for short stay, let me know the process and requirements as well as is it possible to apply online evisa.

Vietnam Evisa Support

Jan 11, 2016

Dear Sir/Madam,

We are sorry to inform that at the moment, we cannot process the visa for Pakistan. Could you please contact at the Vietnam Embassy Office in your living country?

Regards,

Evisa Team

Ronnie Culberson

United States

6 month / multiple entry - exit

Jan 09, 2016

i'll be traveling for an extended stay in March, I'll be traveling throughout South east Asia but living in Vietnam. I plan to stay from March -August.

Vietnam Evisa Support

Jan 09, 2016

Dear Sir/MAdam,

Thank for your question.

We would like to inform that what is your nationality ? We will give you more information then. Or please try to apply in the linkk : https://www.vietnam-evisa.org/apply-visa.html.

Any help,please feel free to contact us.

Best Regards,

Evisa Team

enterence in january

Dec 29, 2015

hi ,
i would like to visit vietnam for a visit for bussiness during january
what do you advice me online visa or visa from embassy

thank you

Vietnam Evisa Support

Dec 29, 2015

Dear Sir/Madam,

Could you please inform us about your nationality? As each country has different visa requirement. Normally, we can process the business visa up to 6 month multiples.

Regards,

Evisa Team

Vietnam Evisa Support

Dec 30, 2015

Dear Sir/Madam,

Thank you for your question,

We would like to inform with you that we can do process for Egyptian citizens to get a Visa On Arrival with 1 month single type.

Please apply online with us as soon as possible.

Best regards,

E-visa team.

vietnam visa

Dec 14, 2015

Hi we are us citizens and will be going to Cambodia for 5 days and then to Vietnam. Do we need a special form? We will fly into Danang. We then must fly back to PP Cambodia to fly home. Total visit time will be 3 weeks.

Vietnam Evisa Support

Dec 14, 2015

Dear Sir/Madam,

Thanks for your question!

We would like to inform that you need to apply visa if you want to enter Vietnam and you should apply for 1 month single visa. Please go to this link to apply visa: https://www.vietnam-evisa.org/apply-visa.html 

Best regards,

Evisa Team
visa for iranian

Dec 02, 2015

Hi, Do you provide visa for iranian citizens on arrival?

Vietnam Evisa Support

Dec 02, 2015

Dear Sir/Madam,

Thank you for your concern,

We would like to inform you that we can not do process for Iranian passport holder recently. Hence, you can go to Embassy physically to get your Visa.

Best regards,

E-visa team.

lawal kayode ismaeel

Nigeria

evisa approval letter

Dec 02, 2015

Sir,
Thanks for the easy service you are rendering to people. I was trying to fill the online form on your website but unfortunately, Nigeria is missing on the list of countries. I want to visit Vietnam in January 2016

Vietnam Evisa Support

Dec 02, 2015

Dear Sir/Madam,

Thank you for your concern,

We are sorry to inform with you that we can not help Nigerian citizens to get a Visa On Arrival recently.

We could adivse you to go to Embassy physically to get a Visa then you can enter Vietnam in January, 2016.

Best regards,

E-visa team.

lawal kayode ismaeel

Nigeria

evisa approval letter

Dec 02, 2015

Sir,
Thanks for the easy service you are rendering to people. I was trying to fill the online form on your website but unfortunately, Nigeria is missing on the list of countries. I want to visit Vietnam in January 2016

Vietnam Evisa Support

Dec 02, 2015

Dear Sir/Madam,

Thank you for your concern,

We are sorry to inform with you that we can not do process for Nigerian citizens now to get a Visa On Arrival.

We could advise you go to the embassy to get A visa then you can enter Vietnam.

Best regards,

E-visa team.

Can i get visa

Nov 28, 2015

i am from nepal and now i am in malaysia as worker.so i have working visa how can i apply online visa?can get visa to vietnam?

Vietnam Evisa Support

Nov 28, 2015

Dear Sir/Madam,

We kindly inform that you can apply directly on our website, and it just takes 2 working days to process your visa.

Regards,

Evisa Team

Katherine Lawrence

Australia

URGENT VISA APPLICATION NO RESPONSE FROM YOUR COMPANY

Oct 13, 2015

Applied for visa no response from this company, client is travelling tomorrow. Application no# is EVS273550

Vietnam Evisa Support

Oct 13, 2015

Dear Sir/Madam,

Thank for your question.

We are pleased to inform that we checked your application on our system. You applied visa on 06th Oct for date of arrival 09th Oct. We also sent you the letter on the same day via the email peterchoi0419@gmail.com which you gave us. You did not give us 2nd email to send instead of.

For now, Today is 13th Oct and your date of arrival is 09th Oct. Have the client entered into Vietnam already? 

Any help,please feel free to contact us.

Regards,

Evisa Team

 
Emergency visa

Oct 09, 2015

Hi,
I am English and my husband is canadian. We are flying to Vietnam tommorrow pm and need emergency visas. Is that possible?

Vietnam Evisa Support

Oct 09, 2015

Dear Sir/Madam,

We would like to confirm you that according to the Vietnam Immigration's new policy, from July 1, 2015 to June 2016, 6 countries (including France, Germany, Italy, Spain, UK and Belarus) no need Visa if they stay in Vietnam less than 15 days. However, the previous visit must be far at least 30 days the next visit. 

However, Canada Passport still need to apply the visa.

Regards,

Evisa Team

aiden buckley

United Kingdom

visa by crossing the boarder

Sep 05, 2015

i am doing a trip and i come fromSihanoukville to Cần Thơ by crossing the boarder i am only in vietnam for 12 days and leave hanoi to laos what visa would i need ?

Vietnam Evisa Support

Sep 05, 2015

Dear Sir/Madam,

Thank for using our service.

We would like to inform that We just support get visa on arrival . It just be approved by plane only. Hence, we can not help you in this case, you have to come to the Embassy in your living country to get visa

 

Any help,please feel free to contact us.

Best Regards,

Evisa TEam

lionel ranawakage

Sri Lanka

e visa for Srilanka passport holder

Sep 01, 2015

I am aSrilankan. Planned to visit HO chi minh city with my wife. Two years ago we two visited Hanoi an dhad a great holiday. That time we visited the Vietnam embassy in Srilanka and got visa. Is the procedure same. If not how long it take to get visa.

Vietnam Evisa Support

Sep 01, 2015

Dear Sir/Madam,

Thank for using our service.

We are pleased to inform that Srilanka passport holders can apply visa on arrival normally.

First you just fill in application form in the link: http://www.vietnam-evisa.org/apply-visa.html .

After receiving your payment, we will process and send to you the approval letter via your email within 2 working days, then just need print the letter out and use it to get visa stamp directly at Vietnam airport.




Any help,please feel free to contact us.

Best Regards,

Evisa Team

Vietnam Tourist Visa

Aug 28, 2015

Hi,

I am a Pakistani national residing in Dubai, UAE as I am working here. I plan to visit Vietnam in September from 18th till 25th on tourism purpose.

Could you please clarify me what are the visa requirements, fee and the procedure if I do it online. How long does it take?

Thank you in advance for your help.

Regards,

Tayyaba

Vietnam Evisa Support

Aug 28, 2015

Dear Sir/Madam,

 

Thanks for your question.

We would like to confirm that it is not easy to offer Visa on arrival for Bangladesh nationality. You need to send us your passport scan, hotel booking and the return ticket. After receiving your fully information, we will send you the link in which you can settle your payment. Please take note that the processing time takes from 7 to 10 working days and the term of your Visa will be based on your flight tickets.

The fee is 220USD/person. This fee does not include 45USD stamping fee which you have to pay to get Visa stamp in the airport when you enter Vietnam.

Please feel free to contact us if you have any question.

Best Regards,

EVisa Team

VOA visa

Aug 22, 2015

We like to apply VOA visa. We will arrive Hanoi airport and will leave from HO CHI MINH airport. Do we need to clarify anything since the from and leave airport is different ?

Vietnam Evisa Support

Aug 22, 2015

Dear Sir, 

Thank you for your question. 

Yes, you do not have to confirm about your departure port, as becasue after receiving the vidsa stamp at one of the Vietnam International Airport, then you are allowed to travel to anywhere within Vietnam. 

Regards, 

Evisa Team
Visa application for Nigerians

Aug 18, 2015

Hello, and good day, I will like to know what the process is to get a visa to visit Vietnam..I will like to come in for holiday and probably business.

Best Regards

Samuel

Vietnam Evisa Support

Aug 18, 2015

Dear Sir/Madam,

Thank for your question.

We are pleased to inform that Getting visa for Nigerian passport holders is the most difficult so we can not help you get Vietnam visa on arrival. You can come to the Embassy in your living country to get visa.So sorry we can not help you in this case.

 

Any help,please feel free to contact us.

Best Regards,

Evisa Team

Application process.

Jul 22, 2015

How and when do I apply for vietnam visa. I plan to travel end of September 2015 for a week. Please guide.

Vietnam Evisa Support

Jul 22, 2015

Dear Sir/Madam,

Thanks for your question,

We would like to confirm that the normal case takes 2 working days. It means that if you apply for our Visa on arrival service

today, you will receive the Visa approval letter tomorrow. In addition, the urgent case just takes from 4 hours to 8 hours. So that, you  

can apply for Visa on arrival 1 week or 10 days before you enter Vietnam. In case, you change your journey's details, then we have enough time

to correct your Visa.

Please feel free to contact us if you have any question.

Best Regards,

E-Visa Team 

about tourist visa

Jun 25, 2015

how i can get tourist visa and what documents required and what about fees of visa??

Vietnam Evisa Support

Jun 25, 2015

Dear Sir/Madam,

Thank for your question.

 

We are pleased to inform that please let us know your nationality. We will give you more information. Or you can know more information in the link : http://www.vietnam-evisa.org/visa-fee.html.

 

Any help,please feel free to contact us.

Best Regards,

Evisa Team

Business visa on arrival

Jun 17, 2015

Hi

I have two colleagues travelling into Vietnam next week and need to gain them two business visas on arrival. They are British Citizens and will be travelling to US and then India before arriving in Vietnam next week. Is this possible and can you help? i have scans of passports and all the information needed for their application.
Thanks
Amy

Vietnam Evisa Support

Jun 17, 2015

Dear Sir/Madam,

Thank for your question.

We would like to inform that There is some new rule from the Immigration Dept. So at that time, the Immigration Dept do not accept process business visa anymore, you can get tourist visa normally .However, you also use tourist visa for entering into Vietnam for attending any meeting or working ( except to work at offshore) . Please note that we can not control this case, it is depend on the  rule of Immigration Dept.

One more thing , if you want to get Business Visa, you can come to the Embassy in your living country and get it.

If you want to get visa on arrival, first you just fill in application form in the link: http://www.vietnam-evisa.org/apply-visa.html . After receiving your payment, we will process and send to you the approval letter via your email within 2 working days, then just need print the letter out and use it to get visa stamp directly at Vietnam airport.

Best Regards,

Evisa Team

Abdelmoniem Abdelkhaleq

Egypt

I cannot find Egypt in Nationality List

Jun 10, 2015

I tried to apply for the visa using your site but I couldn't find Egypt in the list of nationality.
Me and two colleagues will visit Doosan Vina Haiphong in business trip from 14th ~ 19th June.
Please confirm if we can get the visa in order to arrange for flight reservation.


Vietnam Evisa Support

Jun 10, 2015

Dear Sir/Madam,

Thanks for your question,

We are pleased to inform that we can help you to proceed visa approval letter to get visa at the airport. However, your nationality is so hard to proceed because your nation is in the special list of Vietnam Immigration Department. Therefore, you should send us all required documents here: your passport scan, your hotel booking and return ticket flight detail. We need it to check and proceed visa for you. And you will have to pay 220USD/ person for the service fee and 45USD / person for stamping fee. If you agree, please send the required documents to our email: visa@vietnam-evisa.org we will help you to proceed Tourist visa, not for Business. In case you want to work in Vietnam you'd better contact The Embassy in your country. 

If you have any question, please feel free to contact us,

Thanks & regards,

Evisa Team
Travel visa

Jun 04, 2015

Me and my friend will spend a vacation at Da Nang and we both holding Hong Kong SAR passport. Just to confirm it is fine for us to apply the e-visa here and we DO NOT need to go to the Hong Kong Wan Chai office to manually submit or take the visa? Kindly advice. Thanks!

Vietnam Evisa Support

Jun 04, 2015

Dear Vicky,

Thank you for contacting us.

 

You can apply with us here: http://www.vietnam-evisa.org/apply-visa.html. We will send you the confirmation email after your settle payment successfully.

After 2 working days (except Saturday Sunday and holiday ) , the Approval Letter will be sent back for you via email. Please use that letter for boarding plane and getting Visa stamp at VN airport.

 

Regards,

Evisa team

Visa for an Irish

May 22, 2015

Hi, Team

My boss is an Irish working in HK. He needs to go to Vietnam for a seminar in June. Please advise if he can apply a 3 months mulitple business visa for the trip. Please advise.

Vietnam Evisa Support

May 22, 2015

Dear Sir/ Madam,

Thanks for your question,

We are pleased to inform that Irish passport holder can apply visa to get on arrival. For 3 months multiple with business purpose, he still can apply for that. Please click the link and apply with us: http://www.vietnam-evisa.org/apply-visa.html

If you have any question, please don't hesitate to contact us,

Thanks & regards,

Evisa Team

Eng.Johnson Okolie

Nigeria

Eng.

Mar 03, 2015

Hi, I Johnson Okolie an Environmental Engineer currently living and working here in Doha Qatar wish to come to Vietnam for business trip like fabrics buying,shoes,clothes etc,Please i need to find out all the necessary things required to obtain a visa to Vietnam to enable patronized and do business in Vietnam since i love their quality of goods.Here are my contact via +97477332514 Thanks and best regards Johnson

Vietnam Evisa Support

Mar 03, 2015

Dear Sir/ Madam,

Thanks for your email,

We are pleased to inform that we just help to proceed tourist visa only, if you need business visa, please contact Vietnam Embassy to know more about the procedure. Because the law has changed, Vietnam Immigration does not agree to proceed business visa online anymore. Any help, please feel free to contact us. In addition, you can apply tourist visa for traveling or visiting company, it can be accepted.

If you have any question, please feel free to email us,

Regards,

Evisa Team

Vietnam 5 year visa

Jan 27, 2015

I would like to apply a 5 years multiple entries, Could you please tell me what steps that I need to follows. Thank you in advance for your time. John Nguyen

Vietnam Evisa Support

Jan 27, 2015

Dear John Nguyen,

Thank you for your question.

 

We would like to inform that you need to married to a Vietnamese to be able to get Vietnam 5 year visa. 

You also need marriage certificate, household registeration book, temporary resident card, Identification of the wife or husband, 2 photos of each.

If you have those paper works, please contact us again.

 

Regards,

Flora