Flavors of Hai Phong: Banh beo and secret sauce win hearts
May eatery in Hai Phong is a beloved banh beo spot that sells over 2,500 servings each day, featuring a mouthwatering dipping sauce stewed from bones for 12 hours on a charcoal stove. Located at 65 Chu Van An Street, right in the heart of the northern port city and behind Lach Tray Stadium, May's banh beo (steamed rice cake) eatery covers an area of approximately 50 square meters. With 10 tables, it can accommodate around 45 to 50 people at a time.
When people mention banh beo, they often think of the round, 5 cm in diameter Hue-style banh beo, served in a cup with shrimp floss, scallion oil, and fried pork skin. However, the cake in Hai Phong, which shares the same name, is a completely different variation.
The Hai Phong banh beo is wrapped in banana leaves, resembling banh duc (rice flour cake) in appearance but with a denser texture, similar to banh gio (rice and pork pyramid dumpling).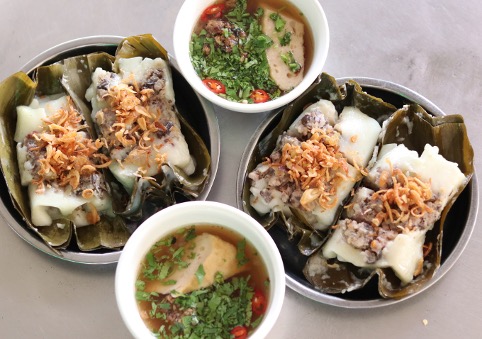 Banh beo at May eatery in Hai Phong is accompanied by a flavorful dipping sauce, along with pork rolls and meatballs.
Upon entering the shop, you'll notice a 2-meter long table right in front. It is adorned with various tools, spices, and some of the restaurant's specialities like banh beo, banh gio, banh cuon, and side dishes. Adjacent to the table, there are five insulated foam boxes, each containing 500 banh beo for dine-in guests and takeaway orders.
May said that the shop prepares 2,500 cakes daily, increasing to 3,000 on weekends, not to mention other dishes.
The shop operates from 12:30 p.m. until the food runs out. "On busy days, we sell out of stock by 4 p.m," May said. There are seven employees, each assigned to a specific task, such as cutting pork rolls into dipping sauce, slicing the cake, or filling the sauce.
Every day, the shop prepares approximately 30 kilograms of rice flour, 50 kilograms of ground pork, 10 kilograms of wood ear mushrooms, and 60 liters of sauce, among other ingredients.
May and her husband start at 6 a.m. on their daily preparations, which involve grinding flour, preparing the cake fillings, frying onions, and assembling the molds with leaves.
The batter is made by soaking plain rice in water for at least six hours, then grinding it into a fine powder. The rice flour is cooked and diligently stirred until it reaches a smooth consistency. The filling, a mixture of pork, fried onions, and minced wood ear mushrooms, is thoroughly combined before being placed in the molds with the batter. The cakes are then steamed for approximately an hour. Each individual cake comprises 60 grams of flour and 40 grams of filling, skillfully wrapped in banana leaves measuring 12 x 16 cm.
When the cake is fully cooked, the batter turns opaque white and emits the fragrance of rice flour, meat filling, wood ear mushrooms, and fried onions. The cooked banh beo is placed in an insulated container.
When guests arrive, it can be served immediately with the dipping sauce, which is heated on the stove and made from bones. Banh beo is often served with pork rolls, meatballs, fried onions, and coriander.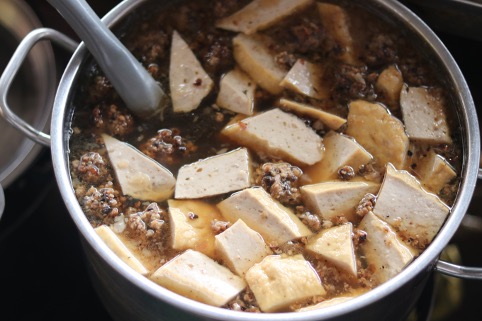 The secret dipping sauce, stewed from bones, to which meat balls and sausage are added, is May's specialty
The dipping sauce is May's secret recipe, stewed from bones for 12 hours on a charcoal stove. It incorporates traditional fish sauce, resulting in a sweet and fragrant flavor. The dipping sauce is golden brown, and complements each bite of the cake. Diners can add coriander, fresh chili, and lime juice for an enhanced taste.
A typical meal consisting of four banh beo, fried onions, and pork rolls with dipping sauce costs between VND20,000 and VND30,000 (85 cents to $1.30). This price has remained unchanged for the past two years.
In recent years, as Hai Phong's food tour has gained popularity, the number of weekend visitors to the place has increased, resulting in customers having to wait in line to be served.
Many guests who enjoy their meals at May eatery recommend the place to their friends. Motorbikes can be parked inside the shop, while those arriving by car can park in front of the shop, free of charge.
Diep, the manager of a market in Hai Phong, said that banh beo has been a renowned snack in the city for decades. May eatery has been serving customers for nearly 20 years and is well-known among tourists for its quality cakes and reasonable prices.
Joy, a 28-year-old Russian tourist, said that he has tasted a wide range of Vietnamese dishes. May's banh beo stands out with its perfect softness, meat filling, and variety of spices, accompanied by a fragrant dipping sauce. He vowed to seek out this dish on his next visit to Vietnam.
Khanh Linh, a 22-year-old traveler, and her group of friends traveled from Hanoi to Hai Phong by train to experience the food tour on May 21. She also praised the soft and flavorful Hai Phong-style banh beo, highlighting its generous meat filling and the savory, sweet sauce. She added that the cake is best enjoyed when served hot.
During a visit to Hai Phong for a food tour, visitors can also savor other local delicacies such as Bich's spicy fish noodle soup, old lady's banh da cua (crab noodle soup), che dua dam (coconut dessert), and breadsticks.
SOURCE: vnexpress.net