8 Vietnamese special foods are recorded as nice gifts
Asian records organization has considered 8 Vietnamese special foods being as nice gifts for tourist in New Delhi of India. Let's taste a piece to know more Vietnam food stylish and give those to family or friends as lovely gifts about specialty of tropical country.

1. Green pea cake of Hai Duong province
Cakes made from ground green lentils are special food of Hai Duong province. It is made from green peas and pork fat. Sweet smelt from green peas stimulate eater don't miss a chance to take a piece to taste. It will be more delicious when enjoying with a hot cup of tea.
It was said that King Bao Dai patrolled through Hai Duong town was offered the green peas cake by local Hai Duong residence. The King praised to the green peas about delicious and gently sweet smell. After returned his citadel the King has decreed Hai Duong green pea cake compliments. On the royal decree there is a golden dragon symbol-the symbolic authority of the king. Since then, people have called golden green pea cake as the same name of the Hai Duong green pea cake.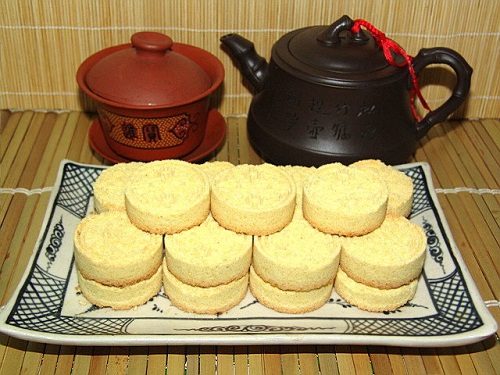 Hai Duong green pea cake 
2. Thai Nguyen tea
Thai Nguyen province is famous for green tee hills. With the cool climate effected by Tam Dao, it's approximate to cultivate tea. Tea of Thai Nguyen has its marked differently with other teas grown in different areas. Its taste has a little acrid in first tongue. But when completely enjoying, drinker will be overwhelmed with gently sweet. Coming to Thai Nguyen province, tourist can not only enjoy fresh tea but also contemplate wonderful hills full tea. There are many 90 year old tea plant in Tan Cuong. Let's leave bustling city to come quiet and peaceful of green tea hills.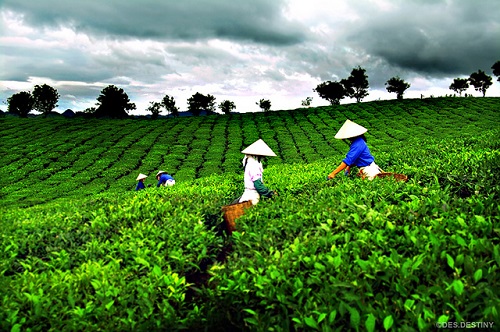 Thai Nguyen tea plantation 
3. Tra Bong cinnamon
Coming Tra Bong district, tourists can feel tangy aroma of cinnamon. Tra Bong cinnamon oil is higher quality, special flavor than other places of planting. Lots of Tra Bong cinnamon product are more and more popular with domestic and foreign market. Cinnamon is very useful for heath. It helps recuse those who have the flu or headaches when grind the barks cover cinnamon trees. Cinnamon can stimulate blood circulation, and increased secretion, decrease cholesterol in blood and so on.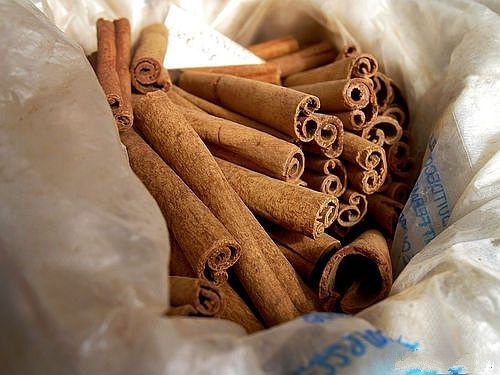 Tra Bong cinnamon
4. Ngoc Linh ginseng
Ngoc Linh ginseng was discovered in 1985. Ngoc Linh ginseng also called with name Panax Vietnamesis Ha et grushv. It is one of rare type of ginseng in Vietnam. It should be save from destroying and over using without reproduce. It is discovered in the central of Vietnam and concentrated in the mountain of Ngoc Linh district, Dak Lak province. It's more useful than ginseng of China or Korea. Follow research results showed that Ngoc Linh ginseng has effect to recover or treat depression or nervous or increase memory, etc. Tourist can discover the uses of ginseng and take a piece to gift their family.
Ngoc Linh ginseng
5. Buon Ma Thuot coffee
Buon Ma Thuot coffe is one of famous brank coffee in Vietnam. It is cultivated in Buon Ma Thuot highland in the Vietnam central. Coffee plants are in high consideration by its quality and flavor. There are thousands coffee plants on green highland. Coming there in coffee bloom season, tourist should be surprised not only by the magnificent of coffee plants but also by sweet smell from coffee flowers. Moreover, coming there visitors can enjoy in really coffee taste without any aromatic spices.
Coffee in harvest 
6. Trang bang rice paper
Trang Bang rice paper is a popular food for not only Tay Ninh residence and pilgrims. Especially, rice paper is expose in fog in the evening. Rice paper will be expose on 1 or 2 minutes in fog make more ductility but not wet or ragged. Rice paper is used to roll boiled meat and vegetables and dip in chili fish sauce. Moreover, rice paper is so light to bring to give for someone traveler come back home from the trip.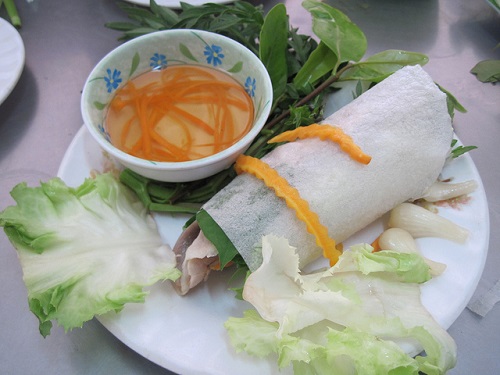 Boiled meat and vegetable rolled in Trang Bang rice paper
7. Ben Tre Candy from coconut
Ben Tre candy is special food of Ben Tre province. It is a candy made from coconut and malt. In Ben Tre, there are many traditional village only produce this candy. It's so easy to make a delicious candy. So local residences are so friendly that visitors can learn the process to make a tasty candy. Moreover, visitors can have a chance to visit Ben Tre floating market of Mekong delta. It's also an interesting experience.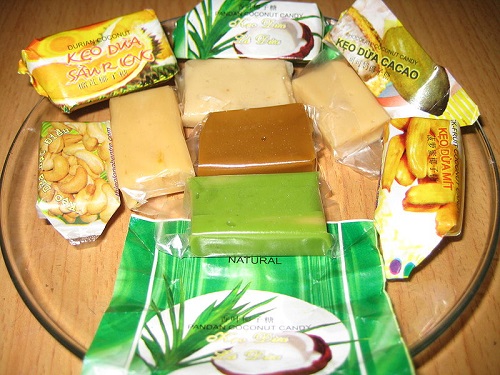 Ben Tre coconut candy
8. Phu Quoc pepper
Pepper of Phu Quoc has its nice aromatic and pungent flavor. Phu Quoc is an island in the Vietnam southern. It's famous for not only pepper but also beautiful beach. Its beauty is wild and pure. Visitors can release their stress and enjoy beautiful beach, fresh wind and delicious of see food. Don't miss put a little pepper in food. This will make visitors' dish become tastier.
 Pepper in Phu Quoc
Have a nice day !
By Vietnam-evisa.org team