3500 foreign New Year callers arrive in Hue

Up to 3500 foreign tourists to Hue former capital were welcome as New Year callers on January 1st 2014.
>> Hue former capital welcome 2 million tourists ỉn 2013
According to Mr. Phan Thanh Hai- director of Relic conservation center of Hue former capital, over 3500 foreign visitors on VN1541 flight to Hue were welcome as New Year callers on January 1st 2014. The first turnover is estimate about 390 VND.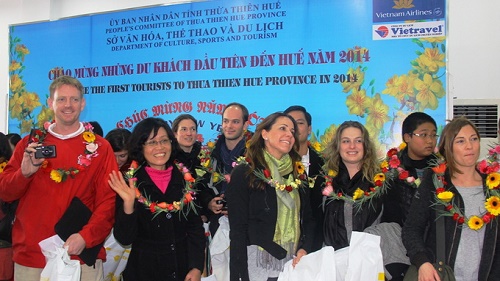 Ceremony to welcome the first tourists
Thua Thien Hue province also organize ceremony to welcome and give gifts to the 20th passengers who enter Vietnam on VN1541 flight.
These passengers are chosen random among 148 foreign tourists on VN 1541 of Vietnam airline taking on Ha Noi city and taking off Phu Bai airport on January 1sr 2014.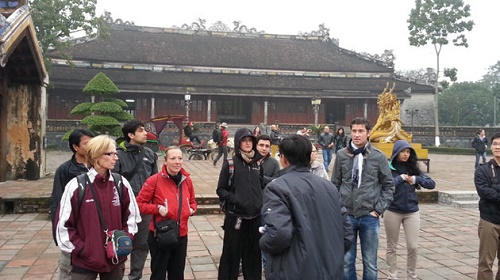 The first New Year callers arrive Hue
On the first day of New Year, project's Thua Thien Hue Province is 2.8-3 million arrivals with turnover about 2800-2900 million VND, rising 16-18% compare to last year.
In 2013, although Vietnam's economy and world economy is rise down, Thua Thien Hue's tourism welcome 2.6 million arrival contains 900000 foreign tourists and over 2470 million turnover, jump over 11% compare to last year.

Especially, on encouraging Hue relic week, Hue welcome 34213 arrivals from December 24th-December 30th 2013 contains about 26500 international tourists, estimate 2.2 billion VND (this turnover doesn't contain thousand arrival who are students, teacher are given ticket free).
Happy New Year!
By Vietnam-evisa.org team