Hue former capital welcome 2 million tourists in 2013
In the morning of December 24th 2013, Hue former capital's monument conservation center held officially ceremony to welcome the visitor who is 2 millionth passenger coming into Vietnam in 2013.

The 2013 is the second year which monument conservation center welcome 2 millionth passenger coming to Vietnam. The amount of tourists visiting Hue former capital jumps over 2 million arrivals. The revenue from ticket booking also jumps over 2012.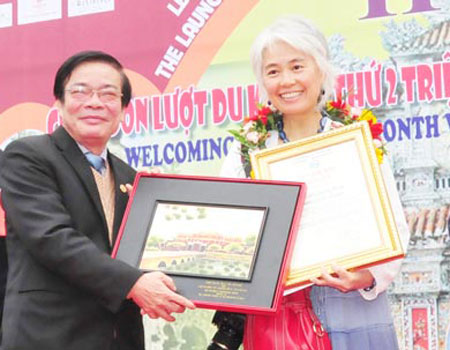 Mrs. Yoshimi Muto is the 2 millionth passenger enter Hue City
Mrs. Yoshimi is the 2 millionth passenger that coming in Vietnam in 2013. Therefore she also received 1 voucher which she can stay 2 nights for 2 persons from 5 star hotel La Residence Hotel & Spa in Hue; 1 free ticket tour to travel in center Vietnam in 4 days from Hue tourist company sponsor; 1 free ticket that she can visit all relics in Hue since 2014 and many gifts from Hue former capital's monument conservation.

In this ceremony, there are many gifts to give Mr. Conlin Tapp (England nationality) and Mrs. Nguyen Thi Thu Thanh from Ho Chi Minh City. They are 2000100th passenger come into Vietnam.
According to Dr. Phan Thanh Hai's state, director of monument conservation center, although Phu Bai international airport closed 6 month and effected natural disaster, the amount of tourists coming Hue is about 2.6 million arrivals, the revenue is about 126 billion VND.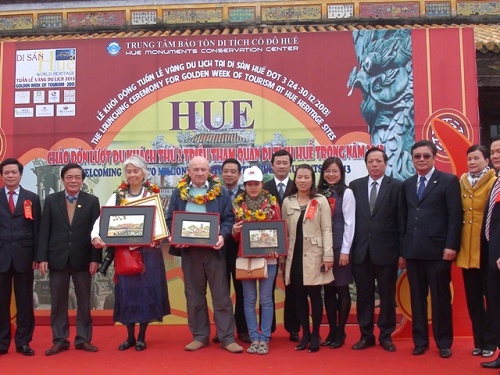 Gilfs for special passengers come Hue
On this occasion, Hue former capital monument conservation launched tourism golden week from 24th- 30th 2013 with many promotion programs such as: sale 20 % ticket price for tour over 10 persons. For tours which contains over 20 persons will be free for interpreter fee. Tourists who visit 3 tourism spots contain: Royal palace, Khai Dinh's royal king tomb and Minh Mang's king tomb will receive free ticket for Thieu Tri's royal king tomb, Tu Duc and Hon Chen's royal king tomb. Moreover Nha Nhac performance will decrease 50 % price ticket at Duyet Thi Duong opera for 24th, 26th, 28th December from 19:00 to 19:45, 50 decrease 50% car service to pick travelers around royal palace.

Many art activities also display on golden week such as:
 Hue music at Cung Dien at 21:00 to 21:30 without fee
 Reappearance program of Queen come back royal palace at Truong Lang Purple Forbidden City from 21:00-21:30.
 Photo exhibition about Hue and moment at Truong Lang Purple Forbidden City
 Conference of tourism co-operations on December 29th.
Have a nice day!
By Vietnam-evisa.org team