Ban Gioc Waterfall: The Jewel of Northeast Vietnam
Ban Gioc Waterfall is one of Vietnam's most impressive natural wonders. Located in the northeastern province of Cao Bang, the falls are 30 meters high and 300 meters across, making Ban Gioc the widest waterfall in the country. The falls occur on the Quay Son River, a beautiful jade-blue body of water through a pastoral landscape of rice fields and bamboo groves surrounded by limestone pinnacles.
The name "Ban Gioc" means "silver cascade" in the local language, and it's easy to see why. The falls cascade down a series of limestone cliffs, creating a curtain of white water that glistens in the sunlight. The sound of the falls is loud, and the mist that they create can be seen for miles around. The best time to visit Ban Gioc Waterfall is during the rainy season, from October to December, when the water levels are highest. However, the falls are also beautiful during the dry season, from January to September.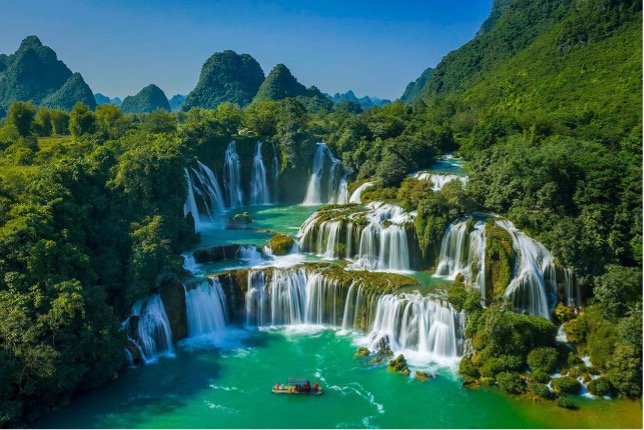 Ban Gioc Waterfall is located in the Dam Thuy commune of Cao Bang province, about 360 kilometers from Hanoi. The best way to get there is by car or bus. There are also a few tour operators that offer day trips to the falls from Hanoi.
Here are some other things to do in Ban Gioc
A
rea:
Visit the Pac Bo Cave, where Ho Chi Minh

– the patriot, communist and the first president of Vietnam

lived and worked in

1900s.

Hike in the Cao

Bang

Karst Plateau, a UNESCO World Heritage Site.

Visit the Nguom Ngao Cave, a limestone cave with stunning stalactites and stalagmites.

Visit

the C

u

c Phuong National Park, a UNESCO World Heritage Site

.

Go whitewater rafting on the Quay Son River.

Visit the local villages and learn about the culture of the ethnic minority groups that live in the area.
Some information you should know:
The entrance fee to the falls is 200,000 VND (about $9 USD).

There are a number of restaurants and souvenir shops near the falls.

If you are planning to visit the Nguom Ngao Cave, you will need to pay an additional entrance fee of 100,000 VND (about $4 USD).
Ban Gioc Waterfall is a truly unique and unforgettable experience. If you're looking for a place to connect with nature and experience the beauty of Vietnam, then Ban Gioc is definitely worth a visit.
Do you want to join us!
Vietnam-Evisa.Org
Hotline: +84.909.597.525
Website: www.Vietnam-Evisa.Org
Email: visa@Vietnam-Evisa.Org