Delicious fresh rolling dishes with a Vietnamese white translucent rice paper
Vietnam is a country which expands agriculture with main product is rice. Vietnamese white rice is exported over the world.
Milky white rice is soft, glutinous and has a special "rice" smell when boiling with a little water. It easily makes us a warm feeling.
Except for hot white glutinous rice, Vietnamese skillfully create delicious dishes from rice such as fried pan cake, banh it, banh tam, glutinous cake…. But a kind of cake which will make strong impression to foreigners is banh trang (a rice paper).
Banh trang is thin as a paper that's why it is called "rice paper". It is sold dried in thin, crisp, translucent round sheets that are wrapped in cellophane. It is soft and glutinous as a material with water. At this time a rice paper will mix with vegetables, meat, shrimp… in order to process delicious dishes like Trang Bang rice paper, Vietnamese fresh spring rolls, Vietnamese crispy egg rolls, shredded pork skin rolls…….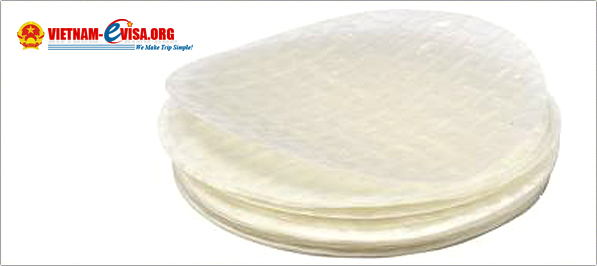 Trang Bang Rice Paper
Not only westerns but also many Vietnamese especially the elderly who have once suffered high fat blood, diabetes will enjoy this food. The level of glucose in blood, the amount of fat in blood and even acid uric don't increase at all after an enormous meal with rice paper filled with as much shrimp, meat, fish as you like…. There are some reasons that explain why you have to taste this dish when entering Vietnam.
- There must be a variety of vegetables with many different colors and tastes (bitter, pungent, sour, sweet)
- The vegetables filled in the roll should occupy 60%
- Such vegetables eaten in Vietnam as "Que vi", tia to" (balm) help balance the level of glucose in blood because the pancreas doesn't have to overwork when the amount of glucose contained in the food eaten doesn't increase suddenly.
- According to the proportion of starch contained in pan cake, noodles to the fibre in vegetables, the fat absored through the mesentery into blood or would directly in to the large intestines and then driven out immediately.
- 95% of the vegetables are water. Using a lot of vegetables and drinking much water helps make the sauces thinner. Therefore the blood pressure is balance after the meal. Just eating with meat and noodles would surely make your heart weaker just after some rolls.
- Most vitamins contained in the vegetables are helpful to the heart activities. Thus a big meal doesn't cause tiredness at all.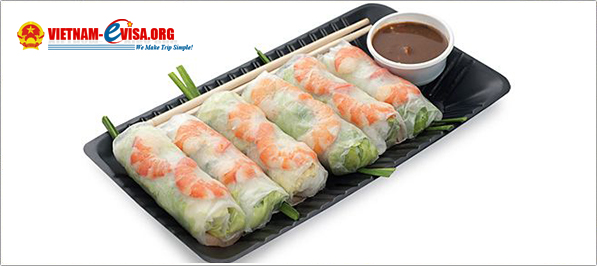 Vietnamese Fresh Spring Rolls
Fresh rolling dishes are more delicious with fish sauce or black soya sauce.
Some addresses are provided in order for you to enjoy these dishes with reasonable price:
Trang Bang rice paper
Restaurant: Hoang Ty 1
Address: 691/9 Xo Viet Nghe Tinh, Ward 27, Binh Thanh District, HCM.
411 – 413 Nguyen Tri Phuong Street, District 10, HCM.
Fresh Spring Rolls
Address: The pavements on Le Van Tam, Hai Ba Trung street.
To save money and time when getting vietnamese visa for travel or business, foreign customers just visit website www.vietnam-evisa.org and apply visa online to get "Approval Letter" within 24 hours. For more details without fees, please call us (+84) 909 343 525 ( Mr David La). We are always 24 hours per 7days for supporting.