Don't miss some Vietnamese interesting festival in October!
There are many exciting festivals organized throughout Viet Nam in this October. Vistors can have a chance to participate in these interesting outdoors activities. Here is suggestions for traveller's choices to join in exciting atmostphere festival.
>> Vietnamese mid-autumn festival
>> The charming beauty of Lang Co
1. Đôn-ta Festival and bull race
Đôn-ta is the biggest traditional festival of Khmer ethnic who live in the Southern Viet Nam. It's used to worship ancestor and organized throughout 3 days from 29/8 to 1/9 Lunar calendar every year. Bull race is one of exciting activities that traveller shouldn't miss. With 38 couple strong wild bulls are controlled by the brave clever men. Traveler can watch competition in person as in Colosseum of ancient Roman Empire. Tourist will become audiences to cheer human power for instruction wild ox. The festival is often occur at Bay Nui in An Giang province. It's organized on 3th to 5th October.
All of these activeties will help visitor understand culture of ethnic in Southern Viet Nam.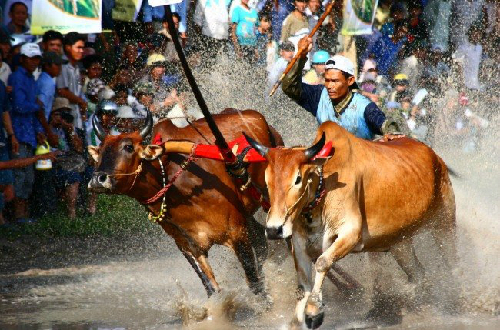 Bull race in Donta festival
2. Thầy- Thím Mansion Festival
Thầy – Thím has been the unique characteristic culture of Binh Thuan province for along time. This festival is always organized from 18th to 20th October at Thầy- Thím Mansion historical monument at Tan Tien village, Lagi town.
It's said that Thầy – Thím are gentle couple. They did charity for poverty all their life. After they died, resident called them with sweet name Thầy- Thím. Thầy means uncle and Thím means aunt. Although they died, resident trust in divine of them. Therefore traveller come to worship every year. Many people said that they make the dream come true when they ask for Thầy- Thím. That is a rational reason to come back Thầy- Thím again for thanksgiving. As time goes by Thầy- Thím Mansion is too much crowded and bustling.
In addition to praying for health or asking for good business, vistor can take part in Cheo Ba Trao game, martial arts and fish carrying contest and so on.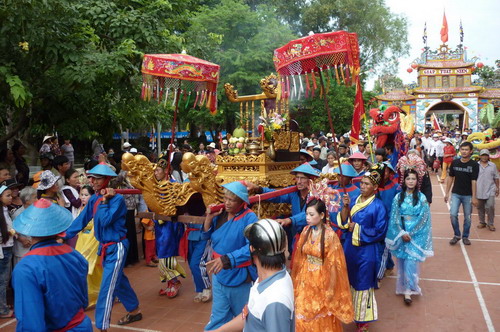 Thay-Thim masion festival
3. Quan Yin Worship
19th September accompany with 19th June and 19 February( Lunar calendar) is one of three important worship day of Buddhist in over the world. Buddhist come to temple to worship Quan Yin. Vistor can watch the old architech temple and enjoy beautiful view in there. Dragon, pheonix and many ancient architechure are easily to find in there. There are many thousands - year buildings that is suitable for who wants to study Viet Nam culture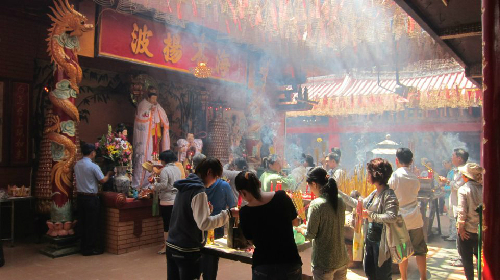 Quan Yin worship
Have a nice day!
Visa team of Vietnam-evisa.org