How to visit throughout Vietnam within 2 weeks?
This is common questions of most of travelers about how to visit through out Vietnam on their 10 days or 2 weeks trip. So, we list some interesting locations for visitors can visit through out Vietnam and how long to do this. It's depending on traveller's time and favorites. The visitors can choose to experience all of 3 regions of Vietnam: North, Central and South as below our suggestions:
>> Taxi and bus fee from Vietnamese International Airports to Cities 2013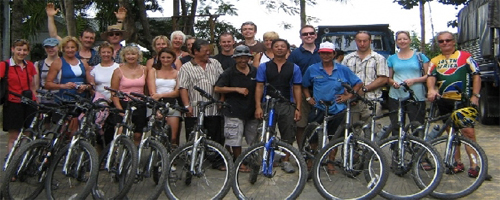 Cycling-Throughout-Vietnam-14-days...Nothing Impossible?
How to go?
First of all, travellers should know how to move from point to point if you plan to visit normal tourist destinations.
1. In Northern Vietnam:
Hanoi - HaLong bay - Cat Ba island: the travelers can book 2-3 day tours, or go by yourself. The tourists go to HaLong bay by bus and boat, then stay on Cat Ba island, exploring beaches, cave, jungle and fishing villages.
Hanoi - Lao Cai: overnight train is the best choices to Lao Cai town or you can catch a bus, however it may takes a long time.
At Sapa, tourist will go to Sapa by bus for 30 kilometres road. You will spend 2 nights on train, 2 days for trekking. For who want to visit Bac Ha, the bus will take you going about 60 kilometres from Sapa.
2. In Central Vietnam:
Hanoi - Hue: go by flight, overnight train or bus.
Hanoi - Danang: go by flight, overnight train or bus.
Hue - Hai Van pass- Danang - Hoi An - Nha trang: go by train, tourist bus, or by taxi (through pass or through tunnel).
Danang - Nha Trang: by flight, train, or tourist bus.
3. In Southern Vietnam:
Nha Trang - Da Lat: by tourist bus.
Da Lat - Saigon ( Ho Chi Minh city): by tourist bus, or flight.
Saigon - Phan Thiet: by tourist bus.
Saigon - Mekong Delta: should get tour 1-2 days, go by local bus.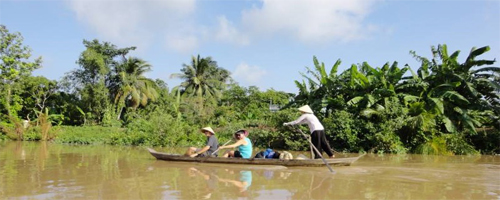 Journey-to-Mekong-Delta-Vietnam
How long to stay in?
Here is our suggestions for your trip, in case you want to visit all 3 regions of Vietnam within 10 days or 2 weeks.
1-2 days in Hanoi
2 days in HaLong bay -> Overnight train Hanoi to Hue ( 6 hours at night).
1 day in Hue.
Bus from Hue to Danang: will takes about 4 hours.
1 day for My Son Cham towers ( Quang Nam).
1 - 2 days at Hoi An ancient town.
2 days at Nha Trang or Mui Ne for beach ( or 4 days for both).
Fly Da Nang - Saigon (evening flight is about US$52).
Get 1 - 2 days tour for Mekong Delta visiting.
Visit Cu Chi tunnels ( about half or 1 day).
Go to Mekong Delta ( in 1 - 2 day tour).
Have a nice trip!
Visa team of Vietnam-Evisa.org