NINE PLACES MEET HALLOWEEN IN SAIGON & HANOI
You can go to Le Thi Rieng Park, Dam Sen Cultural Park or West Lake (Hanoi) to meet Halloween and disguise yourself as characters just existing in the fairy tales.
Halloween takes place in October 31st, usually starting in the afternoon and ending at 12:00 PM. Halloween has origin the ancient and now it's still the sacred festival of Wicca people – A ancient religion. People believe this day, the Gods can visit the earth or the spirits of dead people will find out the way home and leave a message in the dream.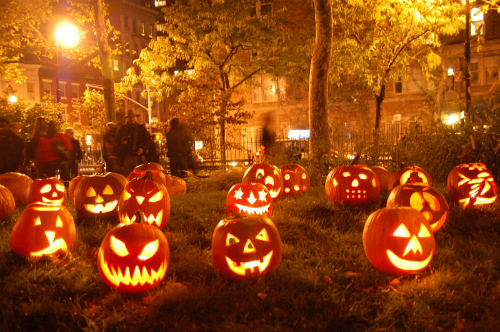 Famous symbol of Halloween is pumpkins looking like person's face. Photo: Bpcblockparty.
Nowadays, Halloween is considered as a international festival. All adults and children disguise oneself as characters in the fairy tales. Thereby, the young will be trained the courage, winning the fear about demons and darkness, helping them live better.
More than a decade ago, this festival entered Vietnam, specially being the big cities. Many schools, commercial centers, restaurants and families organize Halloween with the different form.
Here are the places where you can come to join Halloween in Vietnam: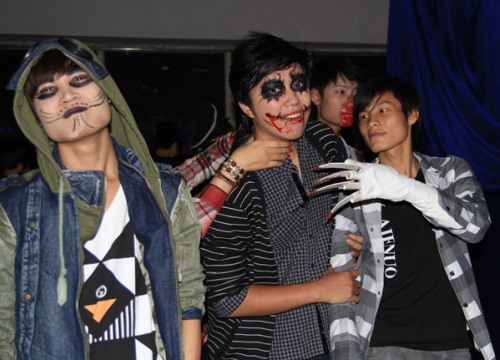 Halloween is the time when you can disguise yourself as eldritch characters. Photo: Xzone
1. KizCiti:
Program called "Tracing the mysterious incantation", taking place in KizCiti (Hanoi and Ho Chi Minh City) on two day from 25th to 26th October. Children coming here will be disguise as combatants to rescue the city,…

2. Dam Sen Cultural Park:
Halloween will be organized in the evening  on 31st October at Dam Sen Cultural Park, Ho Chi Minh City. Program has the continuous games and the food area opens all night.

3. West Lake Park:
West Lake Park(Hanoi)  will organize Halloween on 31st October , play area will be decorated with scene as the afterlife.

4. Le Thi Rieng Park:
Halloween will be taken place at White Rabbit entertainment area in Le Thi Rieng Park, CMT8 street, HCM with a lot of activities for people.

5.662 dance floor:
If you are a person loving classical dance and would like to experience stray feeling into the afterlife as in the fairy tales, you can come 662 dance floor. Time from 7:00 PM to 10:00 PM in October 30th.

6. Phu My Hung Urban Area:
Program "Escape Halloween 2014" in Phu My Hung Urban Area (Ho Chi Minh City), it takes place on 31st October with many spooky mysterious activities.

7.Urban Station:
"Devil wedding" – A musical evening welcome Halloween, it will be organized starting from 6:00 PM to 10:00 PM in October 31st in Urban Station on Le Van Sy street, Phu Nhuan district, HCM.

8. Some of hotels:
In Ho Chi Minh City, a lot of hotels also have activities to welcome Halloween. You can come hotels like: Continental Saigon, Majestic, Renaissance Saigon. Time mostly is 6:00 PM – 11:00 PM on 30th or 31st October.

9. Some of cafes:
You also can come cafes in Ho Chi Minh City to join Halloween such as: Hard Rock Café's or Nhen cafe with a lot of team games or interesting programs.
Source: Vnexpress