THREE RESTAURANTS HAVE ANCIENT FAMILY STYLE IN SAIGON
"Com Nha", "Cuc Gach" and "Com Nieu Sai Gon" are the restaurants which bring for you feeling lived in a ancient family.
Nowadays, Modern life makes finding a traditional meal become more difficult. Someday, if you would like to enjoy the simple dishes like: omelet, boiled water morning glory, gourd soup,… together with melodious music to enjoy a family meal. Let's come the restaurants below:
1. Com Nha:
Located in the 2nd floor of Dong Khoi old tenement, "Com Nha" is a water shop serving the family dishes including: a cup of white rice, a savory dish, a vegetable dish, a cup of soup and all will be put on a Met. A portion of the rice has price 59,000 VND. In addition, "Com Nha" also has strange dishes but familiar dishes like sticky rice with sesame and salt (Com Nep Muoi Me), bread with cotton meat (Ba Mi Cha Bong), sticky jackfruit (Xoi Mit),…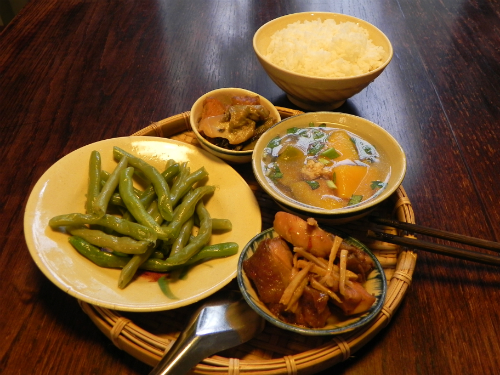 A portion of the rice for a person at Com Nha.
"Com Nha" serves from 10:00 AM to 2:00 PM and 4:00 PM to 7:00 PM. The rest of time, this place operates as a coffee space.
Address: 151/6 Dong Khoi tenement, district 1.   
2. Cuc Gach:
Famous not only in Vietnam, Cuc Gach is the place where foreign visitors usually come to enjoy Vietnam traditional dishes. Characteristic of restaurant is the dishes put on chipped cup, chipped plate with the familiar dishes like: stir-fried morning glory, sour soup, braised fish,..it's really attracting customers. Coming here you will see a lot of special things.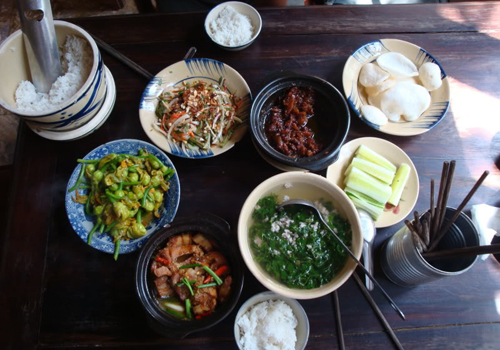 A simple delicious meal at Cuc Gach. Photo: muivi
This place has quite expensive price, from 90,000 VND to 95,000 VND/dish. But you will be enjoyed Vietnam traditional cuisine. The dishes in here are delicious.  Staff serves quickly, cute, good English communication. Not only you enjoy, you can come here with your family or your friends. Certainly, you and your relatives will have unforgettable emotions.
Address: 10 Dang Tat street, Tan Dinh Ward, District 1.
3. Com Nieu Sai Gon:
Luxurious space, but it brings for you warmish feeling. Coming "Com Nieu Sai Gon", you seem like staying in your home. The dishes in here are from rustic to luxury. However, the most interesting feeling is when you call "Com Dap" dish, you will be seen the staff of restaurant cooking this dish.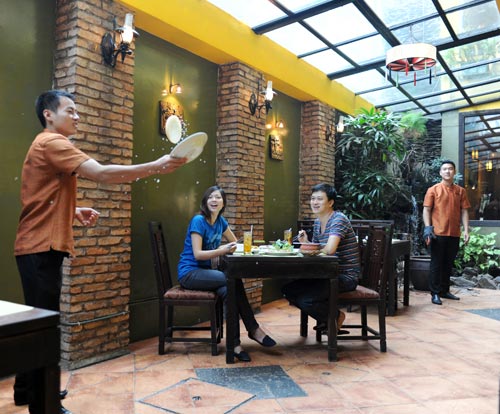 A staff of "Com Nieu Sai Gon" is cooking "Com Dap" .
This place is the most suitable when you have a lunch with family.  Cool space and reasonable price about 100,000 VND/ main dish. Coming here you can enjoy "Com Neu" dish, braised goby, crab soup,…
Address: 27 Tu Xuong street, District 3.
Source: Vnexpress