THREE INTERESTING DESTINATIONS AT NIGHT IN SAPA
Watching Sapa on 2nd floor of Bebop Bar or joining in boisterous space in The Hmong Sisters, you will have more other interesting experiences when staying in this beautiful town.
SaPa town attracts tourists not only by beautiful natural landscape, but also by impressive architecture and friendly people. Visitors who visit SaPa often have the same feeling that this small town is a unique mix between the freedom of West life and discreet tradition of Vietnam.
Really, beside of villas built the West architecture to be ethnic minority girls holding one's baby to go out, wooden house on stilts on the busy street …You try coming the bars and café here to enjoy all this beauty.
Bebop Bar

Bebop bar has a private section for tourists loving music to express the passion.
Located in Cau May street, Bebop is the special bar between SaPa town, It looks like a cafe more than a bar. Not noisy, not sophisticated tables and chairs, Bebop is the quiet airy space, it's hard to believe that's a bar.
Bebop bar has 2 floors, a billiard table for visitors and a special section to serve music. You can play your best-loved songs here without having any complaints. If you would like to have a more ideal space, 2nd floor is the best choice for you, where you can sit on balcony to look down the streets. Let's enjoy a cup of hot coffee and watch tourists or ethnic minority people at the bottom. Impression about this town will be felt more in every minute.


The Hmong Sister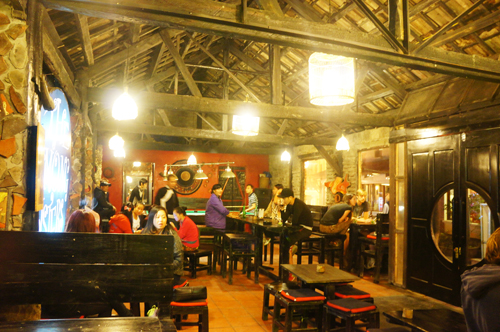 Rich menu and impressive space help The Hmong Sister attract many tourists.
The Hmong Sister is the boisterous space for those who love the excitement. That attraction will show when visitors open the door to go into, music is opened quite big. This place has a relatively small area. However, it's disposed reasonably enough in order for tourists to feel satisfied. That is sets of wooden tables and chairs with ancient colors under the yellow lights or a billiard table near dart game. At bar is also disposed many high chairs modern style.
In addition, one thing which makes tourists interesting feeling is rich drinks and creativity. You can find out the cocktails are concocted new style with unforgettable taste of mountain town.  The Hmong Sister is located in Muong Hoa street, SaPa town.


The Hill Station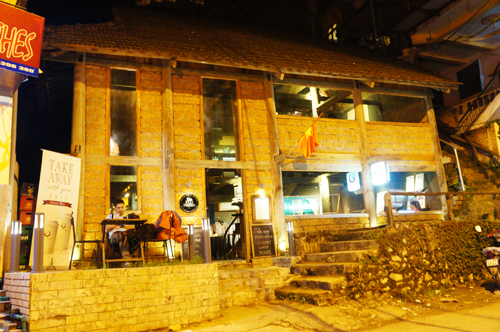 A small corner porch will help you nearer with life in mountain town.
A destination which tourists choose when coming Muong Hoa street is The Hill Station. This café has simple style mixed the tradition of Vietnam.
You can choose 1st floor to watch direct to the street, 2nd floor if you would like to find a quiet space or a small corner outdoor. In addition, you can enjoy Sapa typical dishes like salmon, buffalo meat,..
Source: Vnexpress