SUGGESTING THE PLACES OF ENTERTAINMENT IN OCTOBER 20th IN HANOI AND SAIGON
This year, Vietnam Women's Day is Monday, but before that, families and couples can have the picnic around the two largest cities in Vietnam.
If feeling so boring with the gifts and fresh flowers, October 20th in this year, the boys should plan to give for the girls a trip coming a romantic place. Between immense nature, skipping the busy life to travel to the interesting destination, it will make the emotional couple become better.
Places of entertainment near Hanoi
Ba Vi National Park:
Leaving the noisy boisterous city, far 60 km from Hanoi, Ba Vi national park brings comfortable feeling for you with the green trees, cool climate, fresh air, cooling.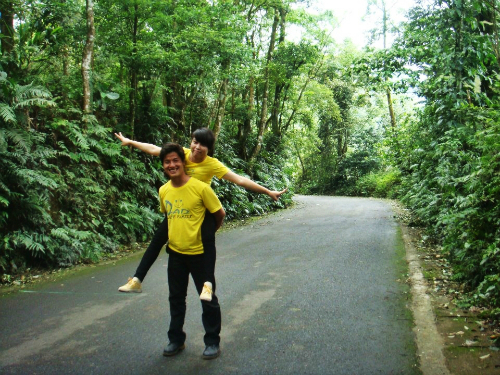 Enjoying fresh air on Ba Vi mountain and walking together on the beautiful roads are the unforgettable memory on October 20th. Photo: Le Phuong
Tam Dao:
Far 80 km from Hanoi, Tam Dao has fresh air, cooling, it's very suitable for the weekend trip an the short vacations. Coming Tam Dao – the town in cloud is the interesting choice and the meaningful gift for your lover.
Ho Tien Sa Eco-Tourism Zone:
Far 60 km from Hanoi, you only take a hour to come Ho Tien Sa Eco-Tourism Zone in Tan Linh commune, Ba Vi district. Located below the foot of Tan Vien mountain, this place has a beautiful landscape of green mountains and blue water.
You can fish or sit on the boat to enjoy the romantic moments with your lover. In here also have the speedboats to serve visitors loving the water-skiing and take visitors around the lake to visit.
Bao Son Paradise Park:
Located Lang Hoa Lac street, Bao Son Paradise Park is a amusement park bringing the distinct characteristics of Hanoi. You will have experiences here, new discoveries together with more games and interesting attractions like the ancient town, cuisine, circus, Ghost house, 15 trade villages,…
Places of entertainment near Saigon
Binh Quoi Tourist Village:
Located in the end of Binh Quoi street, Binh Thanh district, Binh Quoi Tourist is the reasonable choice for those who love feeling picnic "Countryside in Saigon". Binh Quoi has the wide space, cooling, few people. Coming here, you will enjoy cuisine Southern style buffet. The girls, the boys wear Ao Ba Ba (Vietnamese silk pajamas) to reappear the scene just like at the countryside. With so many dishes, you only need going around and freely choose the dishes like Khot Cake, Salt and Pepper Grilled Shrimp, Soup cake, Tofu with Coconut milk,…
Can Gio:
You only need to ferry Binh Khanh ferry-boat, atmosphere will be far different from Saigon.  The green trees, few people, wide road,…Can Gio is known as "the green oasis" with fresh air. Spending a day to come Can Gio, you will have a lot of experiences with your family or your lover. You can visit Monkey Island, Vam Sat Ecological Tourist center or Dam Doi. However, a thing which you should not miss is enjoy seafood in can Gio. You remember bargaining price when buying the seafood in markets to have a good meal.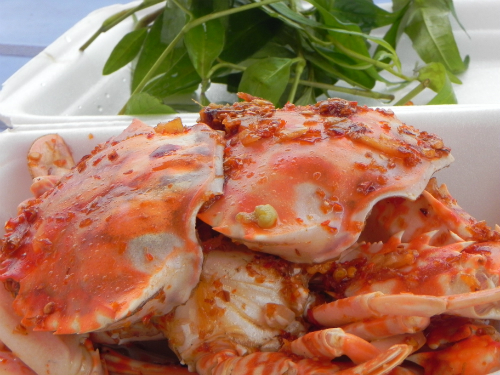 Seafood in Can Gio has the cheap price and very delicious. Photo: Thao Nghi
Ba Den Mountain, Tay Ninh:
This choice is very suitable for those who would like to combine picnic with exploring where spirituality. Step up thousands of stairs, you will come Ba Den Pagoda, in here has the fresh air and the beautiful scene. Along the way, you can buy food or water.
Source: Vnexpress