Some beautiful wonders below Vietnam ground
Son Doong cave, Cu Chi tunnel and Metrople shelter-pit are beautiful artificial and natural wonders in Vietnam. It's worthy to visit more than one time.
>> The tourism potentialities of vietnam
>> Some famous places related to dragon in vietnam
1. Son Doong-the biggest cave in world
Son Doong is located in Phong Nha- Ke Bang National Park. It was set 2-5 million years ago. Water has flown across limestone for a long time and made a big tunnel below ground
Son Doong is 150 meter square and 200 meters high and over 5 kilometers long. Explores can't measure exactly how deep this cave is. It's said that this cave can contain all people in Manhattan city. Its beautiful ceiling with twinkling stalactite accompany with overcrowded river, cave and waterfall system makes visitors feel on Earth center trip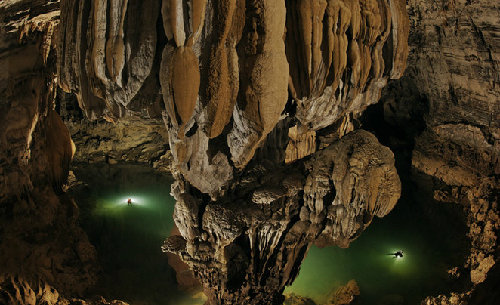 Son Doong cave
2. Surprise cave in Ha Long Bay
Ha Long Bay is famous for wonderful limestone system, but the most prominent beautiful is surprise cave. Cave is 25 meters above sea level and covered by green forest. Beginning first step into cave, visitor will be surprise as being huge cinema with 12 200 square.
Surprise cave is separated two plate by colorful stalactite. Its ceiling is 30 high and covered by light fixture with a range color of rainbow. Coming to the top of cave, travelers will astonished by wonderful landscape with green plant, fresh water and a species diversity.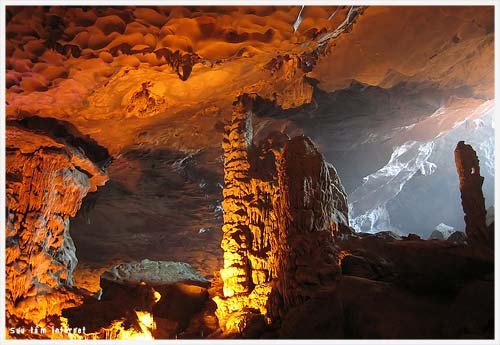 Surprise cave in Ha Long Bay
3. Cu Chi tunnel
First feeling when coming Cu Chi tunnel is atmosphere and light shortage because it is interlace tunnel below ground. It's also historical relic from Vietnam- American war. Thousands Vietnam guerilla lurked for a long time without enemy finding. It was built 1940s and last 250 kilometers to Cambodia bounder.
It has 3 floors inside: normal living floor, conference floor using for discuss army tactics and a weapon storage floor. Today, it has two areas: Ben Dinh and Ben Duoc for visiting. Coming there visitors has exciting experience as Vietnam guerilla life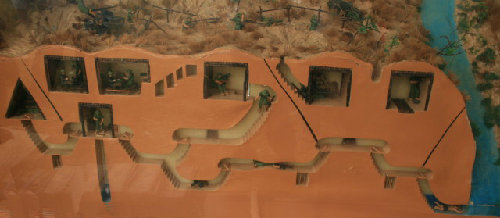 Cu Chi tunnel
4. Thang Long relic below the ground
Thang Long relic let out a vast relics from 7-19 century. Old architecture relics were excavated contain: foundation, wall, road, well, pole, lotus pool and so on. Many relics such as brick, pottery, stone pole, jewelry, even animal bone and big oyster using for paving yard. Many relics demonstrated old Thang Long capital preserved up to now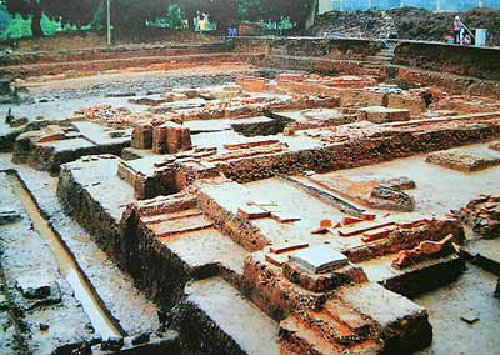 Thang Long old capital relic

5. Shelter-pit of Metropole hotel
On August 2011 when construction worker built Bamboo Bar, they discovered a forgotten Shelter-pit of Metropole hotel. This shelter is 40 square and contains 5 rooms and 2 corridor which has been preserved well. A clear information said that Joan Baez - a famous American singer had performed in 1972 in there.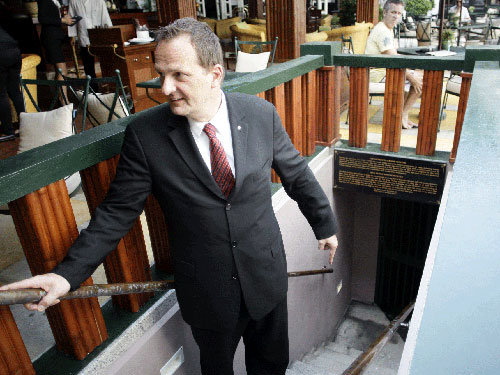 Shelter-pit of Metropole hotel
Have a nice day !
By vietnam-evisa.org team