Some commutable distance ecotourism near Saigon -Vietnam
Discovering food in the mountain, paddling in the river or going sightseeing is the interesting activities that you can have excited experience in the ecological tourist areas near Sai Gon
>> Backpacking tour - an interesting form of tour in Vietnam
>> Coffe tour - an unique tour in Buon Me Thuot city
1. Binh My ecotourism
Nestling near Sai Gon river, Binh My ecological tourist has bright blue sky and fresh green plant and grass. Built in 2007, it has attracted vistor too fast for quiet wild and peaceful space. With crowdded river system, tourist can enjoy the atmostphere like in an antique picture Viet Nam village. Specific character in there is house near the fresh bamboo, next to the green river. It's so beautiful and so peaceful. Not only it's famous for beautiful sighseeing but also food diversity. It's easily to find delicious food that imbrues with Viet Nam culture identity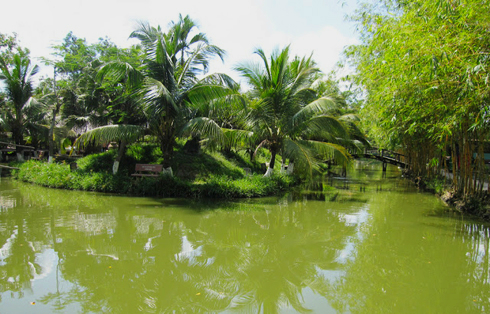 Binh My ecotourism
2. Buu Long ecotourism
Buu Long is located far 6 km from central Bien Hoa City. It's named " Ha Long Bay in South". It's square over 60 ha. It's famous for beautiful mountain and pool. All make a wonderful watercolour painting. The biggest outstanding is Long Van pool, Long An pool for the cliffs that is located in the central blue pool. All create a strange island network.
Differently from bustling Bien Hoa City, Buu Long offers comfortable and peaceful feeling to tourist for small road under the green trees, fresh green grass and big rock . All mix to innovate a majectic view. Not only visitor enjoy landscape but also play srong feeling games for who love climbing mountain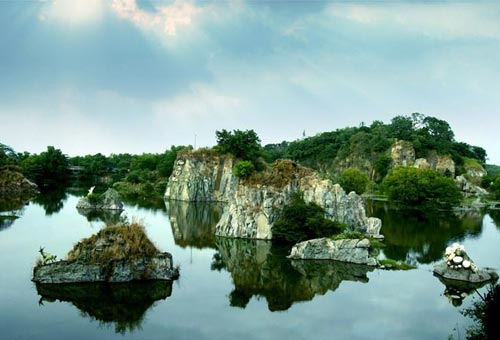 Buu Long ecotuorism
3. Dua Lua Island
Created from a small branch Dong Nai river, Dua Lua is an island world apart . To come in there, tourist have only choice paddling boat about 10 minutes. Visitor could come back the childhood when they take part in exciting activities in there
They can get a wonderful picnic for themselve by carring food or drink together with their familly and friends. In addition they can enjoy the tasty food prepared by talent chefs in island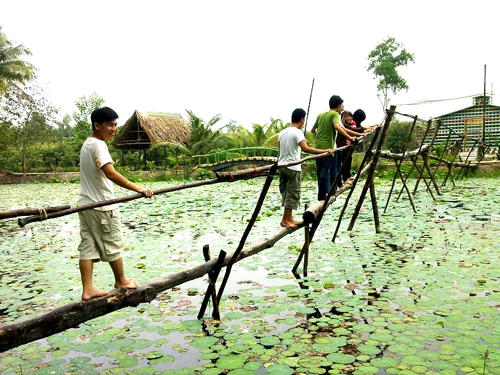 Dua Lua Island
4. Can Gio ecotourism
It's famous for being the green vessels of Ho Chi Minh City, Can Gio is known as Monkey island, Vam Sat, Dam Doi mangrove forest, Tram Chim. It promises an excited picnic that will come with vistor's familly and friends.
Departing from Ho Chi Minh to Binh Khanh ferry, traveler will come to ecotourism which has many bird species living there. Then they will come to Can Gio and don't forget visit lovely monkeys. The only notice, traveller have to keep their bags carefully from cute monkeys which are attracted with strange camera or colorful bags
Going out Monkey island, visitor can paddle the boat to Vam Sat to hunt crocodile, and come round to Dam Doi to join interesting catching crab. The finallay destination is 30/4 Beach. Tourist can sink their body in deep blue water. Besides, they can enjoy many tasty sea foods after an exciting traveling.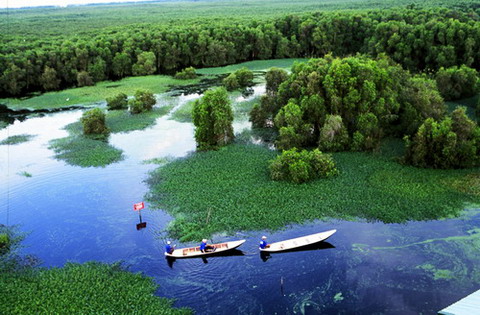 Can Gio ecotourism
Have a nice day !
Visa Team of Viet nam-evisa.org