The charming beauty of Lang Co
Lang Co is away from Danang City about 30kms to the South and Hue City about 70 km to the North. Having a convenient geographical location, Lang Co is among Hue, Hoian, My Son city.
When should we make a trip to Lang Co?
Lang Co is the most charming from April to July because from August to November, it usually rains. This makes beach muddy and cool. And from December to March, the beach is quite cold.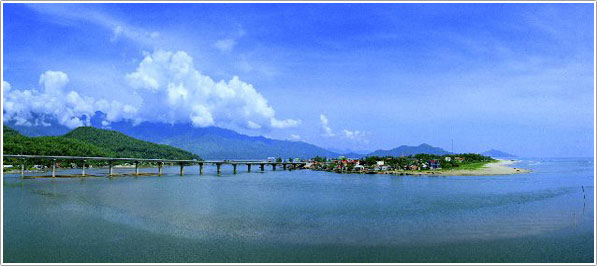 Transport
There are 2 easy options to travel Lang Co.
Option 1: From Hue City, you rent a car in order to travel Lang Co. It takes you about 1 hour to pass 75 Kms. If you booked room in hotel, you can ask hotel for renting a car.
Option 2: From Danang City, you have to go through the 15 km tunnel or 35 km mountain pass. If you choose going on the mountain pass, it is wonderful experience. Hai Van mountain pass is very famous in Vietnam because of its beautiful scenery. You can't miss an opportunity to take photograph.
If you want to save money, you can go to Lang Co by train. Travelling by train is also quite interesting, you have more time to view beautiful scenery. According to us you should book S1 or E1 train in Thong Nhat platform.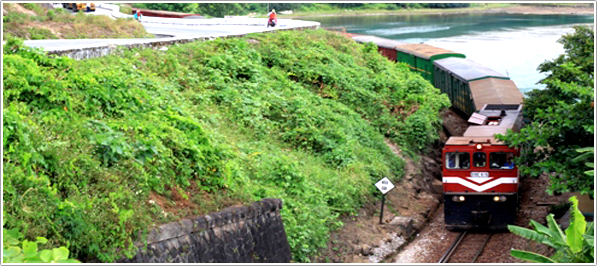 Restaurants
You can find easily 4-5 star hotels with quite cheap price.
In Lang Co seafood is very fresh and cheap. You should enjoy dishes in Be Den restaurant under Langco bridge. Please remember that you have to ask the price of seafood before ordering.
Where do we relax in?

- Lap An pond: Motorcycle is suitable, convenient transport to go to Lap An pond. You can rent motorcycle in your restaurant. Along the street travelers can keep in view of Lap An pond and mountain ranges. In the bottom of pond, there has many shells, no mud. Moreover you can wade everywhere in the pond because the water is just below our calves.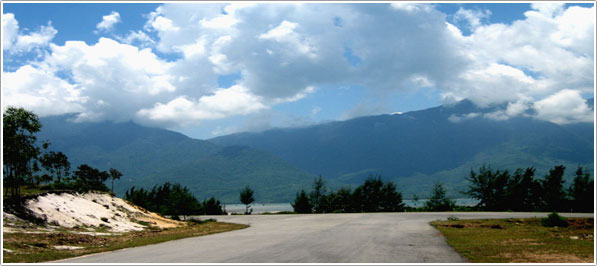 The street runs to Lap An Pond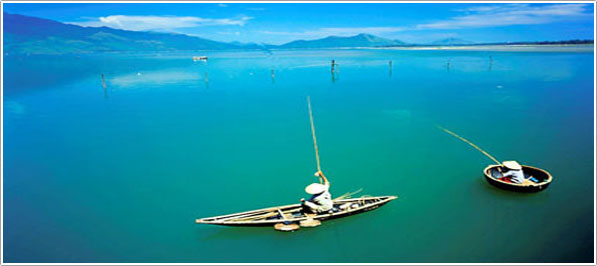 - Chan May Beach: A flat beach bends along curved line with white sand will attract you immediately. It is away from 1A Boulevard about 3 km.
- Haivan mountain pass: In the top you view picturesque panorama. You can take photograph in old American blockhouse or Vong Hai lighthouse of Minh Mang king's dynasty.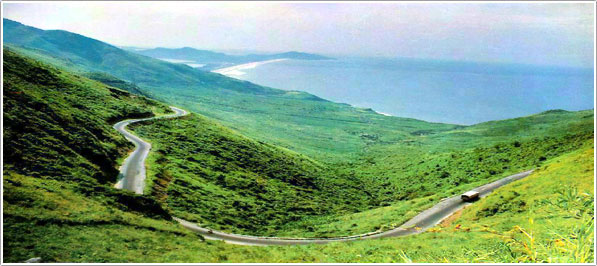 - Bach Ma National Park: It is away from Lang Co about 30 km in the West, Bach Ma is famous by cool atmosphere. Temperature is always from 4 to 26 degrees Celsius. Here you can walk to relax in refresh air, go for sightseeing of Ngu Ho , Do Quyen fall waters, climb to the top of Bach Ma.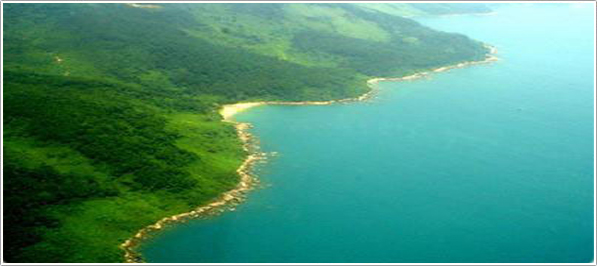 - From Bach Ma National Park, you can rent a boat from Lang Co to Son Tra, Dao Ngoc peninsulas. Eventually you can travel to Danang city to go shopping or have dinner.
- Lang Co beach : It is away from Hue City about 60 kms. It is the most beautiful beach in Vietnam and is listed by World Bays as one of 30 most charming bays.
Entertainment
Lang Co is a wonderful, quite beach because it is far from Hue Center. In generally all resorts is a little bit sad but you can enjoy services of resort such as bars, massage, karaoke, Billiards, Spa…
To save money and time when getting Vietnamese visa for travel or business, foreign customers just visit website www.vietnam-evisa.org and register visa online to get "Approval Letter" within 24 hours. For more details without fees, please call us (+84) 909 343 525 ( Mr David La). We are always 24 hours per 7days for supporting.