The unique architecture of Vietnam pagoda from shellfish and coral
Coming to Cam Ranh City of Khanh Hoa province, visitors can enjoy in person the unique architecture pagoda made from shellfish and coral. It's an interesting trip for who loves enjoying scenery and learning Buddha philosophy.
Shellfish pagoda was built in 1968 and located in ¾ street, Cam Ranh City. It far 60 km from Nha Trang city forward the south. Because it is made from shellfish and coral it is named shellfish pagoda or coral pagoda. Thanks to its unique architecture, this pagoda is an interesting spot for travelling.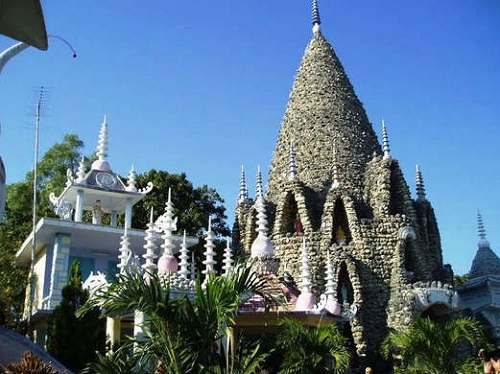 Bao Tich tower of Vietnam shellfish pagoda
Beginning first step into coral pagoda, visitors can feel the peaceful air and free spirit. The most inspiration is Bao Tich tower. It is high 39 meters and recorded the highest tower in Vietnam. Its architecture is complicated with 49 small towers in pyramid shape outside. There is a Buddha statue with one thousand eyes and one thousand hands inside each small tower. Each small tower has a smaller tower on its top. There are hundreds small statues in meticulous arrangement in Bao Tich tower.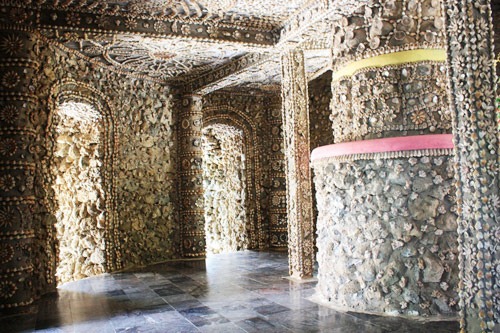 Shellfish pagoda inside
There are two floors inside. The upstairs is used for worship Buddha and the downstairs is used for visiting. Visitor can enjoy its majestic beauty with not only outside but also inside. It is typical with diversity coral and shellfish of ocean. Colorful Corals are attached skillfully on the wall, ceiling and pole. All make shellfish pagoda like as a splendid palace.
Visitor will be surprised by not only architecture but also by skillful talent of the monks. They are really skillful architects. Thanks to their innovation they built this pagoda throughout 5 years since 1995.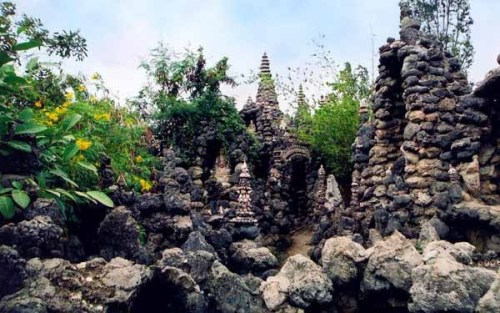 Garden of Vietnam coral pagoda
Overcoming 18 stages to the hell is an interesting experience when coming shellfish pagoda. Although this trip is 500 meters long it was built meticulously with corals and shellfish covered. Along to the entrance to 18 stages to the hell, people put many signs which record crimes on the earth and the correspondence punish on the hell - they mean what goes round goes round. The atmosphere in there is also dramatic and thrilling like ghost films.
After passing the road to hell and Nai Ha Bridge, the gate to the world will appear. Buddhist believe that when people can overcome the hell and come back to the world, all troubles will disappear and the peaceful life will come.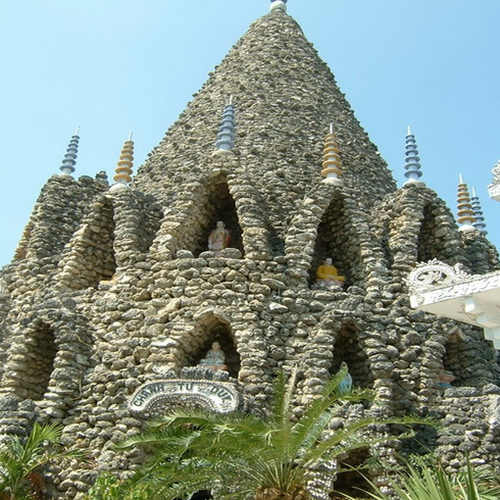 Vietnam coral pagoda
Heaven is the happy ending for this trip. With ancient trees, colorful flowers and a diversity of animals, this heaven offer the sense of truly being at one with nature.
Shellfish pagoda is a worthy destination to come for people who intend to discover Khanh Hoa's beauty.
Have a nice day !
By team of Vietnam-evisa.org