Top must-see underground heaven in Vietnam
There are famous caves look like paradises in Vietnam attract many domestic and foreign travelers every year. With many colorful stalactites and mysterious atmosphere, they are really the best place for those who like to adventure new lands.
Huong Tich cave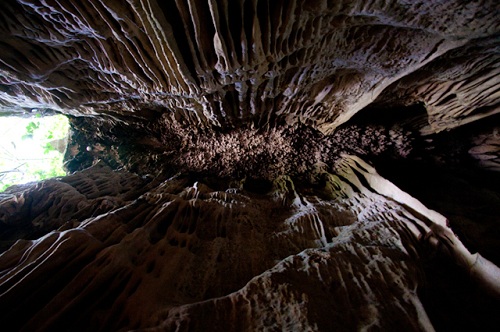 The top of Huong Tich cave
Huong Tich cave is a magnificent cave belonging to Huong Son scenic spot, My Duc district. It is 70 kilometers to the west south of Ha Noi capital. It was discovered for a long time but it has been used as a place to worship Buddha since the 15th century by an emperor of the Tran. Inside Huong Tich cave, a king of the Tran built a pagoda, its gate was made of stone and its walls were carved cleverly. In 1770, Trinh Sam – a king of this period visited this cave, he was really conquered by its beauty and he named for this cave is "Nam Thien de nhat dong" – the best beautiful cave in Vietnam.
Tam Coc – Bich Dong cave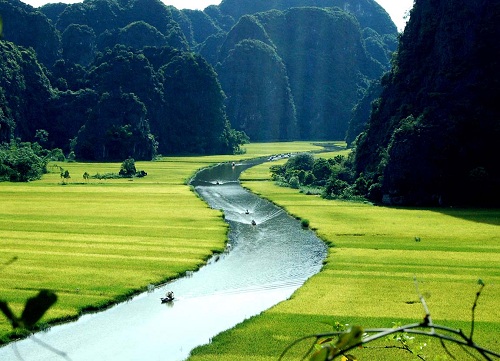 A nice way to enter Tam Coc – Bich Dong cave
Tam Coc – Bich Dong is known under various names such as: "Ha Long bay in the ground" or "Nam thien de nhi dong" – the second-best beautiful cave in Vietnam. It includes a system of caves overflowed with water in Ninh Binh province. Some famous small caves here such as: Ca To cave, Hai cave, etc. Ca To cave is very large and beautiful. Hai cave featured many stalactites, some of them are long and shaped like clouds, the others are round and shaped like crocodiles.

Phong Nha cave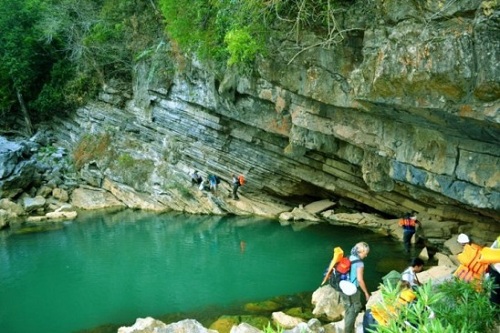 A corner of Phong Nha cave
Phong Nha cave is the most typical cave at Phong Nha – Ke Bang national park – a world natural heritage. It is unique indeed. According to an expedition of the House of Windsor, Phong Nha has the most attractive features: the longest cave; the widest and highest cavern entrance; the most beautiful sands and the most beautiful rocks; the most beautiful underground lake; the most gorgeous and the most elaborate underground river, the most beautiful and largest cave.
Huyen Khong cave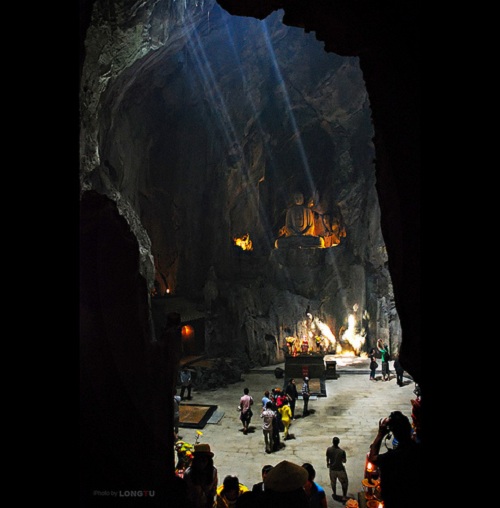 The pagoda inside Huyen Khong cave
Huyen Khong is one of the most beautiful and magnificent cave, it is also the best place in Ngu Hanh Son mountain range for those who believe in spirit. It is an open-cast cave and has many stalactites. Its roof has a circular shape and 5 air holes permitting light and air to enter inside making this place warm and gorgeous. Its floor is very flat for visitor can easily to move. Inside this cave, there is a small pagoda named Trang Nghiem Tu with a lot of Arhat statue and the Guanyin Statue carved skillfully and precisely. Its atmosphere here is full of mystery.
Thien duong cave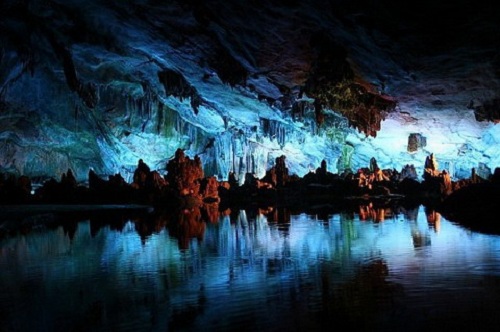 A beautiful lake inside this cave
In Vietnam, thien duong means heaven. This cave is really worth with the name "Heaven in the world" or "Underground Palace". It has a gorgeous sculpture with a system of magnificent stalagmites and stalactites. Words can hardly describe its beauty.
Son Doong cave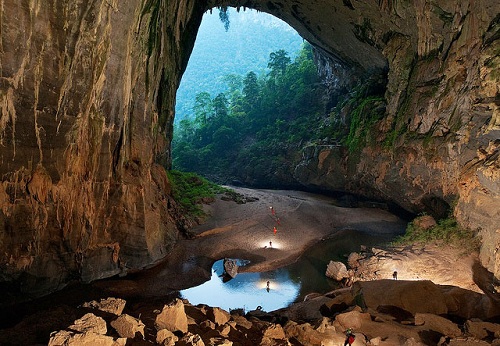 A nice view in Son Doong cave
Son Doong Cave, located on Son Trach, Bo Trach district, Quang Binh province, is the largest natural cave in the world. It is also a part of Phong Nha - Ke Bang which measures 200m, 150m and 5km in height, width and length. There is also a underground river which is about 2.5km in length and some stalactites is 70m in height.
Sung sot cave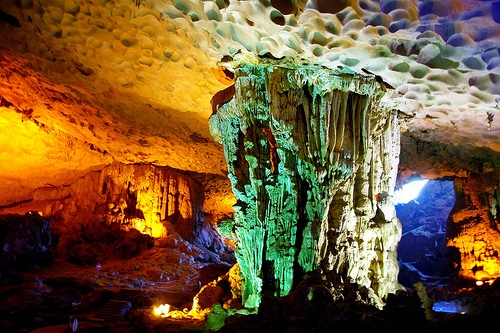 Colofur stalactites
In Vietnam, Sung Sot means surprise, so visitors come to Sung Sot cave will be surprised by its beauty and its passion.
Dau Go cave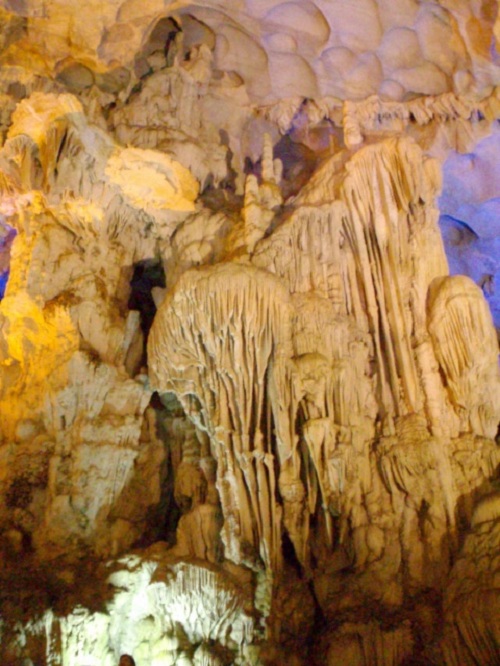 Many stalactites in this cave
Dau Go cave, located on Dau Go island - Ha Long bay, is considered as one of the best beautiful caves in Vietnam. Its width is about 5,000 square metres and it is divided into 3 small caves. The cavern entrance is 17m in width and 12m in height. Because it is an open-cast cave, the sunshine can easily enter and develop a lot of the flora strongly, make this cave look special. With this advantage, it attract more visitors to come and visit here every year.
Thien Cung cave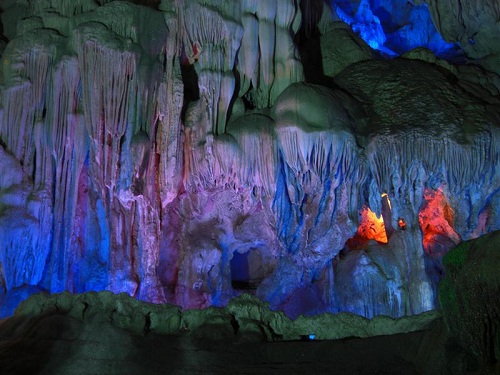 The cave is full of color
Beside Dau Go cave, Dau Go island also has other famous cave is Thien Cung cave. Located in the North of Dau Go island, it is one of the most beautiful caves in Ha Long bay with many smaller caves inside and a variety of stalagmites. There are many stalactites are shaped like characters of fairy tales and all of them make a beautiful picture for this place.
Trang An cave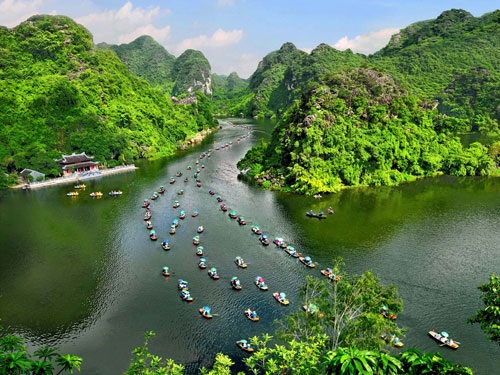 The scenery from a high position
Trang An cave, a part of ancient capital of Hoa Lu – Ninh Binh province, includes a system of a limestone mountain range. By changes of the environment and climate, it featured hundreds of valleys, swamps and caves. There are many 31 lakes and 48 caves are connected together. With the advantage of rough terrain, it became a strong bastion to protect Hoa Lu ancient capital and against invaders. It is a great combination of historical monument and ecotourism.
In summary, Ninh Binh, Quang Binh and Quang Ninh province are three main provinces for visitors to come and visit almost caves listed above.
Have a nice day!
By Vietnam-evisa.org team