Vietnamese mid-autumn festival
There will be a special festival in the end of September in Vietnam. Can you guess what it is?
You easily find out that there are funny, bustling activities in Vietnam in this period. There are many kiosks which have been colored with red and yellow of lanterns and boxes. The colorful lanterns are hung to attract people especially children. You happily look at the children who are wandering in group on the streets with the lanterns in their hands. The cake boxes with warm red, yellow colors are handed from the friendly sellers.
They are specific features of the Vietnamese Mid-Autumn Festival.
The Mid- Autumn Festival comes from rice water civilization in Red River Delta. At this period the atmosphere is cool and fresh and the fields are growing. The farmers are relaxing and waiting for the successful harvest. According to archaeologists the Mid-Autumn Festival was celebrated firstly in Vietnam because this event was carved in Ngoc Lu Copper Drum. Then the Chinese received Vietnamese Culture and expanded it to Korea, Japan.
On this occasion Vietnamese display mooncakes, tea, wine on the altar in order to worship the ancestors when the full moon rises highly. They usually present the mooncake boxes to grandparents, parents, teachers, friends, partners to express their deep gratitude.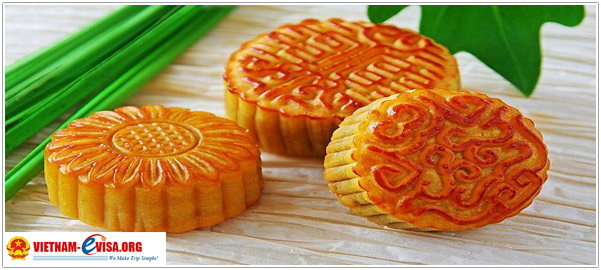 The activities
The activities in Mid-Autumn Festival are organized for children. At dawn the children wander in group on the street with candlelit lanterns in hands which their parents buy for them. Lanterns represent the brightness and successfulness in education.
The rare opportunity is for you to contemplate hundreds of traditional colorful lanterns which are hung in the 49th floor of the highest building in Hochiminh City from 23 to 30 September 2012.
On the occasion of this year Mid- Autumn Festival this is the first time to celebrate "the lantern festival" which is set up in the 178m height from the ground of Bitexco Financial Tower. Visitors who bring lanterns are free of tickets.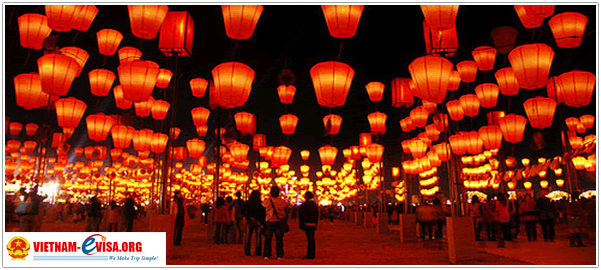 In Hochiminh city a famous street where many kiosks are located selling colorful lanterns is Luong Nhu Hoc in district 5. If you have an opportunity to walk along this street, you will have the wonderful moments when living in the fairy world with warm colorful lanterns. You will look at the bright faces of children who their parents are choosing a lantern to buy for them.
To get Vietnam visa, foreigner tourist can register online at www.vietnam-evisa.org just with simple steps to receive "Letter of Acceptance" from Vietnam Immigration Department, then getting visa at the airport.
For more details without fee, please call us (+84) 909 343 525 (Mr David La)