Why is Vietnam visa exemption better for tourism ?
Many experts in tourism have proposed that the government continue offering tourist visa exemptions for traveler for important and potential markets to attract more visitors and increase revenue in futures. Vietnamese Government has been implementing a pilot visa exemption for the tourists from Japan, the Republic of Korea, Russia, Sweden, Norway, Denmark and Finland for nine years.
>> How to apply Vietnam visa exemption certificate online?
>> Getting Visa Exemption certificate at Vietnam Embassy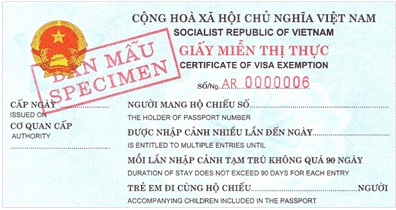 Vietnam-visa-exemption-example
Although some economist stating that exemption visa fee for tourist will decrease the National budget, the government continue considering the effectiveness of visa exemption program.
A tourist visa to visit Vietnam currently costs US $45 for one month single visa and US $135 for 6 month multiple. If the exemption program runs, the government will lose at least US $50 million. However, the revenue from tourist will be increased every year.
- At a recent conference in Hanoi, the Vice President of Vietnam Tourism Association (VTA), Mr. Binh, said that the huge amount of revenue from tourist is more than the loose of visa fee. Last year, Vietnam attracted about 1.5 million visitor from Japan, the Republic of Korea and Russia. If each visitor spent an average of US $1500 during their trip, the tourism sector would earn US $2.1 billion and contribute US $210 million for national budget. So, losing several tens of millions of US dollar from visa exemption will bring billions of US dollar from increasing number of foreign visitor every year.

"We should not miss out on US$210 million in VAT only to get US$50 million from visa fees, not to mention the other benefits these markets can bring to the country like employment, for example. In addition, visitors from these markets offer high pay for services which suit the national tourism development strategy until 2020 and beyond," he said.

At the conference, many representatives of the tourist company also said that visa procedures are still cumbersome and time consuming of foreign visitor, so that only tourists who enjoy discovering a country's natural and cultural attraction will wait for visas to be issued. Other tourists consider quick visa clearance procedures, safety and high quality services as most important. Those from Russia and Northern European countries belong to the second group.
The tour operators also calculated that if the Government stops the pilot program of visa exemption, the number of foreign visitors to Vietnam will drop down 50% because the time involved to get a visa is a big obstacle to visitors.
In Southeast Asia, Malaysia offers visa exemptions for tourists from 155 countries and territories, while Thailand applies a similar policy for tourists from 55 foreign markets. Indonesia also grants visas on arrival at its border gates to tourists from 24 countries.
In recently, Prime Minister Nguyen Tan Dung has required the Ministry of Culture, Sports and Tourism and Ministry of Foreign Affairs soon giving the visa exemption program.
(News from Vietnam Tourism)
Have a nice day!
Visa team of Vietnam-evisa.org