Vietnam Tourist Visa Processing
Vietnamese visa entry is required first thing for all foreigner who want to visit Vietnam for tourism, business or visiting relative purpose. Below information may be useful for those who wishing to apply Vietnam visa entry by yourselves or by "Visa On Arrival" service.
>> Vietnam Business Visa Processing
1. Applying by yourself:
There are two ways to apply Vietnam visa by applicants
1.1 Steps to apply:
- First, the foreigner can come to Vietnam Embassy at your local living, includes the area you are working or visiting to apply Vietnam visa. Our offices is open from 9:00 am to 5:00 pm (Monday – Thursday), 9:00 to 4:30 pam (Friday), except the public holidays.

- Second, you also can Vietnam Visa Approval from Vietnam Embassy by post. Please refer the Vietnam Embassy address information at here. Then, fill the application form and submit or send by registered/express (platinum) post to the Embassy.

- Please remember fill and check all details on the visa carefully (applicant's name, passport number, expired date of passport, date of entry, date of exit, etc.) before submitting or sending to the Embassy. If not it will take you a lot of time to fix the applying information and wait for approved letter.
1.2 Visa Processing:
- Upon receipt of the application, it takes the applicant THREE WORKING DAYS by normal services for your passport (s) with the visa to be ready for collection at the Embassy or for return by post in the return envelope you provided. An EXPRESS SERVICE is available and incurs extra cost.
- If you need Express Service, please contact the Embassy for further information from 9.30 am to 5.00 pm
NOTE:
- The DELIVERY TIME is not included in the processing time when the applicants use visa application by post. It depends on the Post

- Once you have received your passport(s) with visa(s), please check carefully all the details. Should there be any discrepancies or errors, such as the dates of arrival/departure, the types of visas, please notify the Embassy immediately. If the errors are the consequences of the inaccuracy of the information you provided in the Application Form, the Embassy will not be responsible for them, and any additional costs that incur from remedy of the errors will be born solely by you. After the visa(s) have been stamped on your passport(s), if you want to change the dates of arrival/ the types of visas, you need to pay the extra fee. Please note that all payments are non-refundable, even if you want to cancel the visa(s) which have already been issued.

-Visa application for children should follow the same procedures if the children hold their own passports. Children are under 14 years of age are not required to sign the Application Form. Their parents can sign on their behalf.
For further query, please have your question(s) ready, brief and focused before contacting the Embassy. The Visa Section telephone line is open from 9.30 AM to 5 PM Monday to Friday except the public holidays. You can also contact the Embassy by email or fax.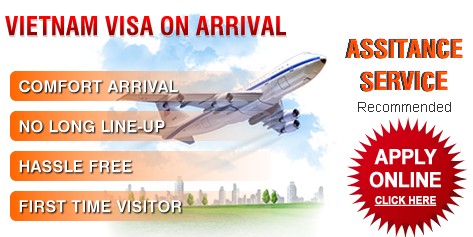 2. Applying by visa online service:
This better way to get Vietnam visa application for those who don't want to waste time or have no free time to apply in person. It's also very useful for the business organization or the company to apply Vietnam visa for their employees.
2.1 Steps to apply:
- Step 1: Fill out the online application form. Click here

- Step 2: Confirm personal information and pay the service fee.

- Step 3: Get approval letter and print it for getting visa stamped at the arrival airport.

- Step 4: Meet our Immigration Officer Representative to get your visa stamped. Please remember to prepare your passport, visa approval letter, 2 photos in passport size, the exit and entry form and the stamping fee.
NOTE:
- The online service fees is not include the stamped fee to get Vietnam visa which is required directly by Immigration Office at the arrival airport.
- Your payment will BE REFUNDED if you don't want to use this service any more or we are unable to get the type visa you need. Its time depends on the money transferring service back to you.
2.2 Visa processing:
The visa processing by online service depends on the processing time option your choice. There are 3 options: Normal Visa, Urgent Visa and Emergency Visa.
- Normal Visa: visa request is processed within 24 to 48 hours.

- Urgent Visa: visa request is processed within 4 to 8 hours.

- Emergency Visa: visa request is processed within 30 minutes to 4 hours. Remember call our hotline (+84) 909.343.525 to get confirmation.
Have a nice trip!
By Visa team of vietnam-evisa.org
USD200 on arrival on the weekend?

Jun 30, 2015

Just checked and realise that I have to pay USD200 extra per person when we arrive on the weekend is that right?

Vietnam Evisa Support

Jun 30, 2015

Dear Vanessa,

Thank you for contacting us!

 

we wouls like to inform that the Holiday option (extra 200usd per person) is for those who applied on Saturadays and Sundays, and enter on the same day.

if your plan is enter Vietnam on weekend, but you apply on weekdays, then you can use the normal processing time. Normal processing time will take 2 working days.

 

Regards,

Evisa team

Mrs

Jan 12, 2015

I do not have an American Passport. I do have an American Green Card (Alien Resident Card) that will be expired in this coming April 2015. I would like very much to be able to go to Viet Nam to visit my first Cousin who is dying with liver cancer. I fear that she will not make it through this weekend. Since the Consulate requires that the Passport should have no less than six months from the expiration date. I fear that I am not met for the requirements since I only have the Resident - Green Card that will expired in April 2015. Will there be a way for me to receive Visa to enter Viet Nam to be with my dying cousin for a few days? I hope you Will grant me the urgent dpecial permission. Thank you very much, T Nguyen

Vietnam Evisa Support

Jan 12, 2015

Dear Tam Thi Nguyen

Thank you for your question.

We would like to inform that your green card must have at least 6 month before expire to apply for a visa. It is the Immigration law from the Goverment.

So please renew your green card before it expire to get a visa.

 

Best regards,

Flora

Land border from Cambodja

Dec 03, 2014

Hello, I would like to come by land from Cambodja (Phnom Pen) to Ho Chi Min City. Would the "visa on arrival" procedure also work there ? It mentions only "arrival airports" ... Thanks for clarifying, Pierre

Vietnam Evisa Support

Dec 03, 2014

Dear Sir/Madam,

Thank for your question.

We would like to inform that Visa on arrival just be approved by plane only. So if you want to arrive in Vietnam by land, you can get visa stamp at the Embassy in your living country.

If you have more question,please feel free to inform us.

Regards,

Evisa Team