8 million of arrivals will come to Quang Ninh in 2015
The provincial chairman of Quang Ninh province set their goals to develop their tourism in the next 2 year. The number of all visitors coming to Quang Ninh will reach 8 million of arrivals; the number of foreign visitors coming to Quang Ninh will reach 3 million of arrivals; total revenues from tourism will reach 8,000 billion VND.
Strengthen international cooperation, attract domestic and foreign investment
According to statistics from Quang Ninh Department of Culture, Sport and Tourism, the number of tourists coming to Quang Ninh for traveling is 6,556 thousand of arrivals in the first three quarters of this year, increase 10% as compared with the same period last year. The number of foreign travelers coming to Quang Ninh is 2,015 thousands of arrivals, increase 2%. Total revenues from tourism are 4,024 billion VND, increase about 15% as compared with the same period last year.
Especially, with a lot of events organized to celebrate the 50-year history of Quang Ninh province in October 2013, Quang Ninh province is pleased to accord a hearty welcome to 474 thousands of tourists. This number includes 205 thousands of foreign tourists.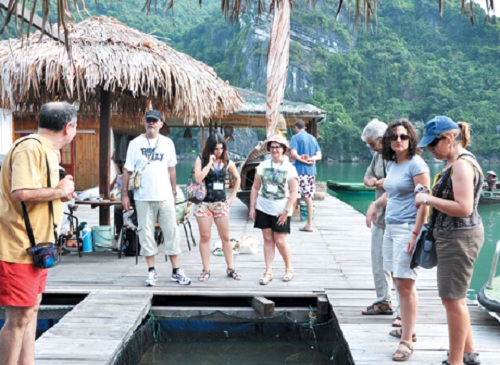 To increase the number of foreign visitors, attract many foreign tourists to Quang Ninh, the provincial chairman of Quang Ninh initiated a lot of policies to strengthen international cooperation and widen foreign relations with a lot of countries around the world.
Nowadys, Quang Ninh's tourism has a good relationship with many prestigious travel agencies located in a lot of country such as: China, Korea, Japan, Thailand, France, etc. Besides, Quang Ninh is also the official member of famous tourism organizations such as: Club of the Most Beautiful Bays of the World, East Aisa Inter-Regional Tourism Forum (EATOF). In 2013, Quang Ninh and LuangPrabang (Laos) signed the agreement to cooperate tourism of both parties. This is a basic for 2 parties make an efficient and permanent development together. Not only expand international cooperation but also reinforce linking with other cities in Vienam, Quang Ninh is on the right track to develop tourism.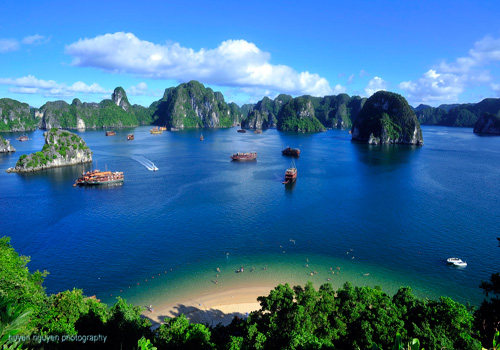 In the recent 10 years, the leader of Quang Ninh province mobilized about 20,000 billion VND for investing and developing the infrastructure for the tourism development. Many corporations are investing and researching main projects such as: Vinagroup propose a high-level resort at Reu island (in Ha Long city – Quang Ninh province) with total investment is 957 billion VND; Cham Vit group – a group of Korea is researching and preparing for a 36-hole golf course and a five-star hotel at Bai Chay beach (in Ha Long city – Quang Ninh province)

In addition, there are some projects in a large way of business such as: a multifunctional entertainment featured Casino at Van Don district with total of areas is 1,800 hectare and total investment is 4 billion USD; a Van Don international airport with total of areas is 300 hectare, total investment is 1.2 billion USD, etc.
Exploit the tourist potential
With the advantage is one of the best four famous tourist destination in Vietnam, Quang Ninh is a gift of nature with abundant resources. Quang Ninh has not only Ha Long bay was certificated by UNESCO as a World Cultural Heritage Site but also 620 spots of scenic beauty and historical significance with 70 festivals organized every year.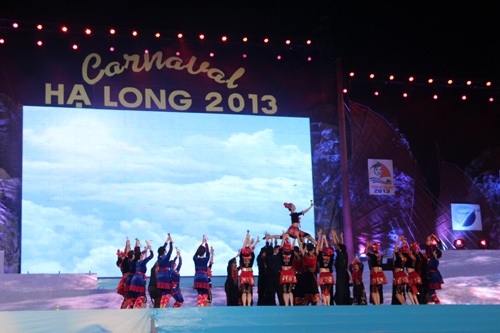 Besides, Quang Ninh has many major historical monuments such as: the area of tomb of the Tran Pharaohs; Cua Ong temple (Cam Pha city); Tra Co temple (Mong Cai city); Quan Lan temple, Cai Bau pagoda and Truc Lam pagoda (Van Don island district), Long Tien pagoda (Ha Long city), etc.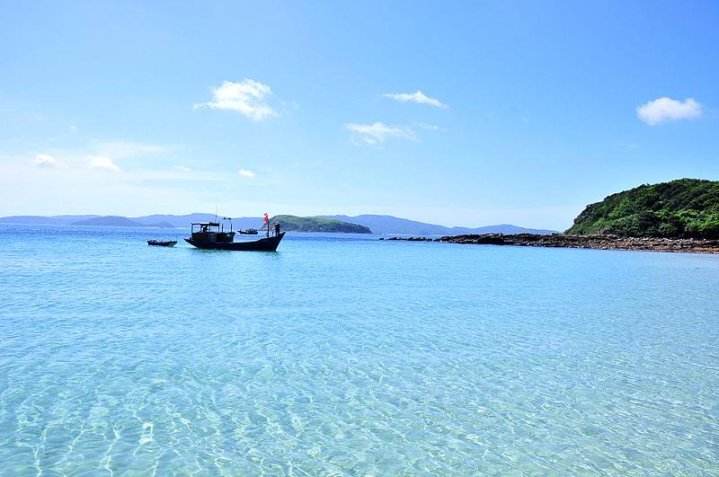 At the moment, Quang Ninh province has four main tourist destinations with distinctive features such as: Ha Long bay (in Ha Long city); Mong Cai city; Van Don (at Co To island) and Uong Bi city (at Dong Trieu - Quang Yen district).
Have a nice day!
By Vietnam-evisa.org team