A SERIES OF FESTIVALS IN SAIGON IN THE END OF YEAR 2014
Ho Chi Minh city Tourism Department had announced a series of entertainment programs to serve people in the end of year.
Mr. La Quoc Khanh, the deputy director of Ho Chi Minh city Tourism Department said it will coordinate with other departments, tourism associations to organize the "Shopping festival in the end of year" from 1 to 31/12/2014.
The event will attract nearly 500 units including shopping centers, tourism companies, accommodation and food services, health care, etc. In a month of this festival, more than 1.000 points of sale promotions, utility services for people will be built.
The festival will present a series of electronic products, household goods, cosmetics, regional specialty, souvenirs, etc. The engaged businesses had signed commitment to Ho Chi Minh city Department of Trade sold at low price.  
Ho Chi Minh city Tourism Department also introduced an annual culinary program called "Taste of the world". According to the plan, there will have 60 restaurants and hotels of 20 countries and territories that introduce the dishes, cuisine features characteristic to city residents through 80 serving stalls.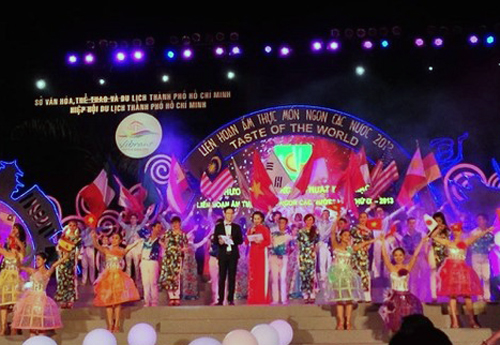 About 100 Vietnamese chefs will introduce more than 60 folksy cakes but in new style make products more unique. A variety of records about dishes will also be introduced in this program. The event takes place from 4 to 7/12/2014 at 23/9 park (district 1).
In the series of events and festivals in the end of year, Ho Chi Minh city Tourism Department also hosts "Consumer promotion fair" attracts nearly 400 stalls from the apparel businesses, food, chemical cosmetic, crafts, footwear, etc. It is open from 28/12 to 1/3/2015 at Phu Tho stadium (district 11).
In particular, on 1/1/2015, the Tourism Department will celebrate to welcome the first foreign tourist delegation of the New Year arrives to Ho Chi Minh city at Tan Son Nhat airport. This year, Ho Chi Minh city is expected to welcome 404 million foreign tourists, increase of 7% compared with 2013.
Source: Vnexpress