FIVE SAIGON MARKETS MAKE THE GOOD IMPRESSION FOR TRAVELERS
Skills to bargain price and a little patience can help you buy the good nice items in the famous market of Saigon.
The reputation of these markets is not only in domestic, but also in abroad. Visitors visiting Vietnam also find their way to come these places to buy a few interesting items.
1. Ben Thanh Market – The interesting destination
It's considered a symbol of prosperous Saigon, Ben Thanh Market is not only a bustling place to trade but also the attractions of a lot of foreign visitors. This market has large-scale, located in the center area. You can find out all kinds of items from the most popular to the top – graded ones, rich foods such as fruit, candy or clothing, souvenirs. Objectively, the price in the market is not so expensive if you compare about the quality of the product. If enough ingenuity, you can buy some of eye-catching items with wholesale price.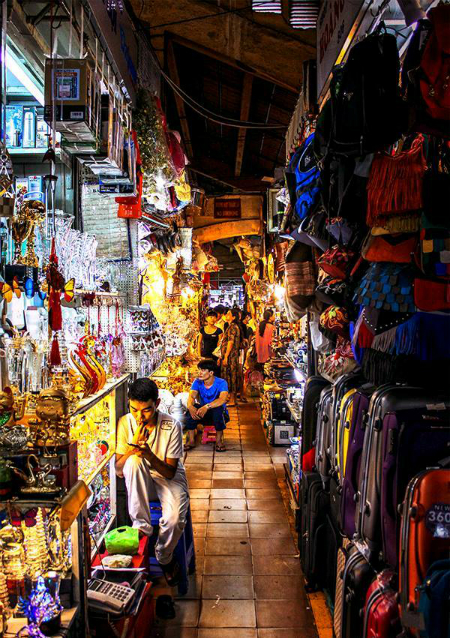 Ben Thanh Market is large, sell a lot of beautiful items and the seller is also very fluent in foreign languages. Photo: Phan Nhat.
2. Binh Tay Market – The huge department store
People living here call Binh Tay Market with more familiar name is Cho Lon. This place has approximately 2,300 stalls with 30 different types of items, you can find easily what you want to buy like spices, jams, clothes,…The items in the market are very rich, reasonable price. Each type of quality items will correspond to a specified amount. Which is the focal point of wholesale products, but you also can buy retail here, both cheap and easy to bargain price.
3. Dan Sinh Market – A place where sells military memorabilia
Dan Sinh Market is the place where sells the largest ammunition now. It's formed from before 1975, you will find out all interesting items such as: boots, Zippo lighter, tent and hammock, shovels,…It is as well as familiar destination of people loving travel. They come here to buy items to serve their trip from backpack, compass, flashlight, rope,…Everything serve well in the military, obviously become useful items for people tourist.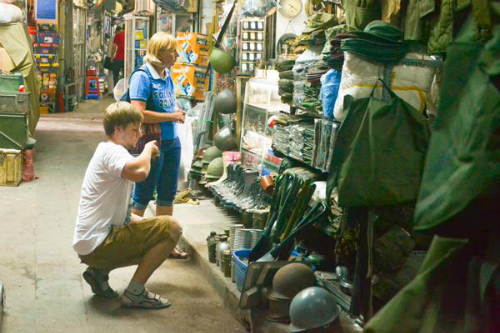 Foreign visitors often come Dan Sinh Market to buy items. Photo: songkhoeonline
4. Ho Thi Ky Market – A place where scent mixed with colors
Dating from 1987, Ho Thi Ky flower market is the largest wholesale market in Saigon. Every night, the cars from Dalat, Southwest or Central carry colorful flowers , fruits and vegetables to this market. The roses with all colors from yellow, white, red… to flower lily, marigold…are all in Ho Thi Ky market.  If one day you want to have a colorful flower vase on the table, try to come here, you will love it because there are many kinds of beautiful flowers.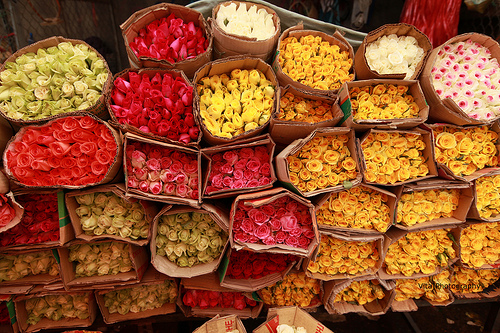 The colorful bouquets are sold in Ho Thi Ky market. Photo: Quan Nguyen Minh.
5. Saigon Square – Shopping paradise:
From clothing, shoes, handbags, sunglasses…you really buy it easily when coming Saigon Square. These rich items together with reasonable price will help you easily find the favorite clothes. Commodity models here are updated constantly. At the holidays, a lot of people come Saigon Square shopping. Beside of Saigon people, foreign visitors also love Saigon Square because they can buy many fashion items when coming here.
Source: Vnexpress