TOURISM FESTIVAL DONG THAP IN XEO QUYT
Coming Xeo Quyt in November, visitors will be experienced the heroic atmosphere of this place on the 20th year anniversary recognized the historical monument and culture on the national level.
Far 170 km from Ho Chi Minh City, Coming here visitors can sit on the dinghy to visit the famous landscapes of Dong Thap. For example: Nguyen Sinh Sac relic area, Go Thap relic area (including Go Thap Muoi, Co Tu tower, Do Binh Kieu temple, Go Minh Su, Ba Chua Su temple), Kien An Cung, the bird garden in Thap Muoi, Sa Dec flower village, Tram Chim national Park in Tam Nong and the fruit orchards.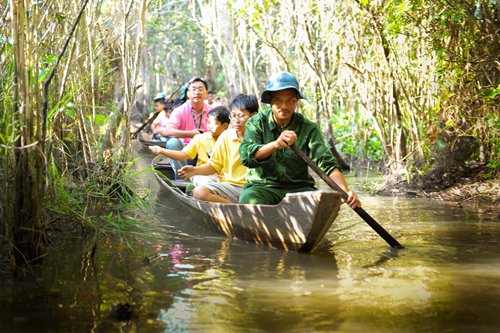 Tourists sit on the dinghy to visit revolutionary base in Xeo Quyt.
Dong Thap province is not only famous with the wild beauty of the lotus and the crane, but also the place where had a lot of resilient revolutions, notably being Xeo Quyt base. This is the place which leadership and people of Kien Phong province (now Dong Thap province ) stayed during the anti-American. After the liberation, this base was preserved by local people, so the landscape has still been conserved intact.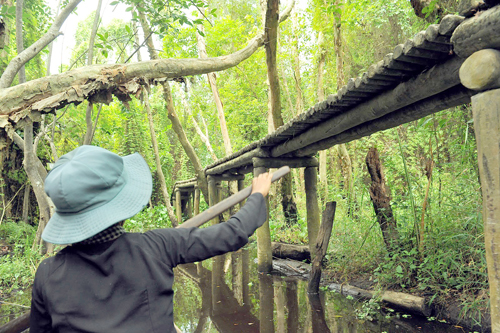 The dinghy at Xeo Quyt.
Visiting Xeo Quyt is on the 20th year anniversary recognized the historical monument and culture on the national level. Visitors will relive with the years of glorious history. The guerrilla boys, girls will help traveler visiting the revolutionary bases located deep in the forest.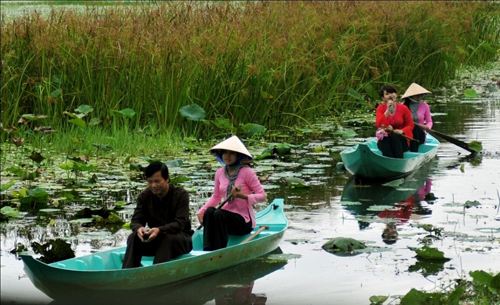 To perform "Ho" on the river is a unique art form of Dong Thap. In order to support visitors when visiting the ancient base, Dong Thap Province Tourism also organized the tourism festival Dong Thap to introduce about the software application "Tho Dia Dong Thap" and website: dongthaptourism.com
Besides the historical experience, tourists also can join in the folk games such as: cockfighting, fighting birds, visiting markets characterized countryside and enjoy the delicious local dishes of "Dat Sen Hong ". In addition, the boat will take tourists to visit the famous villages, listening sing "Ho" and the amateur music on the river.
Source: Vnexpress.