Famous pagodas in Saigon
To bless for wealth, safe and sound, pilgrims can visit famous pagoda in Saigon. Most of them are famous for its supernatural power and foundation many years ago.
>> The unique architecture of Vietnamese pagoda from sellfish and coral
1. Giac Lam pagoda
Giac Lam pagoda is located in district 1that is visited by many tourists. The architecture's pagoda strongly impacted by style of Vietnam southern. Main sanctum is designed to obey to typical Vietnam's style that contains two spaces and four main poles.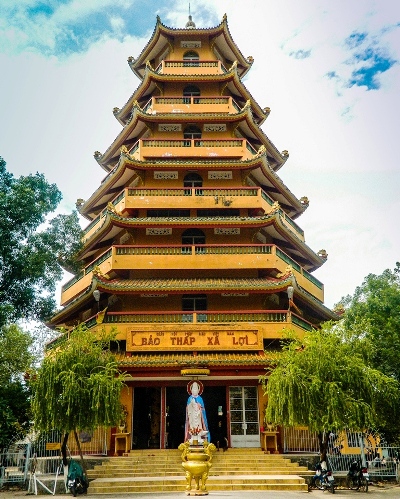 Giac Lam pagoda
All space of this pagoda is quite wide, quiet which is suitable for chanting and deeply reflect the Buddha's philosophy.
2. Ngoc Hoang pagoda
Ngoc Hoang pagoda used to call as Ngoc Hoang temple that used to worship Jade Emperor of Chinese. Because it affects by Chinese's architecture, tourists can easy to find ancient architecture of Chinese in there.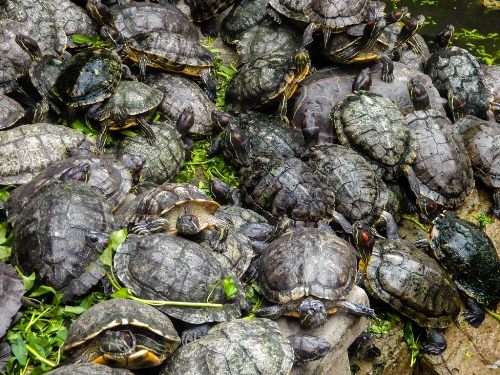 Turtles in Ngoc Hoang pagoda
This pagoda still protects treasure statues made from wood. Coming there, tourists will surprise by lotus pool and thousand turtles that are cultivated in there. Pilgrim always release these turtles into this pool. Therefore, the amount of turtles is up to thousands.
3. Vinh Nghiem pagoda
If Ngoc Giac Lam pagoda influences Vietnam southern style, Vinh Nghiem pagoda affects Vietnam northern style. Both name and architecture originate from wood pagoda in Bac Giang province that is central of Truc Lam Yen Tu religious sect in Vietnam northern.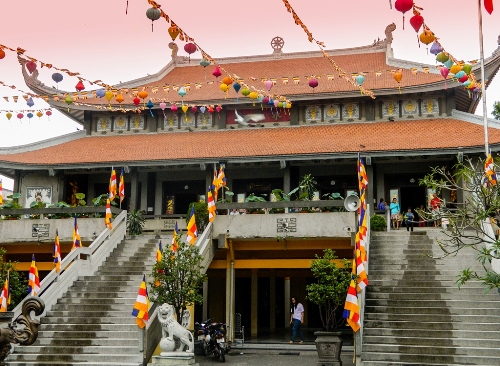 Vinh Nghiem pagoda
The remarkable point of this pagoda is stone tower 14 meters in height with 7 floors. This stone tower has built since Ly and Tran dynasty. It is located in Nam Ky Khoi Nghia Street of Saigon city. This pagoda is famous for crowded visiting.
4. Xa Loi pagoda
XaLoi pagoda is located in Huyen Thanh Quan Street, district 3. Old tamarind trees are along to road to pagoda that improves strongly thoughtful expression of this pagoda.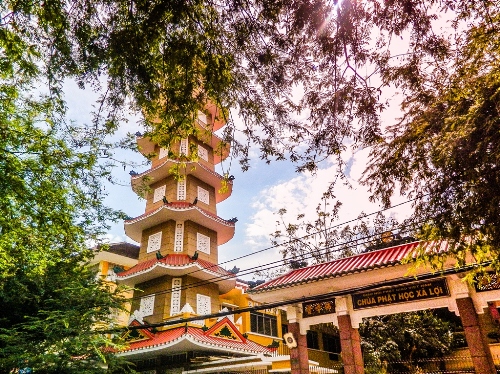 Xa Loi pagoda
The special point of this pagoda is tower 7 floors 32 meters in height. On the top of this tower, there is a big bell 2 tons in weigh that is casted as Thien Mu bells in Hue. Especially, tinkling of bells mentioned in one of famous song of Vien Chau composer.
5. Vietnam Quoc Tu pagoda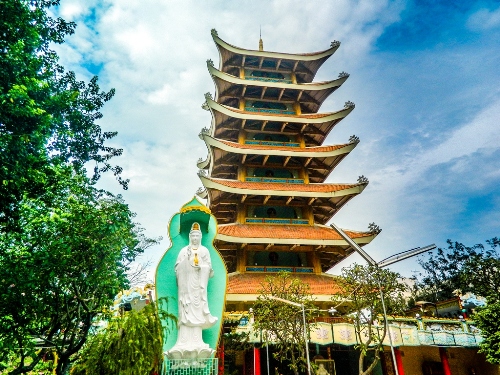 Vietnam Quoc Tu pagoda
Vietnam Quoc Tu pagoda is located in quiet space with hundred-year-old trees. Vietnam Quoc Tu is located in 3/2 Street that is one of historical architecture. It is famous for typical Vietnam style in architecture that is different from other pagodas affect by Chinese's architecture.
Have a nice day!
By Vietnam-evisa.org team