Famous spiritual tourism in Quang Ninh province
Yen Tu, Cua Ong temple, Cai Bau pagoda, Long Tien pagoda and Loi Ampagoda are the famous spiritual tourism of Quang Ninh province. The first day of New Year, Vietnamese people are familiar to coming famous pagoda to wish for good health, good job or wealth.
Quang Ninh is one of province in the Vietnam northern. It is known as not only Ha Long bay but also spiritual tourism, especially Yen Tu.
1. Yen Tu monastery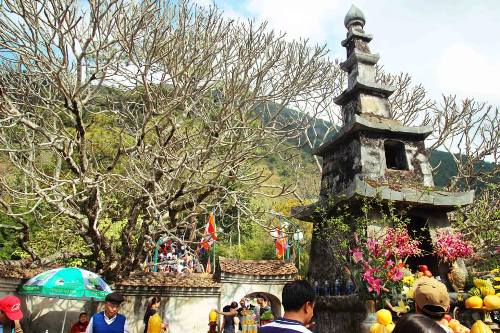 Yen Tu relics
Yen Tu monastery is considered as the Buddhist capital of Vietnam, historical relics and ancient pagodas that were built by King Tran Nhan Tong.
Visitors can easily sightsee beautiful landscape from 1068 meters above sea level. On the top of Yen Tu Mountain, tourists will be surprised by white cloud surrounding every day. It also was a cradle of revolutionary. Many heroes and local people sacrificed to protect their hometown are was born in there
Giai Oan waterfall, Hoa Yen pagoda, Mot Mai pagoda and An Ky Sinh stone statue are famous locations of Yen Tu Mountain.
2. Cua Ong temple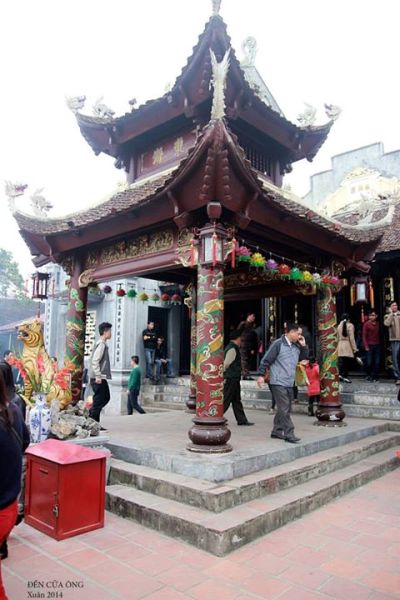 Cua Ong temple
Cua Ong temple is one of temple of Cam Pha City. This is the place to worship Hung Nhuong Dai Vuong- Tran Quoc Tang accompany with famous heroes from King Tran. Although the festival is officially launched in the second lunar month, tourists collected very crowded on the first day of Lunar New Year to pilgrimage.
Cua Ong temple located on the top of hill toward Bai Tu Long bay that is considered as the most beautiful location to contemplate Ha Long bay. Tourists come there not only to burn incense but also to contemplate landscape and ancient architecture of Thuong temple (Upper temple) and Ha temple (Lower temple).
3. Cai Bau pagoda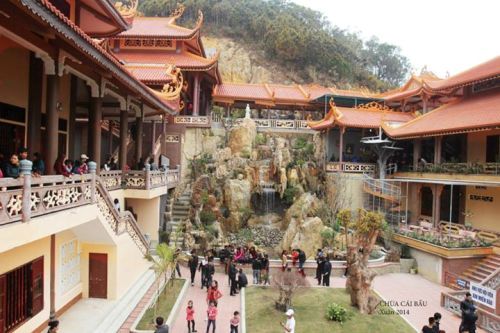 Cai Bau pagoda
Although Cai Bau pagoda was built in 2009, it attracts tourists by unique construction. It stands back to back with the mountain and toward beach that create unique architecture to attract tourists. Truc Lam Giac Tam monastery or Cai Bau pagoda located on Van Don attracts visitors from everywhere to enjoy on spring occasion
Located near Bai Dai resort, the space in Cai Bau pagoda is not only peace, but also extremely sacred and pure. Blending with the bell voice, chanting and the gong sound is wave echo that make people fell calm and stillness.
In particular, visitors come to worship, sightsee can enjoy vegetarian dinner and free parking. The pagoda located about 10 km from Van Don, so visitors can go there by bus or private vehicles.
4. Long Tien pagoda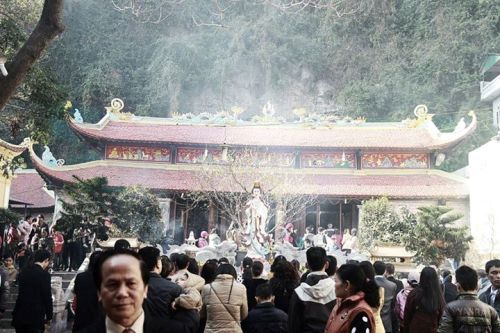 Long Tien pagoda
Located at the foot of Bay Tho Mountain, Long Tien pagoda is the most impressive tourism in Ha Long bay. It was built in 1941 with point architecture that is impacted Nguyen dynasty's architecture with phoenix and dragon decoration. The left of entrance gate is Tam Phu Thanh Mau Buddha statue, the right of entrance gate is commander in Tran dynasty.
5. Loi Am pagoda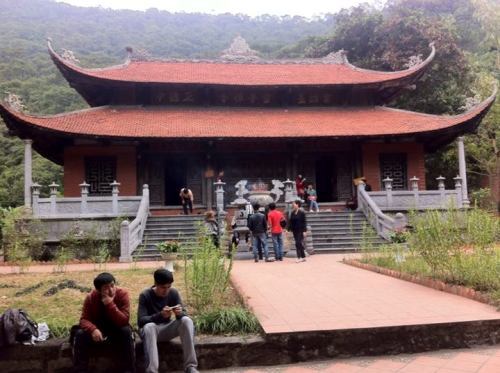 Loi Am pagoda
Loi Am pagoda is famous for its scenery, sacred and ancient. It located on Dai Yen district, Ha Long city, visitors can sit on boat about 15 minutes and then continuing to climb for about hafts an hour on the slopes to come this pagoda.
The particular of Loi Am pagoda is that visitors can bring one or two bricks at the foothill to the top of hill to restore or rebuild this pagoda. Although the road is rough, tourists feel tight when they step on green pine forest and vast pineapple farm
Have a nice day!
By Vietnam-evisa.org team