Firework display at 7 spots of Ho Chi Minh City to welcome 2014
To welcome Lunar New Year, Ho Chi Minh City will organize firework display at 7 locations at New Year's Eve night last 15 minutes. Especially, there is only 1 spot on Saigon's underground tunnel will have firework at the height-level. The other spots will organize firework at low-level.
>> International firework festival 2012 in Da Nang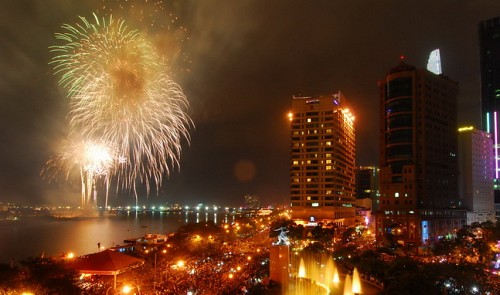 Firework display in Ho Chi Minh City

7 spots will hold firework to welcome 2014 contain:
 Saigon's underground tunnel (district 2);
 Dam Sen national cultural park (district 11);
History-culture & ethnic park (district 9);
 Ben Duoc monument (Cu Chi district);
 Can Gio football pitch ( Can Gio district);
 Nga Ba Giong

revolutionary martyr memorial

 (Hoc Mon district);
 Lang Le-Bau Co historical relic (Binh Chanh district).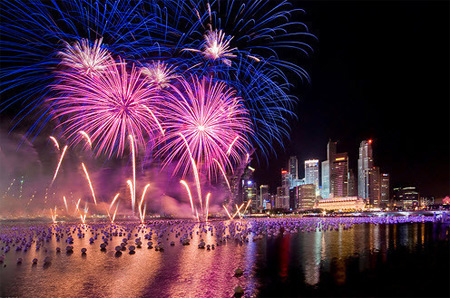 Firework exhibition on Saigon River
On this occasion, Ho Chi Minh City will hold many festivals, activities to welcome New Year 2014 and Tet holiday. From 23rd day of the twelfth lunar month to 8th day of the first lunar calendar, there are many a special street decoration, large events combining with light performance.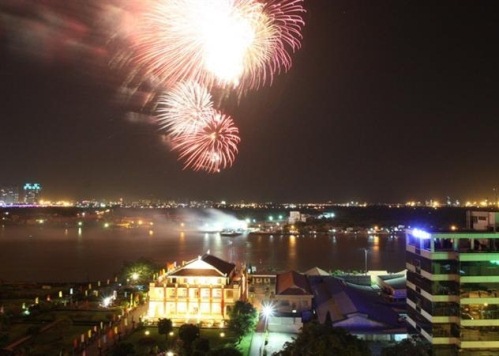 Firework in Thu Thiem underground tunnel near Nha Rong harbour 
Moreover there are many street activities such as: street festival in Nguyen Hue Boulevard, book streets in Nguyen Hue Boulevard, Mac Thi Buoi Street and Ngo Duc Ke Street from 28th day of the twelfth lunar calendar to 4th day of the first lunar month. Art performances also be organized to welcome New Year such as in 23/9 park, Gia Dinh park, Truong Sa Street (Phu Nhuan district).
Have a nice day!
By Vietnam-evisa.org team