FIVE MARKETS ARE THE MOST ANCIENT AND FAMOUS IN SAIGON
Beside of the unique constructions as Notre Dame Cathedral or Reunification Palace, Saigon also has ancient markets and also is considered symbols of this city.
In addition to the historic values, the architecture of the markets below also is the crowded shopping place in Saigon, which draws a lot of tourists to visit and shopping.
1. Ben Thanh Market:
Listed in the typical locations of the city, Ben Thanh market is always a destination to go shopping for people who have a change visiting Saigon and it is one of the most ancient markets in here.
Operation from 1914 to now, this 100-year-old market is not only the crowded place for buying and selling but also witnessing many changes, up and down times of the city and it is a reconciliation between old and new Saigon. This place centralizes a lot of goods from clothes, shoes, cloths, crafts, ethnic minority stuff, jewelries to local dishes.
With the traditional ancient values, the market attracts many overseas tourists arriving to visit and go shopping. Coming here you will see many languages to exchange, buy and sell. At night, area around Ben Thanh market transform into a busy night market, creating a lively colorful Saigon.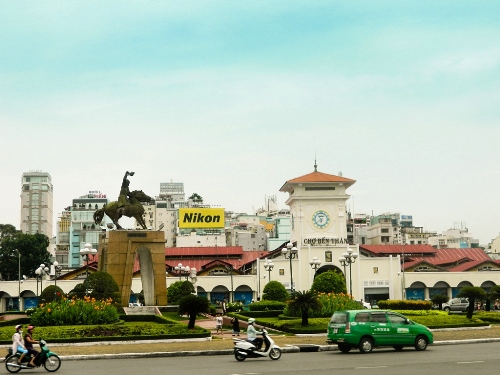 Ben Thanh market, one of the symbols of Saigon. Photo: Van Trai.
Address: Le Loi street, Ben Thanh ward, district 1, HCM city, Vietnam.
 2. Binh Tay Market:
The market located in the West of the city is always one of destinations to mark on the traveler maps of a lot of visitors. Started working from 1930, the market was built with a strong Asian architecture. The corners of the roof have curves as the Asian style temples. A special feature of this market is intermediate area that there is a large courtyard which brings the cool and fresh atmosphere with the natural light in a harmony.
Beside of the special architectures, Binh Tay market provides variety of goods. This place attracts most of the professional traders. As most of the goods is sold and then transferring to West-South Provinces. If you have intention to go shopping for your family with household goods and electrical goods in the occasion visiting Sai Gon, Binh Tay market is the place which you should come because the sellers are always friendly and welcome you with reasonable prices.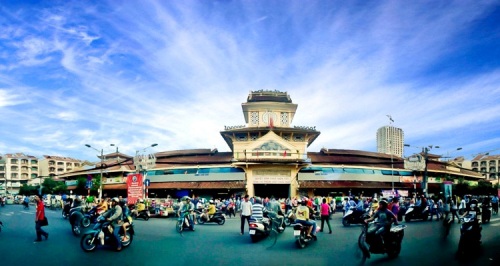 Binh Tay market, A destination for those who need to buy beautiful watches or household goods. Photo: Ken99.
Address: Thap Muoi street, ward 2, district 6, HCM city, Vietnam.


 3. Tan Dinh Market:
Tan Dinh market strongly holds the historical traces of Ho Chi Minh city and always the famous and familiar place for Saigon people to go shopping. Built in 1926, the main gateway of the market was designed uniquely. It's a place provides many different goods which mostly includes cloth and food. Food stalls in this market are always appreciated by the buyers with various delicious foods like sauces noodle, crab soup, dishes of fruit and especially the chicken sticky rice which is well-known by many people. Especially if you need to buy cheap cloth, Tan Dinh market may be the first and the best choice for many families and tourists coming from all over.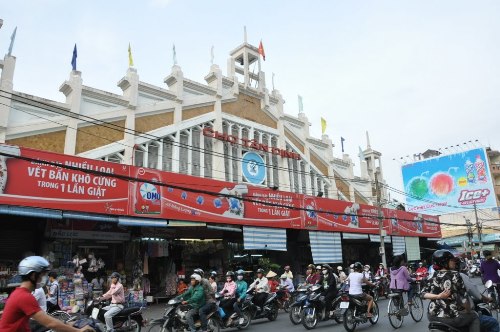 Tan Dinh market can be considered the "rich market" because the price mostly is more expensive than other markets with the same goods. Photo: Panoramio.
Address: Hai Ba Trung street, Tan Dinh ward, district 1, HCM city, Vietnam.
4. An Dong Market:
One of central markets of the city, An Dong market holds a lot of emotions of the old people who used to live in Saigon. With over 56 years of survival, An Dong market has contributed enormously to the flow of goods in Saigon center.
If visitors need to buy the newest clothes, then An Dong market will be the best choice, because a lot of people appreciate about it which always updates the latest trend and most fashionable of clothes, shoes, cloth,…Besides, the second floor of the market also has the hotels and banks, so this place is very convenient for tourists to have a break and change money while enjoy their visiting and shopping.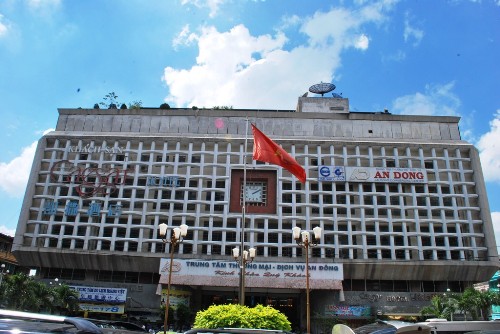 An Dong market, the destination of visitors come to shop for fashionable goods. Photo: Dulich24
Address: An Duong Vuong street, ward 9, district 5, HCM city, Vietnam.
5. Ba Chieu Market:
One of the most ancient retail markets in Saigon is Ba Chieu market. The name of this market has stuck in mind of a lot of Saigon people and more specifically Binh Thanh area from past to present. Located a quite beautiful and convenient area, that's why this market attracts a large amount of tourists coming here for shopping.
Goods traded here mainly clothes, shoes, fruits and foods. With a pretty cheap price, so it's suitable for most of the people. Especially, Ba Chieu market has a quite crowded and busy night market. The night market is not opened in the hall but opened primarily in the market front, mainly selling clothes, shoes and night dishes. Late at night, the night market becomes more easily with many foods like flowers, fruits, vegetables… concentrate in the front of the market.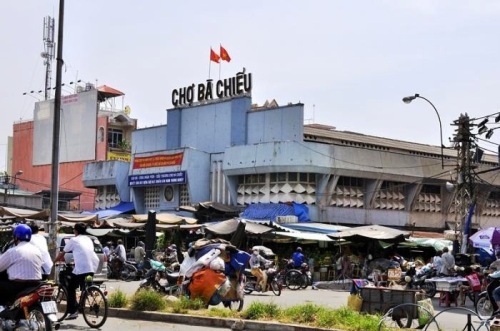 Ba Chieu market always ticks with working class. Photo: Wikimapia
Address: Bach Dang street, ward 1, Binh Thanh district, HCM city, Vietnam.
Source: Vnexpress