Floating market - a typical culture of the south western Vietnam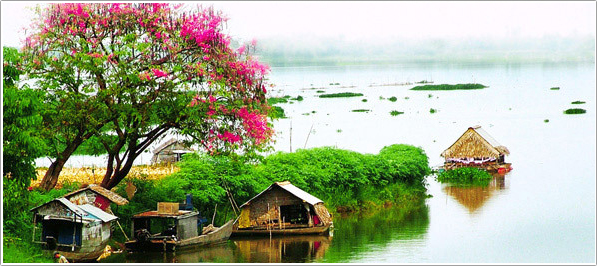 Floating market at Cai Rang is the old traditional market of the South Western Vietnam. It's 5 km from Can Tho which regards as "Western Capital". The visitors can move to Cai Rang by land or waterway. By starting in early morning, visitors will come to Ninh Kieu Wharf locating along the Bassac River to buy ticket for travelling to Cai Rang. It costs about 220-250 thousand VND ( nearly 10-12$). If you get up too late you can visit Cai Rang from the Can Tho center by bus (costs 5.000 VND) or by "Xe Om" with 20.000 VND fee or spending 250.000 VND with taxi. It takes you more 20- 25 minutes than the waterway transports.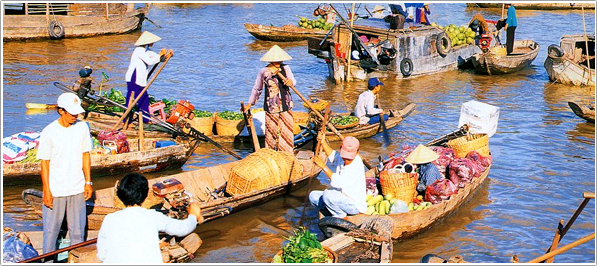 Floating market is crowded and bustling at 6:00 to 8:00 am. Hundreds of small and large boats lie closely for trading. This view forms an unforgetting, special feature of the floating market. Cai Rang is the wholesale market which provides fruits and agricultural products for Ho Chi Minh city and many South Western regions. The excellent soil beside the canal is very fertile and suitable for growing many kinds of fruits and vegetables. Some famous fruits are mangoes, bananas, coconut and pine-apples. A special feature is different from the other land markets that the sellers do not have to cry out about their goods because their product can be seen in the distance by hung on the tree plugged at nose of the boat and their cried out could not be heard in the vastness of the river or the noise of boat engines. Small boats that sell beer, soft drinks and wine go among the other boats easily to serve market-goers and visitors. Big boats are the wholesalers, selling fruit to dealers from neighboring provinces. Activities at the floating market are also an occasion for tourists to study the cultural aspects of southerners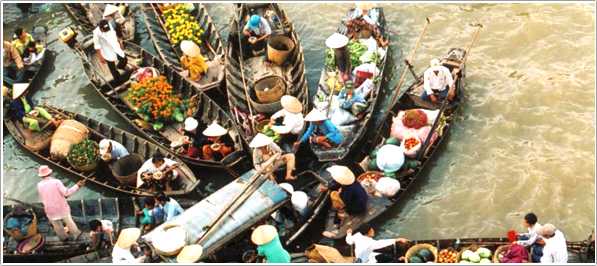 Going on a sight-seeing tour floating market to enjoy western special dishes and buy some agricultural products is interesting attraction for backpacking tour in Vietnam. Buying fruits and agrultural products is not difficult. You only look at the things which sellers hang them in bamboo trees, therefore you know how to find easily right seller.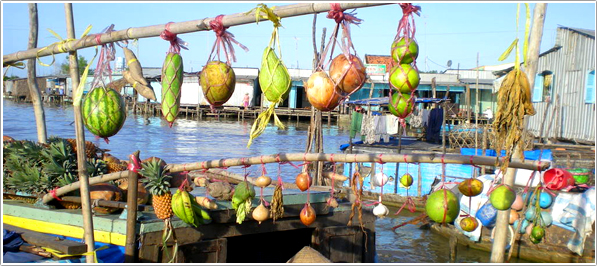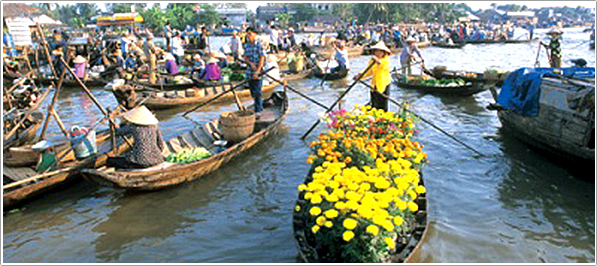 To get the Vietnamese visa for travelling or business fastest, the customers can visit and register visa online at website www.vietnam-evisa.org. For more details without fees, please call us via phone number (+84) 909 343 525 for direct supporting
Have a nice trip to Vietnam!