Greater Mekong Sub-region tourism forum in Ha Noi
In the morning December 19th 2013, Economic and development's Vietnam-Lao-Cambodia's economy combination with Planning and Investment's Ministry co-hosted annual conference in Ha Noi.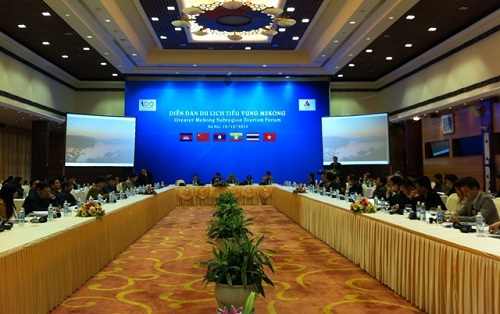 Mekong sub-region conference

This event is one of 11 priority programs identified of development's framework in advance of the Grater Mekong sub-region (GMS). The co-operation aims to create convenient environment to develop Cambodia, Lao, Myanmar, Thailand and Vietnam's economy combination with Yunnan and Guangxi provinces of China and make these areas become wealthy areas of the southern Asian.

Exchange information, finding integrating methods and co-operating to develop economy and enlarge investments of enterprises, organizations in member countries is main purposes of forum foundation. Moreover this forum also the place for advertisement about potential products in Mekong sub-region members.

In addition, the deputy also focus on the following contains:
- Evaluating co-operation between Mekong members in the past to design the new plan by 2012-2022 at the fourth conference in Myanmar with declaration: co-operation between GMS
- Introducing and advertising potential opportunities of tourism industry
- Improving travel, develop travel human sources combination with protect culture heritage, natural heritage
- Contributing tourism infrastructure and create comfortable traffic between member countries
- Organizing activities to develop travel
- Completing full policies to support tourism industry
Mr. Tran Phu Cuong vice deputy of Co-operation of tourism department announced tourism industry is important major to develop and raise economy after world crisis. Therefore the member countries of Mekong sub-region must build infrastructure to attract tourists to come.
Have a nice day!
By Vietnam-evisa.org team