Historical remains of Emperor Ham Nghi
Nguyen Dac Xuan scholar has introduced to audiences materials of Emperor HamNghi. These materials were exhibited in Hue Relics museum, located at 3 Le Truc, Hue city.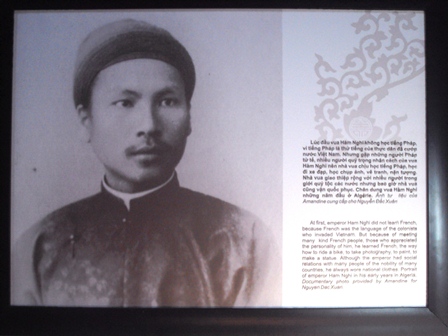 King Ham Nghi
The exhibition was launched in January 14th,2014. The exhibition contains over 30 pictures and paintings, 30 books of Emperor Ham Nghi. Moreover, there are two paintings painted by King Ham Nghi. King Ham Nghi painted two pictures about sunset and Vietnam country. These express the love of King Ham Nghi with Vietnam country when he had expelled.
King Ham Nghi painted this painting about country of Vietnam
In addition, Nguyen Dac Xuan scholar supported new information about life, family and character of king Ham Nghi that had provided by King Ham Nghi's daughter. Nguyen Dac Xuan had a chance to meet the princess Nhu Ly who is daughter of King Ham Nghi in 1999 in France.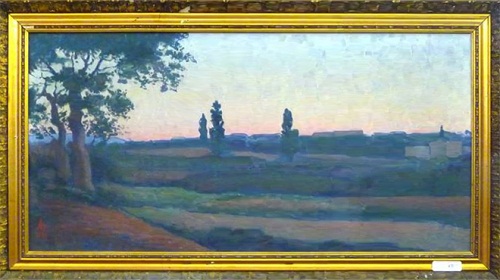 King Ham Nghi express the love of Vietnam country via his paintings 
According to Phan Thuan An scholar, this exhibition exposes a new part of life of king Ham Nghi. Nguyen Dac Xuan leaving from Vietnam to France collected these materials. He hopes local government will connect to Ham Nghi's family in France to bring Ham Nghi's remains to burry in Vietnam.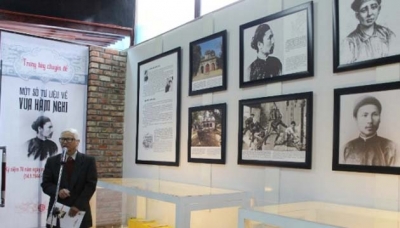 Exhibition about the life of King Ham Nghi
Emperor Ham Nghi and King Thanh Thai accompany with King Duy Tan are 3 popular kings of Vietnam who always object to invading from France. Vietnamese citizen always admire his courage and patriotic fervor. He was exiled to Algeria on 12 December 1888. He had 3 children, Prince Minh Duc, Princess Nhu May and Princess Nhu Ly. He died in 1943 and was buried in Thonac cemetery.
Have a nice day!
By Vietnam-evisa.org team