Hotline to avoid robber in Ho Chi Minh city
Recently, Department of Culture, Sport and Tourism of Ho Chi Minh city publicized hotline number to protect tourists from robber.
Specifically, the hotline of security offices that tourists can contact such as
Hotline to contact with criminal police of Ho Chi Minh city is 08.38.387.200
Hotline to contact with Inspectorate Department of Transportation in Ho Chi Minh city is 08.38.300.702
Hotline to contact with assistance forces is 08.39.250.000
Hotline to contact with Department of Culture, Sport and Tourism is 08.38.234.056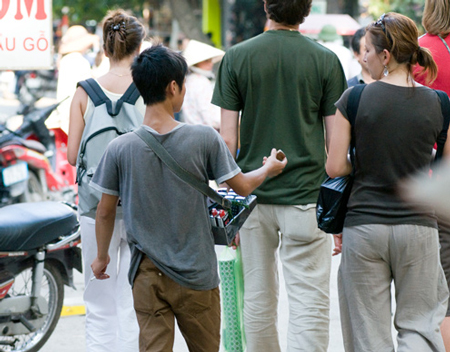 Tourists are tailed by hawker
In detail, criminal police, and police handle cases that related to social security and cases linked to infringe properties and visitor's lives.
The Inspector of Transport Department to deal with cases that related to transport, charge of taxi fee and forget properties on taxi.
Assistance forces have responsibility to support visitors to declare in occurrence property, lives infringement cases or tailing tourists everywhere all the time.
Department of Culture, Sport and Tourism guide and support tourists to know more information to solve problems that link to infringe property or lives of tourists.
Tourists should pay attention to groups that contain 4-5 persons. They can take advantage the moment that visitors are funny or weal spot to rob property and then they pass that property around. By the way, they can easy to rob and escape from tourists or police.
 Have a nice day!
By Vietnam-evisa.org team