Hue festival opens from 12th April to 20th April 2014
Thua Thien Hue people community has decided to plan for the 8th Hue festival with the theme world cultural heritage combination with integration and development that will be operated from 12th April to 20th April 2014.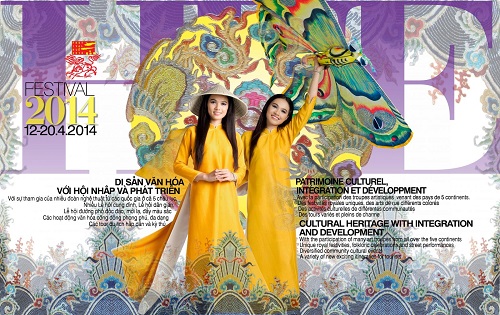 Two young girls in Vietnam traditional dress in new poster of Hue festival 2014 
Hue festival is a big cultural event of Hue city which is celebrated every two years. The year to hold Hue festival is usually even numbered year and the festival aims to honor Hue cultural heritage.
Hue festival was opened the first time in 1992 with name Vietnam-France festival. Nowadays, it is renamed Hue festival. Beside France-main party, Thua Thien Hue province is canvassing ASEAN groups, East Asia and Latin American countries to take part in Hue festival. Many singers coming from other areas in Vietnam will perform in this festival.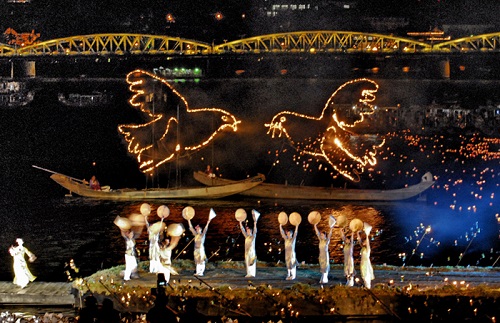 Float stage performance on Han river in Hue festival 
The activities' list in Hue festival 2014 in below:
Opening art performance( at 8 o'clock 12th April 2014);
Royal night ( every night from 15th-19th April 2014);
Ao dai festival( at 20:00 o'clock from 14th-17th April 2014);
Live show to honor Hue melody( at 20:00 o'clock 16th-17th 2014);
The orient night performance( every night 13th, 15th, 16th and 18th April 2014);
Crabosse fire performance( at 19:30 o'clock on 18th and 20th April 2014);
Street festivals of art group from the East Asia and the Latin American take place every late afternoon from 12th-14th April 2014;
Conclusion performance.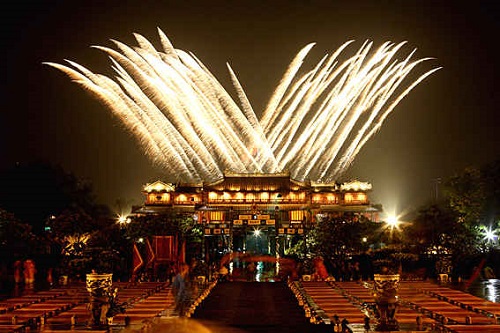 Hue citadel ablaze with firework 
In addition, there are many social art programs and other festivals such as: Thuan An- beach calling, beautiful Lang Co bay, the second Perfume river music festival. Sport activities also will be held such as: boat traditional race, kite festival, Golf competition, volleyball, cuisine of 5 countries: Vietnam, Lao, Thailand, Cambodia and Myanmar from 11th-21th April 2014, international trade fair (from 12th-18th 2014).
Vietnam woment in Ao dai-traditional dress on exhibition stage

It is expected to hold many national events: cultural Ministry conference of ASEAN plus 3 (from 16th-21st April 2014), Cultural night of ASEAN, traditional dancing festival, diplomatic discussion with theme-solid development base on culture-heritage-environment (from 12th-14th April 2014).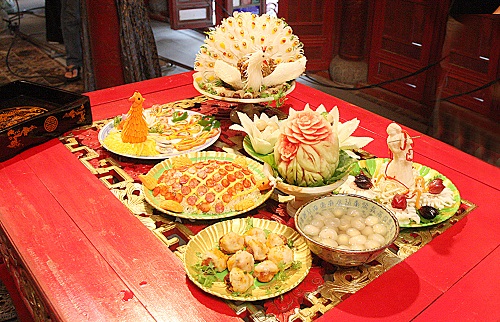 Famous foods in Hue will be display in Hue festival 
Have a nice day!
By Vietnam-evisa.org