International firework Festival 2012 in Da Nang
1. The international firework festival is an annual event of Da Nang City to attract tourist on holiday. In 2012, Da Nang City continues to celebrate the 5th "International Firework Competition" on April 29th and 30th. Four international teams from Canada, France, China and Italy will take part in two night competition with the host Vietnam team. Each team has a firework show lasting 20 to 22 minutes with 4,000 to 6000 fireworks. Subject of this year is about "Colors of Da Nang".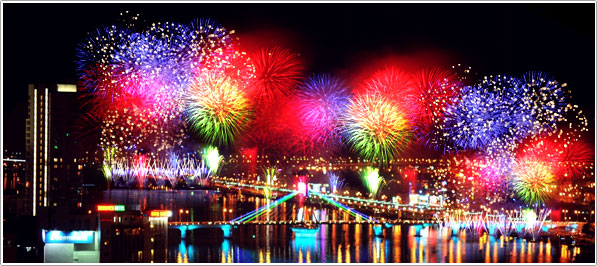 2. The Da Nang Authorities have just released public information of ticket price and selling address for tourists.
- In Hanoi capital, tickets are sold at the Dana land Investment and Development JSC Company, the third floor of Naforimex building (19 Ba Trieu Street).
- In Ho Chi Minh City, tickets are available at the Viet Media Travel JSC Company (175 Nguyen Thai Binh Street, District 1)
- And in Da Nang, Trung Vuong Theatre, (35 Phan Chau Trinh); Nguyen Hien Dinh Tuong Theatre (155 Phan Chau Trinh); Tourism Promotion Center (32A Phan Dinh Phung); Danang Event and Festival Organising Center, (78 Le Duan) and Viet Art JSC Company (62 Nguyen Thi Minh Khai) are present to allocate festival tickets.
- Price of ticket is about VND 300,000 for a seat on the C1 stand; VND250.000 for a seat on C2 stand and VND200.000/person for the C3 stand.
3. In case tickets are sold at higher prices, please report to Da Nang Department of Culture, Sports and Tourism via phone numbers: 0511.3886761 or 0905.155.159.
4. This is a change for tourist knows more about Da Nang, a modern city but not forget the old culture. With foreign tourists want to visit Da Nang for the festival, please just book Vietnam visa online via www.vietnam-evisa.org to get "Approval Letter" from Immigration Department then getting visa at the Vietnam International airports.
- Please call us (+84) 909 343 525 (Mr David La) in 24 hours per 7 days if you need more our supports!
Have a nice trip to Vietnam!