Many cultural and tourist activities during the 2/9 holiday in Da Nang
According to statistics from the Department of Tourism, the total number of tourists visiting Da Nang City during the 04 holidays (September 1 - September 4, 2022) is estimated at more than 239,000. Also, domestic tourists are estimated at about 215,000 arrivals, nearly 2 times higher than the same period in 2019; International visitors are estimated at about 24,000 arrivals.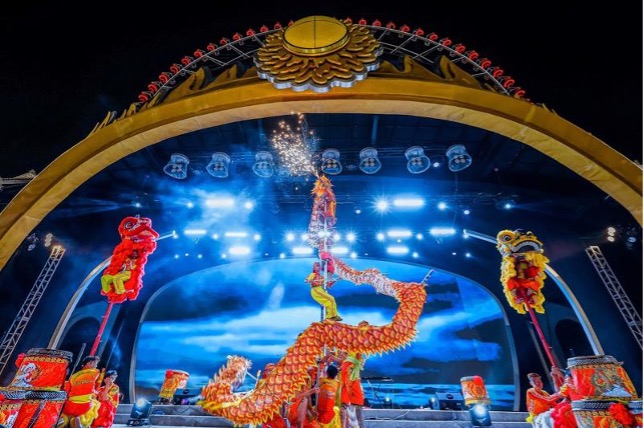 The Asian Lion Dance performance serves guests on the occasion of the 2/9 festival on 2022.
The total number of domestic and international flights to Da Nang from August 31 to September 4 is estimated at more than 540 flights, including 443 domestic flights and 97 international flights.
On the occasion of the 2-9 holiday, many attractive events and activities were held to serve the people and visitors, such as the Da Nang Golf Tourism Festival in 2022; The art show Clouds Wandering "Just not Together", "Remembering You"; Vietnam - Korea Festival 2022; Music Night "Brilliant Vietnam" at Asia Park; Lion dance Mai Hoa Thung at Helio Night Market; Experience fun activities, swimming at Da Nang tourist beaches; Opening ceremony of the National Youth Sailing Championship and the Sup Competition of the Outstanding Rowers Championship in 2022.
The highlight event that will attract a large number of tourists to Da Nang City during the holiday season is the Danang Golf Tourism Festival 2023, which will take place from August 24 to September 2. The highlight of the festival is the Asian Professional Golf Tournament - BRG Open Championship Danang 2023, attracting 144 leading professional golfers in Asia to participate in many exchange and travel activities.
In addition, on weekends in Da Nang, there are activities such as street dance combined with wind music performance; singing and singing Choi songs combined with performances of ethnic musical instruments and street music; plays on the street…
If you are planning your holiday during National Day, don't miss the city of Da Nang with many interesting activities!
Vietnam-Evisa.Org
Hotline: +84.909.597.525
Website: www.Vietnam-Evisa.Org
Email: visa@Vietnam-Evisa.Org