New experience with Japanese cultural festival in Ha Noi
Japanese cultural festival will be held on 29th December 2013 in Ha Noi to welcome New Year's Eve 2014 and promote the friendship and solidarity between Vietnam and Japan.
>> Japanese tourists are exciting at a boat racing competition in Hoi An, Da Nang
Culture, Sport and Tourism Ministry of Vietnam has announced the decision No. 415/QD-BVHTTDL on celebration Japanese cultural festival entitled-Ake Ome happened in Ha Noi. According to the decision, the festival will be taken place on 29th December 2013 at Exhibition Centre 148 Giang Vo, Ba Dinh, Ha Noi City.

Ake Ome festival brochure to advertise this festival celebrated in Ha Noi
Ake Ome is the shortened form of Akemashite Omedetou in Japanese, which means Happy New year. According to the representative of celebration board, Japanese cultural festival aims to create good space for the young to know more about Japanese culture at the New Year's Eve 2014. Moreover this is an opportunity to promote friendship and solidarity between Vietnam and Japan.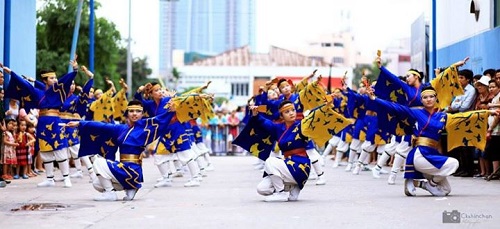 Japanese dancing performance to welcome the New Year
The Japanese cultural festival is expected to display 40 booths to introduce to public the Japanese food and drink specialties. In addition, it offer handmade products which is outstanding products of Japanese such as Kadomastu New year decoration, carp lanterns and Hamaya bows. Especially, Hamaya bows are used to avoid ghost away according to Japanese belief.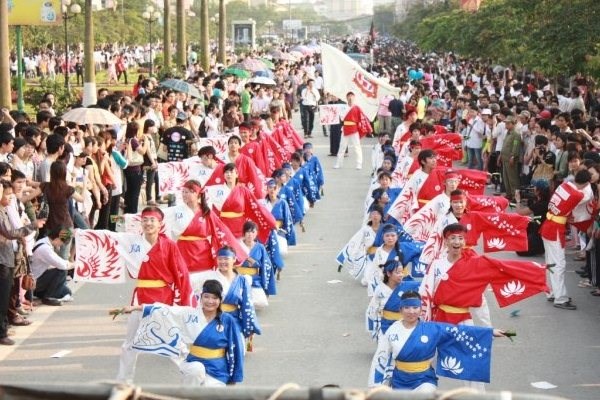 Japanese cultural festival celerated in Vietnam
Daruma' doll booth is the remarkable point of this festival comparing to other booths. Visitors will have a chance to paint the eyes of those dolls for good fortune in the New Year. Painting dolls' eyes is the typical activity to welcome the New Year in japan. Besides taking part in typical activities in Japan, visitors can buy souvenirs from Japan.

In addition, tourists can participate in many traditional activities from Japan to welcome New Year such as dressing yakata traditional costume. It is expected to bring new experience to Vietnam citizens and know more about Japanese culture.
Have a nice day !
By Vietnam-evisa.org team