Nine ancient architecture of Saigon
Reunification, Notre Dame Cathedral, Opear house, Vietnam Quoc Tu pagoda, Saigon Post office, Ben Thanh market and Nha Rong harbor attract tourist by its history and ancient architecture.
1. Reunification palace
Reunification is used to call as Norodom in France invader. It was started to build on February 23 1968 by outline of architect Hermite. It was finished in 1873.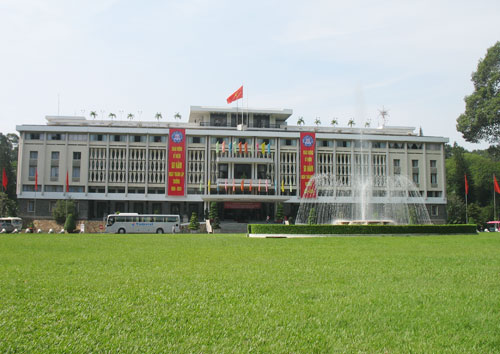 Reunification palace 
The house is built on an area of 12 hectares, including a large mansion with a frontage 80 meters in length and inner room containing 800 people and a campus with many trees and grass.
Most raw materials to build this palace were transported from France. Nowadays, it is interesting destination for both international and domestic tourist who wants to discover ancient architecture, which is affected by France
2. Opera House
Opera house located on Dong Khoi Street, District 1, is considered the center theater, organizes versatile performing arts theater and also used to organize a bigevent.
Ho Chi Minh opera house
It was completed on January1st 1900. It is the oldest theater that s affected by Western European architecture and is considered as a attractive destination of city.
3. Notre Dame Cathedral
Notre Dame Cathedral is the largest and distinctive church of Ho Chi Minh archdiocese. Notre Dame Cathedral was officailly built by J. Bourand architect on August 1876. Nowadays, it is the attracting destination for domestic and foreign tourists.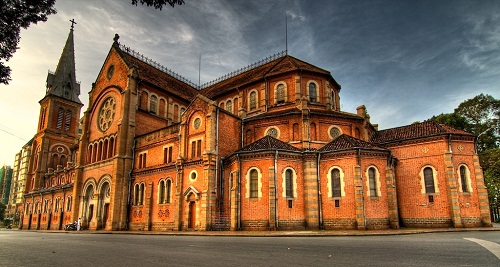 4. Vietnam Quoc Tu
Vietnam Quoc Tu pagoda was started under the supervision of architect Ngo Viet Thu. It was built with a 7- storey pagoda curved roof, sophisticated carving in natural space in spacious with unique landscapes.
Vietnam Quoc Tu pagoda is deep harmonious architecture styles Vietnam. Nowadays, it is still frequently attracted Buddhists.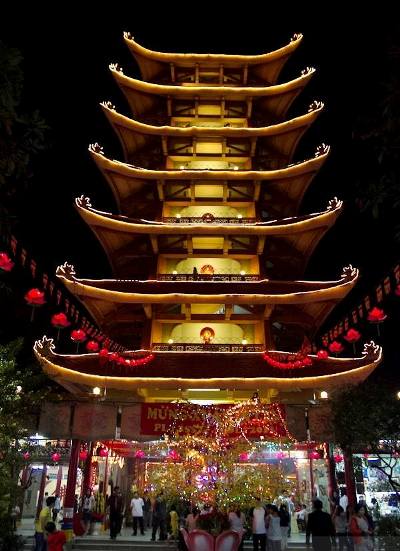 Vietnam Quoc Tu pagoda
Have a nice day!
By Vietnam-evisa.org team