Royal tomb of Le Thai To Emperor – an important monument of Thanh Hoa province
Royal tomb of Le Thai To king is an main monument that keeps key marks about the legendary emperor – the leader of Lam Son revolt. With right tactics, he and his army defeated Chinese aggressors and established the most glorious reign in Vietnam feudal history.

Located near Tho Xuan airport, the tomb of Le Thai To king (also named Vinh Lang) is one of monuments of Lam Kinh which are located at Xuan Lam ward, Tho Xuan county, Thanh Hoa province.
The simple and solemn architecture
Review the history of Vietnam feudal reigns, in any situation, whether Vietnam is in a peaceful life or in the war, building tombs for emperors is always very important. It is not only the places for the emperor rest in peace but also the mark to present the powerful energy of that reign.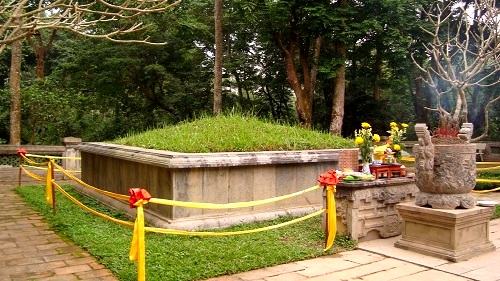 The tomb of Le Thai To emperor
Therefore, almost emperors always focus on building their own tomb when they were just on the throne. They almost built big and magnificent tombs for them, but Le Thai To king is not the same. Because he came from poor families, not from the Vietnamese aristocracy, so he built his tomb very simple.
When it comes to lay out, the difference of Vinh Lang is this shape like a square, each side 4.43m x 4,46m in length, it is 1m in height. Each stone is arranged next to others without using any materials to adhesive them. The top of this tomb didn't covered, so the grass can grow on it. There are equerry statue and 4 same statues around this tomb. All statues are made by stone and carved carefully. In 1993, the local people gave the Le emperor 4 elephant statues as a gift and they put these statues on the entrance to enter the tomb.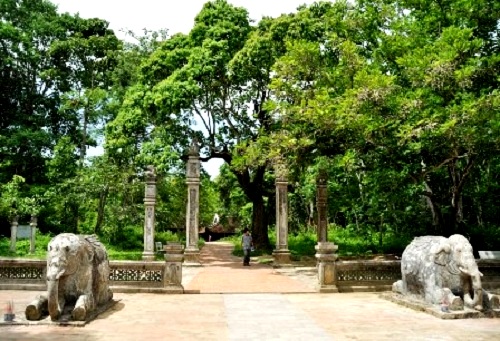 The front of Royal tomb
Get along well with nature
With the advantage of terrain, this tomb built after Lam Dia palace and located on highland shaped tortoise shells. Before this tomb is Chua mountain, after this tomb is Dau mountain and there are some rivers flow around it. Around this tomb, there are many old trees existing thousands of years make this atmosphere there very cool.
With the unique lay out, this tomb can show the characteristics of Le king: he is very simple and harmony with nature. But the tomb still keeps a solemn tone.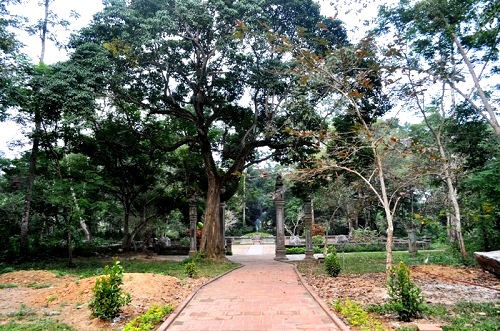 The entrance to enter Royal tomb
At the moment, the architecture of Vinh Lang also keeps ancient beauty and its original form. It is certified as National Heritage in 1962. In 2012, it is continually certified as a Special National Heritage.

Visit Vinh Lang, visitors are impressed by its simple form although it is a royal tomb of great king of Vietnam. Visit this place, travelers can easily find out the history of Vietnam, understand clearly about the Great king of Vietnam who won many resounding victories in Vietnam history.
Have a nice day!
By Vietnam-evisa.org