Saigon by night
When visitors visit a new city, they usually have three questions:
- "Where's interesting to go?" , "What's delicious to eat? " and "What's funny to do?"
>> The tourism potentialities of Vietnam
>> Backpacking tour-an interesting form of tour in Vietnam
At night Saigon has thousands of answers. Saigonese love the night time when the city has its own special characters. There are many places to appeal to every types of person. It seems that the city never sleeps.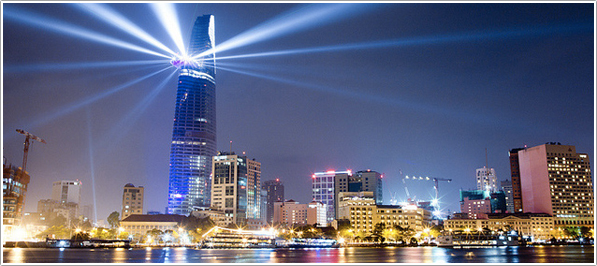 Bitexco nancial Tower in Night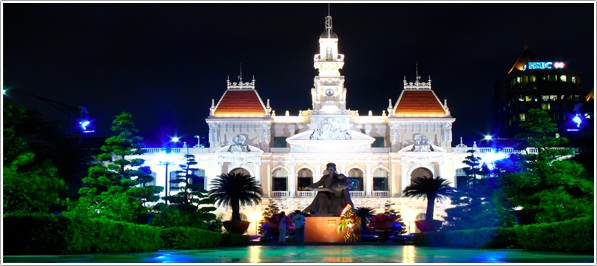 Ho Chi Minh City Hall in Night
1. On the sidewalk
- Except for storms, Saigon always has the perfect night - time weather. A cool breeze dispels the heat of the day. In the evenings people often gather on the sidewalks. All strata of society dine outdoor. Many backpackers walk along De Tham or Pham Ngu Lao street at night so that the restaurants and cafe shops are always busy. Around Ben Thanh market, a night market springs up. Diners sit at low outdoor table and eat dishes from through-out Vietnam.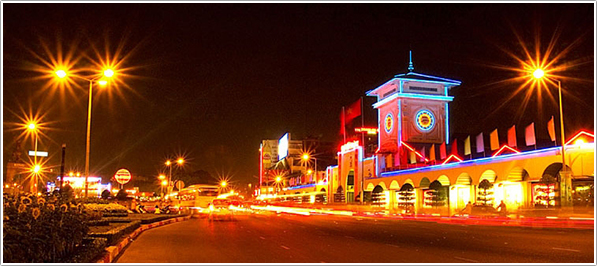 Sai Gon side- walking is an interesting activity
- Seated on the sidewalk of street, dinners can request a golden or modern song from the passing- busker. Armed with guitar, these buskers add the romantic melody to the vibrant atmosphere. Vendors peddle chewing gum and lottery tickets or sell barley sugar. There might be performances of fire eating or sword swallowing to entertain the night crowds.
2. Late night dinners
- Long after most restaurants have closed, food shops and eateries offer light meals for the after-bar crowd. The most popular area for the late night dinners is around Nguyen Trai street in District 1. Here, several restaurants still open all night. It is favourite spot for kids from the wealthy families, including oversea Vietnamese, who stop here after going to the nightclub.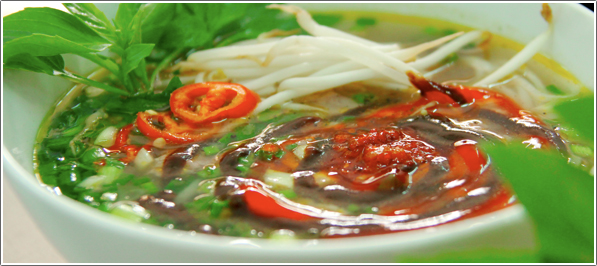 "Phở" Vietnam - the favorite dish in Vietnam
- Less exciting than Nguyen Trai street, the spot which stands on Nguyen Du Street - near Duc Ba Church appeals to homesick Hanoians with food. This place specializes in chicken rice soup, duck tongue and typical Northern Vietnamese dishes. Clients often hang out all night long. Hai Trieu is a small street that connects Nguyen Hue and Ham Nghi street. For old Saigonese, this street holds many memories. It has long been famous for eateries that sell chicken, sticky rice and noodle all night.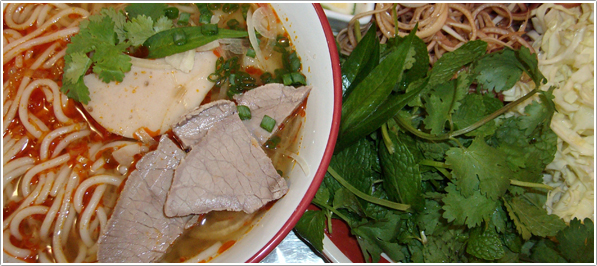 "Bún Bò"- a popular dish in Vietnam
- Eating out late is a truly Saigonese pleasure. No mater how late it is, some places are sure to be opened. With so much competition the quality of food and service is more and more better. If you want to understand life in Saigon, just stay up late and sit on the sidewalk.
Have a nice trip to Vietnam!
Vietnam-Evisa.org Support Center