Saigon-one of top 50 beautiful tourism photo
Ho Chi Minh City is voted as one of top 50 beautiful tourism photo in 2013 of the world by Travel 365 journal of famous channel National Geographic.
>> Ha Long Bay was honored by Mexico journal 
The photo is chosen for Ho Chi Minh City's beauty is of photographer Mario Weigt. This photo is taken Cathedral Notre Dame of Ho Chi Minh City from the high. It may is taken form Diamond Plaza building near Cathedral Notre Dame.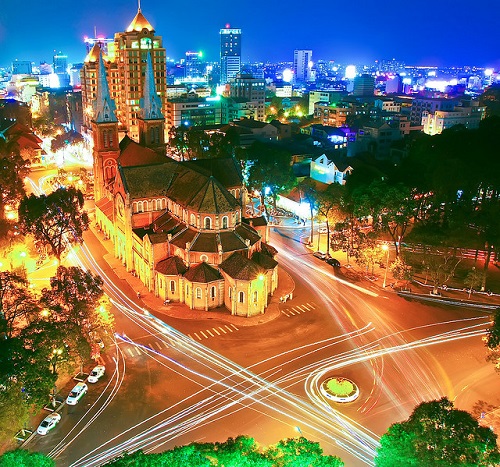 Cathedral of Notre Dame by night
This photo covers whole of view of Cathedral Notre Dame and a part of Ho Chi Minh City's view. We can see Bitexco building-the highest building in Ho Chi Minh City from to now with feature as lotus by night with bright lights.
The Travel 365 journal admired Ho Chi Minh City by its ancient architecture that is protected around modern architecture. It also said that all of material to build Cathedral Notre Dame were exported from France. Cathedral Notre Dame was built from 1863-1880.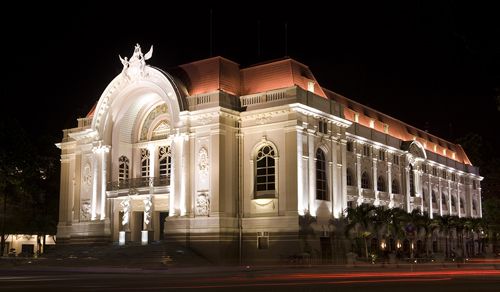 Opera house in Ho Chi Minh city
Cathedral Notre Dame is one of Ho Chi Minh City's symbol. Moreover there are many ancient architecture attract tourists when they enter Vietnam such as Reunification, Opera House, Saigon Central Post office, War of Remnants Museum.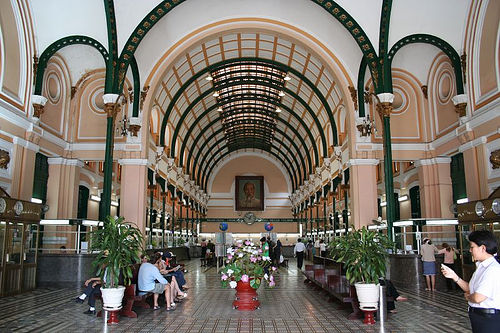 Saigon central post office in Ho Chi Minh City 
In addition, the Travel 365 journal also votes famous places in the world such as: Sala Regia in Vatican, Moher gulf in Ireland, Versaiels palace in France, Grand Canyon national park in US, Pisa in Italia, Buri Khalifa in Dubai of Idian, peach in Japan, etc.
Have a nice day!
By Vietnam-evisa.org team