THE SECRET OF SAIGON STREET FOOD
Nosh on Saigon streets is considered as a special attraction for tourists because it is tasty, plentiful and cheap. However, everyone also knows that those items have potential mishaps: unhygienic and noxious and it is sold every day.
Wandering in the center of Saigon, especially around the famous Western streets Pham Ngu Lao – Bui Vien at night, guests are addicted to "muc chien nuoc mam" (fried squid with fish sauce). On weekend nights, people including foreign tourists prefer to sit on the curb for drinking beer and watching people around.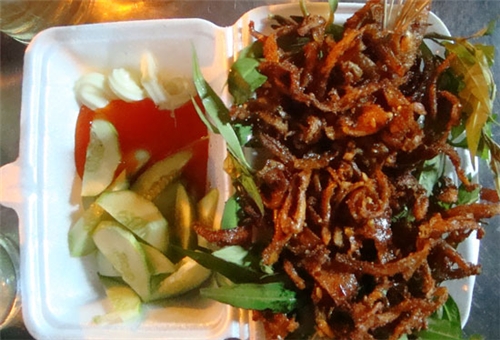 Fried squid with fish sauce
In the chilly of late at night, grilled squid is fried with fish sauce smells fragrant that enough to start non-stop pouring beer. As a favorite dish so at any street corners also sell fried squid with fish sauce. For Western visitors, they must brave or really want to experience once the local food culture dare to try because both the squid and pan are exposed in the streets all day with dust.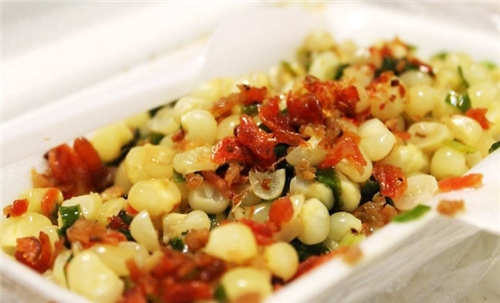 Fried corn
The second popular street food is "bap xao" (fried corn): corn fried with dried shrimp, sprinkle with salt, sugar, peppers and onions, sweet, fragrant and spicy. "Banh trang tron" (mixed rice paper): chopped dry rice paper mixed some tamarind sauce, green mango, chilly powdered, few boiled quail eggs and dried beef with Vietnamese coriander. Fried fish ball, fried beef, sausage scented, chicken wings, baked chicken legs, chopped fruit mixed ice. That is the dishes which everyone was enthusiastic, but the ingredients for those dishes are exposed on the trolleys, carried by plastic bags with wide open mouth or in plastic pots without lids between a space of full junk.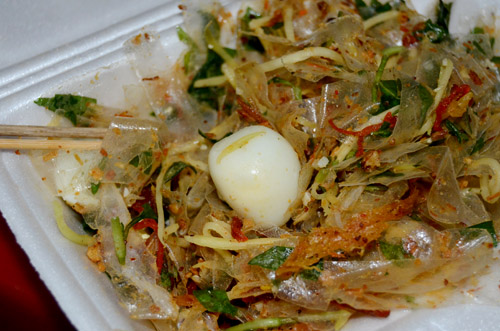 Mixed rice paper
However, how much dust is still… microorganisms, the Vietnamese is familiar with harsh trials so that's why they do not worry about that thing. When squid, sausage, corn, chicken wings, etc. fried in the pan of boiling oil, microorganisms will die. Because street food should be neat so just put those dishes on foam boxes, plastic boxes recycled cheap and disposable, they are often used to contain food that just picked from the hot oil pan.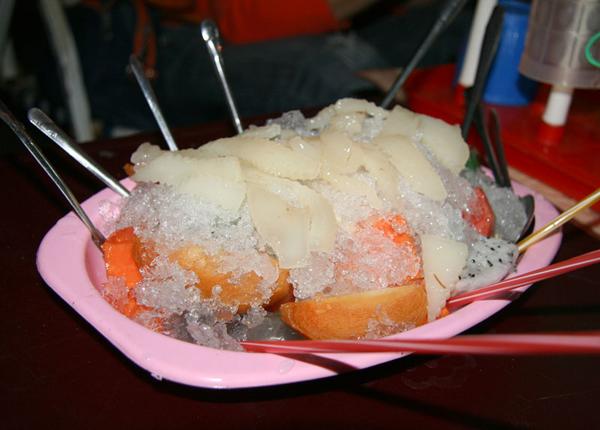 Chopped fruit mixed ice
Everyone knows those food is dirty and toxic, but it's fragrant, it stimulates the tongue. It is dirty because the streets are extremely dirty, dirty streets because people living on there was extremely dirty, and people leave litter comfortably on the roadside. Because there is no police fines them. Therefore, when going out at night in Saigon, you need to have "secret": Or you have to do a special exercise: continuous shaking your head (when sellers or your friends invite you to enjoy special street food of Saigon), or quickly steal the recipes and do it yourself in your kitchen at home.
Source: thanhnien.com.vn