The tourist attractions near Hanoi on the September 2nd
Climbing at Ba Vi mountain, picnicking in Ham Lon peak, fishing in Dong Mo, riding a cow wagon in Bang Ta, cycling in a antique town or boating on Dai Lai lake is what you can think about for the Vietnam Independent Holiday outside Hanoi.
Away from the bustle atmosphere of the cities, finding the way back and open your heart to the nature of some tourist destinations near Hanoi will help you have a perfect vacation with family and friends.
Ba Vi national park
Across the curly road, with many dangerous turn and the all year round coldness of the mountain, on the curve of mountain sides, you will see a forest with diversity creatures in one side, and the other side is immense space with the cloudy white of undifferentiated between sky and land.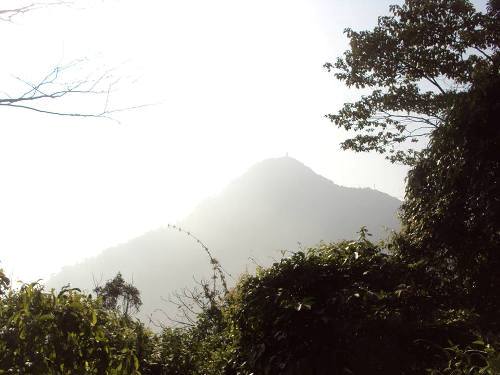 Together with the cool air all year round, the magnificent landscape in both side of the road will help you forget all the worries and troubles and immerse in the scenery.
35km from Hanoi, Ba Vi mountain has an unspoiled beauty, fresh cool atmosphere, many choices for you to explore like picnicking in the forest, playing in the Ao Vua stream, Dam Long, Suoi Tien, Khoang Xanh, Thien Son – Suoi Nga,… or climbing to Ho Chi Minh temple, to the Upper temple up above Tan mountain among the forest.
Ham Lon mountain
From Noi Bai Highway about 40 km, you will reach Ham Lon peak, in Doc Ton mountains, Soc Son, Hanoi. In the foot of Ham Lon mountain, there is Nui Bau lake, very wide, between the pine hills, suitable for the overnight picnics.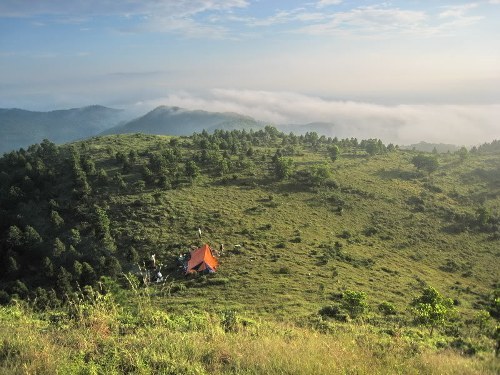 As a new, attractive destination for those who like to explore but not far from Hanoi.
You can prepare yourself BBQ and overnight picnics on Ham Lon mountain or in Nui Bau lakeside. There are tent renting services, and firewood with reasonable price. If you lucky, you may witness white fog cover all over the lake at dawn, very impressed. However, the entrance to the lake is quite hard to find, you should ask the local people for clear instructions.
Dong Mo
Away from the convenience of modern city life, and come to Dong Mo eco tourism site, tourists can easily forget the feeing of the stifling heat, the hustle, busy life and quickly immerse in the nature, enjoy the relaxation, the surprise silence.
40 km to the west from Hanoi, belongs long to Vietnam ethnics' tourism culture village, this place is considered as an ideal tourist destination with reasonable price for family picnic.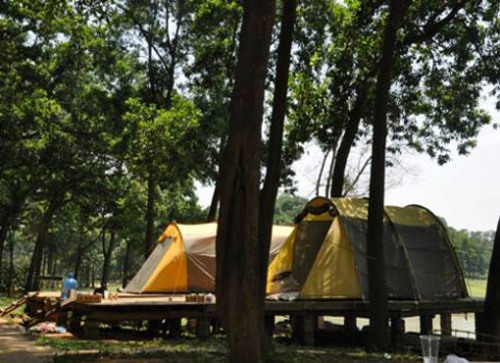 The price for renting a tent is about 300 000 VND/day, and 600 000/overnight.
It would be very exciting, gather around with you family at the edge of the forest, join in many interesting activities such as sailing, fishing, digging bamboo shoots, etc., and enjoying some BBQ specialties of Son Tay.
Tam Dao
Tam Dao is one of the nearest tourist destinations from Hanoi, very attractive to tourist, by the curve road and many zigzag turns. It would be much more exciting if you organize a backpack tour with your friends and stop anywhere for sightseeing along the trip.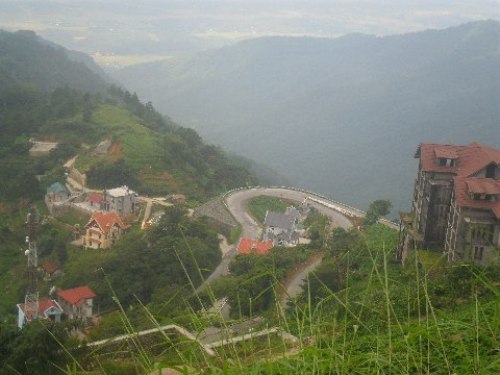 This is an ideal leisure tourist point with reasonable price for your family after the busy working days.
80km from Hanoi, come to "Dalat of the North", you will experience the all 4 season within 1 day, admire the beauty of the magnificent mountains, cover the whole Northern plain.
Quan Son lake
In the weekend, you can boating on a small sampan on Quan Son lake, it will make you forget the heat and the bustle city life.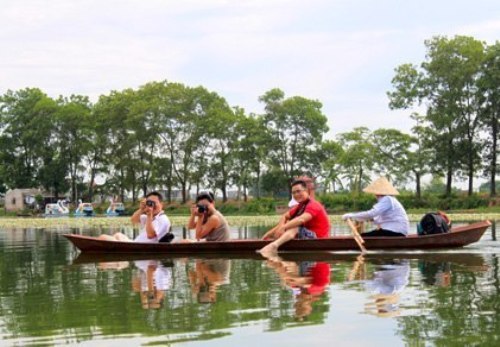 With only 120 000 VND to rent a sampan.
Quan Son is a 850 ha lake, located in My Duc, 50km from Hanoi. Along the 21B Highway, to Te Tieu town, Ung Hoa, straight to Hoa Binh direction about 5km, you will catch the images of rocky mountains' reflections in cool blue waters. Coming here, you can visit the peaks: Mom Nghe, Da Bac, Quai Cheo, Hoa Qua Son, Chua Cao, etc., visit the fruit tree plantations of Thung Mo, Thung Cong. Moreover, tourist can also play water sports, sailing and enjoy fresh seafood.
Dong Ngac antique town
Temporary escape from the center of Hanoi, a day cycling to an old village, you will come back to hundred years old space, architectures, culture legacy and historical relics.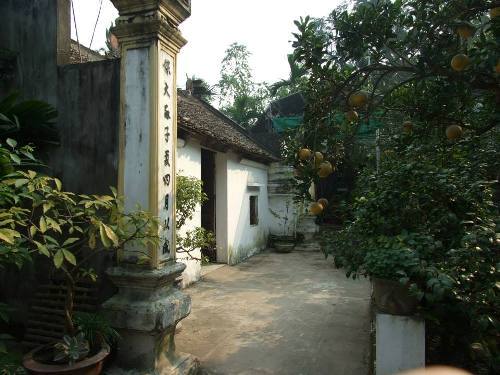 The wells, the family temple, the yard will bring you back to the old days.
This will be a special trip for those who like the antique things. Because going through the village gate covered by moss, you will enter a different space, peaceful and ancient. Don't forget to enjoy some traditional dishes such as spring rolls, banana flower salad.
Bang Ta natural forest
This natural forest is located on a low hill, belong to Bavi, Ha Tay, 65km to the west from Hanoi, 14km from Ao Vua and 3, 8km from Suoi Hai lake.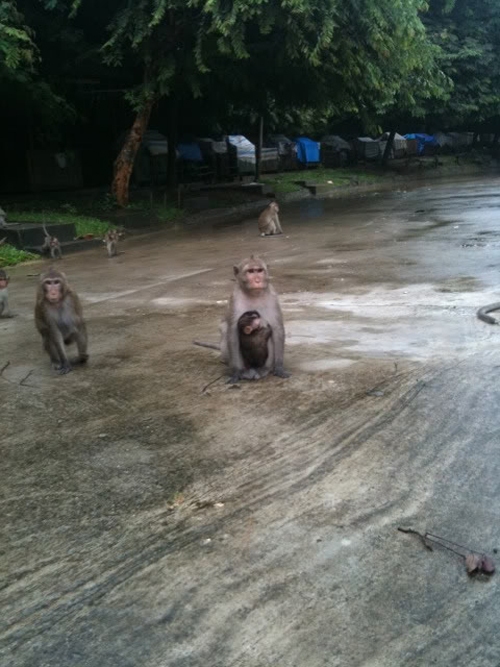 It would be very interesting if you sit on a cow wagon, ride a horse or wander around to freely watch and understand the life of the animals here.
Come to Bang Ta primary forest, tourists are not allowed to travel by anything vehicles which have engine to avoid shocking the animals. Besides enjoying the fresh air, you can try the local special dishes, visit Muong villages, overnight in house on stilt and join n many activity such as camp fire, drink "can" wine, listen to ethnic traditional music.
Dai Lai lake
25km from the center of Vinh Yen city, VInh Phuc province, Dai Lai lake is a remarkable address for your trip.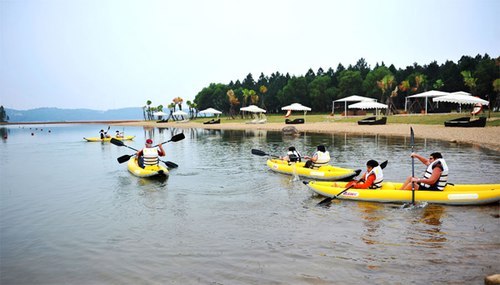 Families which have small children are not worries because there are many exciting games such as grass surfing, fishing…
Here, you can sail for sightseeing , explore the lake, visit the bat cave, fishing, camping… you can also wander around the pine forest, visit San Diu village, listen to Soong Co music, cross over Nheo pass to Thai Nguyen or turn to Mo Qua mountain, discover the ruin castle and enjoy the local specialtie…
Source: Vnexpress.net