THE TOURIST DESTINATIONS FOR PEOPLE WHO LOVE KAYAK
Ha Long bay, Lan Ha bay, Nuoc Mooc spring or Cai river is the places around Vietnam where suitable for kayak rowing to discover nature for you.
Choosing kayak to explore the bay, river, spring will bring new experience that cruise cannot offer. Wriggle through the islands and small caves, kayak will take you to the foot of limestone mountains, the peaceful villages along the river, watch the magical caves of nature. It is extremely close and exciting.
Ha Long bay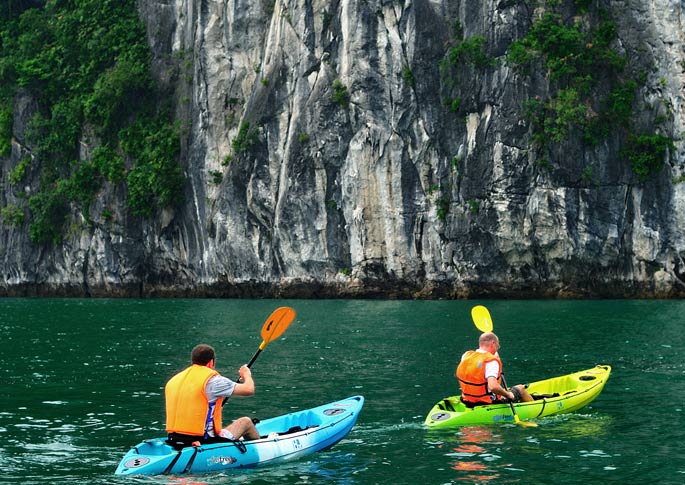 To feel the majestic Ha Long bay and discover the perfect stunning cliffs, the best way is kayak rowing. Tourists can choose from kayak rowing tours to admire themselves the scenery in Vung Vieng and Cong Dam villages, visit the masterpiece of nature in the heart of the mysterious stalactite caves which have been recognized as UNESCO World Heritage Site.


Phong Nha – Ke Bang


Dubbed as "the kingdom of caves" with diverse terrain, Phong Nha – Ke Bang cave system is a wonderful destination for those passionate about this adventurous sailing. The kayak will take you to the chinks, cool and fresh springs, watch the mysterious stalactites in Toi cave, En cave, Huyen Khong cave, etc.


Lan Ha bay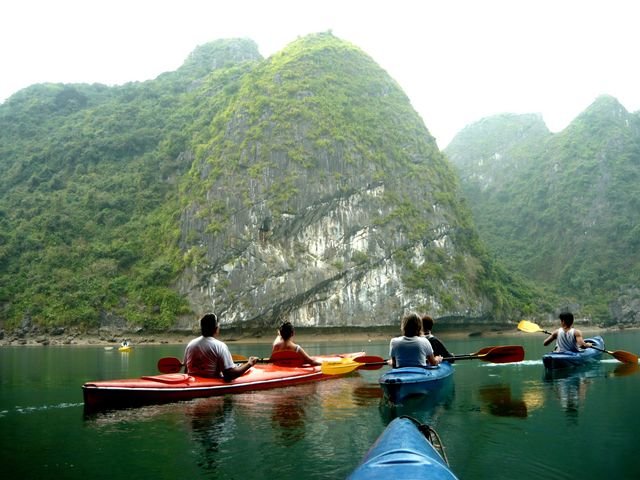 Lan Ha bay located to the east of Cat Ba island, adjacent to Ha Long bay. This is a very quite arc shape bay with about 400 large and small islands which create a large natural paintings. On the kayaks, tourists can wriggle through canyon in small bay to visit caves, watch the colorful coral under blue water and relax on the beach between the sea as Tung Gau cave, Cat Dua beach, Van Boi beach, Van Ha beach, etc.


Nuoc Mooc spring, Quang Binh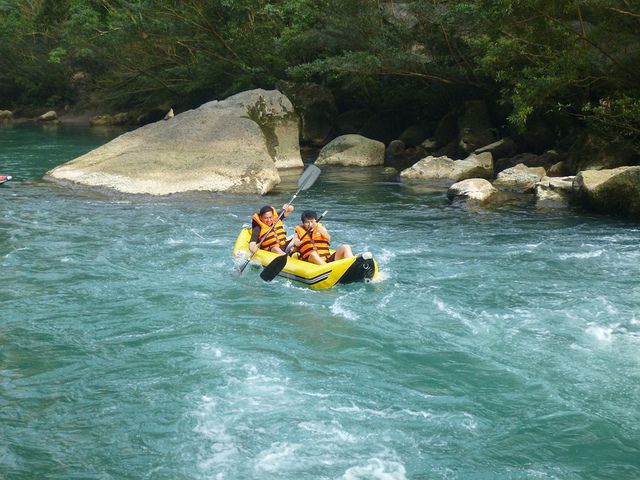 Nuoc Mooc spring located in Phuc Trach commune, Bo Trach district, the spring includes many interleaving large and small streams. On a small kayak upstream to the spring, you will surprise to discover interesting natural phenomena: the low water columns spray up from the ground, constantly flowing. Maybe that is the reason why people called it Nuoc Mooc, where the water is born from stone.
Cai river, Nha Trang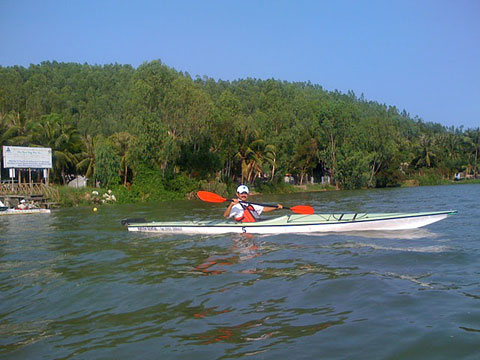 Explore Cai river, Nha Trang on a small kayak, tourists will enjoy fresh and cool air, visit southern farms and villages, learn about lives of people on the banks of Cai river. You can also move to the center of Thac Ba hot stream to relax and enjoy the romantic songs about this beautiful coastal city.
Source: dulichvn.org.vn