When do Brunei citizens need to apply for Vietnam visa on arrival?
When does Brunei citizens need to apply for Vietnam visa on arrival?
When is Vietnam visa on arrival redundant?
According to the Vietnam visa exemption law publised on the Vietnamese government website (updated until August 30rd of 2017), Brunei citizens who:
Enter Vietnam with tourist or business purpose;
Have at least 6 months and one page left valid passport;
Have the entry which must be at least 30 days form the previous exit;
Not fall into the suspension of entrance.
Stay in the country less than 14 days.
Can travel to Vietnam without visa.
Notice: In accordance with Decision No 80/2013/QĐ-TTg of the Prime Minister dated December 27, 2013, holders of foreign passports are exempted from visa requirement for entry into, exit from Phu Quoc island, with duration of stay no longer than 30 days. In case if holders of foreign passports,before entering Phu Quoc, had transit through other international border gate of Viet Nam, he/she also enjoy such exemption.
When must you apply for Vietnam visa?
Who can not meet the requirements of unilateral visa-exempted need to apply for Vietnam visa to be allowed enterring:
1/ Apply for visa at Vietnamese Embassy in Brunei.
2/ Apply for Vietnam Electronic visa which is valid for 30 day single entry (44$/person).
2/ Apply for Vietnam visa on arrival- this very first and common option is widely chosen by many travellers all around the world because of its advantages: fast processing time (2- 3 working days), no document submission, simple procedure (online application system), no paperwork required- we will take care of it on your behalf, legal approval letter from Vietnam Immigration Department to enter any international airport in Vietnam.

Tourist visa fee
Source: www.vietnam-evisa.org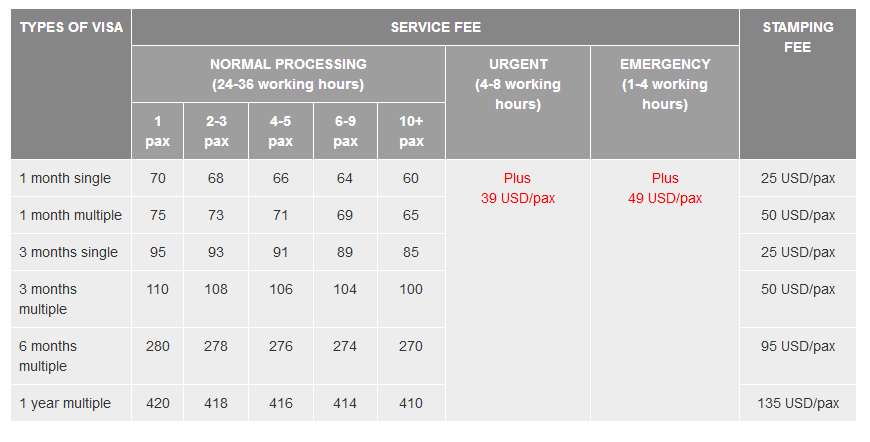 Business visa fee
Source: www.vietnam-evisa.org