Visa categories for foreigners in Vietnam
Join circular No.04/2002/TTLT/BCA-BNG issued by the Diplomatic and Police Security Ministry on January 29th 2002 on implementation instruction the circular No.21/2001/ND-CP issued by Ministry on May 28th 2001 on entry, exit and immigration of foreigners in Vietnam.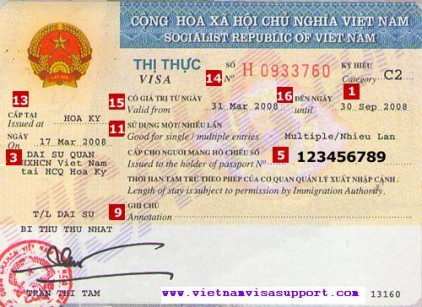 Vietnam visa type-C2 class
At V section of this circular on visa categories, they contain some main visa's symbol types in below:
A1: It is granted for official members who are invited guests of Central Committee of the Communist Party of Vietnam or Congress, President, Government and equal guest of Minister, Deputy, President or vice president's people committee of province or centrally-run cities combination with those relatives or assistants coming with them.
A2: It is granted for those who are members or representatations of foreign governments and those relatives or assistant entering with them.
A3: It used for those who enter into Vietnam to work with foreign commissions or are invited by foreign commissions.
B1: It used for those who enter into Vietnam to work with People's Supreme inspectorate, the Supreme people's court, ministries and equal ministries, government agencies, people's committee of province, central cities and central agencies of people's organizations, union or public.
B2: It is granted for those who enter Vietnam to process investment projects accepted by Vietnam authorized organizations.
B3: It is granted for foreigners who co-operate with Vietnam enterprises
B4: It used for those who are staff working in foreign authorized offices, branches of culture-economic organizations or other fields, and non-government foreign organizations whose branches located in Vietnam.
C1: It is granted for those who enter into Vietnam with tourist purposes.
C2: It is granted for those who want to enter into Vietnam with other purposes that are different from the above purpose.
D: It is used for those who haven't sponsored by Vietnam commissions, organizations, or other individuals.
Note: D visa category which is not more than 15 days validity. The Other visas are more than 30 days validity.
 Have a nice day!
By Vietnam-evisa.org team
Source from: The Vietnam Immigration Department 
CALVIN COX

United States of America

VISA

Jun 19, 2017

MY VISA IS FOR ONE YR AFTER LOOKING AT IT .IT ONLY APROVED FOR 3 MONTHS DO I HAVE GET IT UP DATED EVERY 3 MONTHS IF SO WILL THIS COST ME MORE MONEY EACH TIME???

Vietnam Evisa Support

Jun 19, 2017

Dear CALVIN COX,

Thank you for your questions.

With 1 year multiple tourist visa, you can stay maximum 90 days per visit. So that's why you need to leave Vietnam every 3 months and re-enter to get a new stamped. So if you worry about the cost for each time go in and go out Vietnam, you can leave Vietnam by land, then come back to get a new stamped. We think it will save your money than getting a flight out.

If you have any questions, please feel free to contact us.

Best Regards,

Elly