Proposals from Congress delegates about management foreigners entering into Vietnam
According to many Congress delegates, they have given some point of views to set up a new Immigration law for foreigners to enter into Vietnam at Congress conference. There are some main proposals from three Congress delegates:

1. The proposals of Miss. Luu Thi Huyen Congress delegate of Ninh Binh province
Miss. Luu Thi Huyen has proposed the framework of regulations about entry purposes as well as the conditions to grant visa, the time of granting visa and the temporary period on details. She thinks foreigners should not change visa original purpose after entering into Vietnam.
To be compatible with the Investment law, she thinks a new Immigration law should stipulate about temporary period terms on detail. In addition, the new law should stipulate the responsibility of those who sponsor foreigners entering into Vietnam.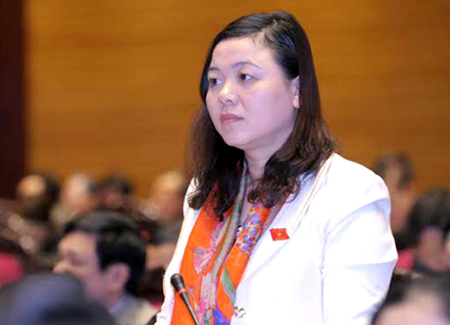 Luu Thi Huyen delegtae in the Congress conference
2. The proposals of Mr. Nguyen Anh Son Congress delegate of Nam Dinh province.
Besides the positive cases in the increasing figure of tourist, there are many negative problems need to cope with such as social evils, reactionary, etc. Therefore, it's necessary to have a framework on detail to limit negative problems as much as possible. In a result of easy granting visa for foreigners to attract some investment opportunities, it's difficult to manage the foreigners if they change visa original purpose after they enter into Vietnam.
The current Immigration law itself has some deficiencies. Many enterprises take advantage of change visa purposes of foreigners to operate visa services such as offering extend visa, granting visa, even illegal companies grant visa long term for foreigners to get profit without be responsible for problems arise.
The current Immigration law only adjust temporary foreigners staying in hotels, houseguests, private houses, etc. white foreigners stays in Vietnam with various types. This is some examples for unreasonable of the current law.
3. The proposals of Mr. Nguyen Minh Kha Cogress delegates of Can Tho province.
It's necessary to collect ideas for the new Immigration law. He thinks it's necessary to complement framework to stipulate accommodations which must report to the Immigration office when foreigners come to there.
He also proposes serious sanctions to prohibit the cases that break out of law.
Have a nice day !
By Vietnam-evisa.org team