Guidelines for foreigners to get Vietnamese temporary residence card
Useful information about the procedures for granting a new or changing or losing temporary residence card in Vietnam will be presented in below instructions:
>> How to get Vietnam temporary residence card
>> Ordinance on entry, exit and residence of foreigners in Vietnam
I. Some cases are granted temporary residence card
Foreigner who is a member of the two member limited liability company or more;
Foreigner who is owner of the one member limited liability company( except as authorized representatives);
Foreigner who is a member of the board director of the stock corporation;
Foreign lawyer who is licensed to practice following Vietnam law by the Vietnam Ministry of Justice;
Foreigner who granted working permit in all kinds of businesses or representatives offices of foreign companies;
Professionals, students, trainees who are in the national working or studying programs which is signed between the ministries was approved by the Government;
Relatives of the temporary resident card holder include: parents, spouse and children.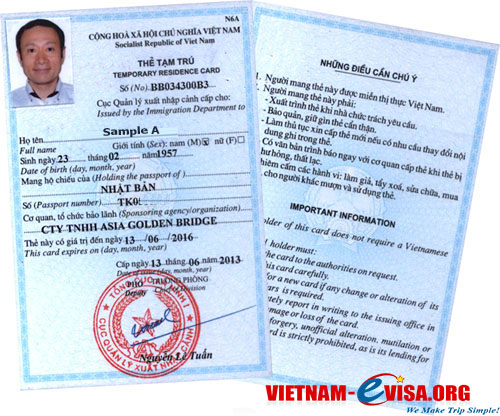 An temporary residence card
II. Procedures of granted temporary residence card
1. Procedures for the new:
01 written request for temporary residence card (Form N7A); declaration about foreigners applying for temporary residence card (form N7B) with 02 photos( image size 2x3 cm);
01 copy of passport and a valid visa( bring an original for comparison);
01 copy or duplicate of legal agencies, organizations, sponsor businesses record that are in need of proposal temporary residence card. As each case, foreigners may summit the following documents: investment certificate, business registration license, established representative office license, branch company( including active notices); seal registration certificate, 01 photo of working permit( bring original for comparison);
The cases of bringing relatives: foreigner must summit some documents such as birth certificate, marriage certificate or household registration .etc
2. Procedures for the change:
Procedures for the change like as procedures for new and including an old temporary residence card. Releasing time is 5-working-days.

3. Procedures for the loss
If foreigner be lost their temporary residence card, they must notice to issuing office as soon as possible. Procedure for loss temporary residence card like as procedure for new and including a loss application form or a written loss from guarantee agencies. Valid of new card is equal to valid of old card. Releasing time is 14 working days.
III. Valid and fee for of temporary residence card
The valid of temporary residence card is from 1 to 3 years.
The valid of temporary residence card is less than the valid of passport
Not granting temporary residence card for foreigner who has valid passport less than 1 year.
IV. Releasing result time
Releasing result time is 5 working days after receiving enough documents (except for loss of card)
V. Using temporary residence card:
1. People who use the temporary card must obey all regulations, notes (which is written clearly in card) and declare full report of temporary cases.
2. Guarantee agencies for issuing the temporary residence card must have responsibility:
Managing all activities of people who granted temporary residence card following regulations which are registered in guarantee time.
Returning temporary residence card for issuing office when foreigners finish their work or come back their countries or having any personnel change.
Reporting to issuing office in written about any temporary change.
VI. Some worthy of notes
The applicant who is representative for offices or agencies or businesses must have letter of attorney and present the original ID card and including 01 photocopy.
Have a nice day !
By team of Vietnam-evisa.org
Source from site of Immigration department-Vietnam
TRP Card

Mar 25, 2019

I,m just woundering is there any TRP or TRC card in vietnam ?
can we apply to viait another country on this TRP card ? and what 's fee charges for TRP card? thnx

Vietnam Evisa Support

Apr 06, 2019

Dear Aun,

Thanks for your question,

We would like to inform that we don't have processing for Pakistan passport holder at the moment. A recomemmendation for you, that you should go to the Vietnam embassy in near your living country to apply. Thank you!

Best regards,

Camellia Pham (Ms.)

Richard Wolf

United States of America

TRC

Jul 31, 2018

I am contemplating retiring to Vietnam from the US. Am I eligible for a TRC?

Vietnam Evisa Support

Jul 31, 2018

Dear Mr. Richard Wolf,



Vietnam Temporary Residence Card (TRC) is applicable for:

Foreigners who have work permit in Vietnam

Foreigner who is father/mother/husband/wife/children being Vietnamese citizens

Please advise whether your case matches with those conditions.

Regards,
Pinky Tran (Ms.)



VIETNAM ESE MOTHER ASSIT NEW BORN BABY TO APPLY THE VIETNAM TRC.

Jul 07, 2018

MY WIFE VIETNAMESE JUST DELIVERY A NEWBORN BABY AT MALAYSIA, SHE WANT TO ASSIT HER NEW BORN BABY GIRL TO APPLY THE VIETNAM TEMPORARY RESIDENT CARD, AND THE BABY IS A MALAYSIA CITIZEN, IF NEED TO APPLY THE TRC, IF POSSIBLE or not? what is procedure of trc?

Vietnam Evisa Support

Jul 07, 2018

Dear Lee Kean Ming,

Please email your question to our email address: visa@vietnam-evisa.org and we will give you an answer.

Sincerely yours,

Daniel Ho

TRC question

Jun 27, 2018

Can I use my TRC to apply in another center??

Vietnam Evisa Support

Jun 27, 2018

Dear madam,

As the TRC is not related to the job application process, you do no need it to apply for one.

Sincerely yours,

Daniel Ho - E-visa Team

About Visa

Apr 11, 2018

Dear Sir/Madam
Good Day. I am Sirajul Islam from Bangladesh, I got a job in Vietnam. I have a question that after i reached in Vietnam can i bring my wife to live with me in Vietnam.
Thanks
Sirajul Islam


Vietnam Evisa Support

Apr 12, 2018

Dear Mr Sirajul Islam,

It is informed that your wife can apply online on our website for visa on arrival but we JUST can help you to process 1 month single tourist visa and the service fee is $150US/person (not including $25US/person stamping fee at Vietnam airport). However, the Vietnam Immigration does not process 1 month visa for full 30 days, they just base on your ticket to process visa (maximum 25 days). The processing will take 7 working days

And you can apply online at this link: https://www.vietnam-evisa.org/apply-visa.html

In addition, after finishing payment online, please send us your passport scan + hotel booking + return ticket via email. Without those documents, we can not process visa for you

If you want staying longer, please ask Vietnam Embassy to get more information.

Best regards,

Celine Nguyen
TRC

Mar 20, 2018

Hi, please can you give me estimate of how much to renew my TRC and what documents to take with me, as before give it to an agency or lawyer to get it done through my company details but i want to do it myself now? please will be glad to get a reply asap, thanks!

Vietnam Evisa Support

Mar 20, 2018

Dear Sir/Madam,

Please send us an email to: visa@vietnam-evisa.org. And then we will support you then.

Thanks,

Anna Lily (Ms.)

Temporary Residence Visa (3 years)

Mar 09, 2018

Hello,

I am a Singaporean married to a Vietnamese since 2015.
We are now looking at moving to Vietnam from Cambodia and I am looking at applying for the Temporary Residence Visa for myself.
Do I qualify to apply for the 3 years Temporary Residence Visa? I do have all the necessary documents with me showing my Marriage Cert./Resident Address in HCMC/my wife Family Card and my Resident Card from the Police Department in HCMC.
If yes, can your office help with the processing of the Temporary Residence Visa on my behalf.
Thanks and look forward to your responce.
With best regards
Wilfred


Vietnam Evisa Support

Mar 09, 2018

Dear Mr. Wilfred,

Thank you for your question.

We would like to inform that you are eligible for a 3 year Temporary Residence Card. However, your passport should have at least 3 years of validity. Kindly inform us your current type of visa and your email address, we will give you information in detail.

Best regards,

Hannah Yan (Ms.)

Visa enquiries

Feb 01, 2018

Hello..I'm ejiks..a Nigerian passport holder.
I've visited Vietnam twice with a business visa on a business trip.
I would like to know if you can help to get a 6months or a year multiple entry visa..if yes..pls I would like to know the application process and also the cost...thanks..I will be glad to get a response ASAP.

Vietnam Evisa Support

Feb 01, 2018

Dear Mr/ms.Ejiks,

We would like to inform that we could not process the visa for Nigerian passport holder at the moment. Kindly be advised that you should go to Vietnam Embassy Department in your living country to apply visa.

Regards,

Ken Nguyen(Mr.)

Cost for dependent temporary residence card

Aug 05, 2017

I want to apply for temporary residence card for my wife and children. What are the charges?
Goverment fees & your service charges?

Vietnam Evisa Support

Aug 05, 2017

Dear Abhishek Gupta,

Thank you for your question.

We are sorry that at present time, we don't provide temporary residence card any more. Please kindly contact to Vietnam Immigration to ask for it.

Best Regards,

Elly

Temporary Residence Card Loss

Apr 19, 2017

3. Procedures for the loss
If foreigner be lost their temporary residence card, they must notice to issuing office as soon as possible. Procedure for loss temporary residence card like as procedure for new and including a loss application form or a written loss from guarantee agencies. Valid of new card is equal to valid of old card. Releasing time is 14 working days.

Will personnel involved in the case be fined 2 million for the losss?


Vietnam Evisa Support

Apr 19, 2017

Dear Mr/ Ms. Eddard Gao,

Thank you for your question.

At present time, we just provide Vietnam visa and visa extension. About the fine of the TRC loss, you should contact to Vietnam Immigration to ask for it.

Please feel free to contact us if you have any question.

Best Regards,

Elly
Work permit and trc

Dec 05, 2016

I have been working in Hanoi since January, I have obtained my WP &TRC through my company in April, now I have to change my company, and for that I am to forfeit both the documents, I would like to know, if I need to apply afresh for TRC and wp, going through all the paperwork all over again, or there is another way.

Vietnam Evisa Support

Dec 05, 2016

Dear Sir/Madam,

Kindly be informed that we do process touirst visa and business visa to arrive Vietnam only.

In your case, we advise you should contact with Vietnam Embassy in your living country for more information.

Thanks

Evisa team.

Would it be possible for me to get a temporary residence card?

Dec 03, 2014

My sister has a temporary residence card in Vietnam and she is married to a Vietnamese man. I have been here since September. Would it be possible for me to get a temporary residence card?

Mr

Aug 14, 2014

i have a temporary residence visa card, i have been working in Vietnam since April 2012. my partner has been with me same time, we are not married. how can my partner obtain a temporary residence card

Vietnam Evisa Support

Aug 14, 2014

Dear Gil Reid,

Thank you for your question,

We would like to reply that we only can support your partner apply Visa not temporary residence card. Please contact Embassy in your living country for further details about the process. 

If there is any question about Visa, please feel free to contact us.

We support customers service 24/7.

 

Best Regards

EVisa Team